Homemade Mayonnaise
This homemade mayonnaise recipe is quick, easy to make, doesn't contain a bunch of preservatives or sugar, and tastes amazing. Once you make this, you will ask yourself why you haven't been making homemade mayo all along. 
It will take your basic sandwich, potato salad or delicious aioli up a notch.  Once you see how delicious this mayo recipe is and that making mayonnaise is super easy, you will never want to go back to store bought mayo again.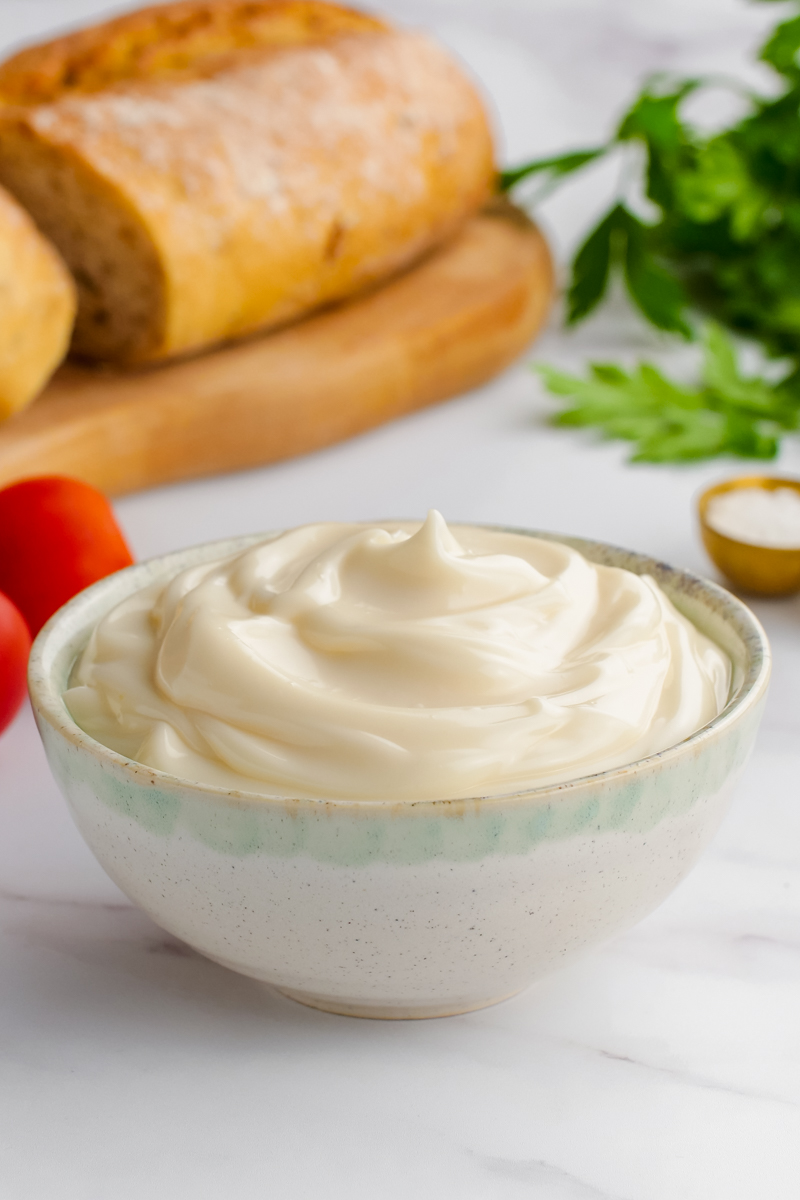 Creamy, homemade mayonnaise is the much needed condiment that can turn a boring lunch into something super special.  Whip up this mayo recipe in minutes and enjoy the perfect sandwich spread, in this dill dip, coleslaw, deviled eggs, or even in this spice cake! 
Going on a picnic?  Why not take some BLT sandwiches topped with creamy, top of the line, homemade mayonnaise.  You will love it!
What you Need To Make Mayonnaise
Egg:  You use raw eggs in mayo, if you are concerned buy pasteurized, or pasteurize them yourself at home. You need the whole egg, whites and yolk for this recipe. 

Ground mustard seed: This is a flavor adder and stabilizer for the mayo, which will help to keep it from breaking. 

Salt: Adds flavor! 

Lemon juice: The acid in the lemon juice is needed for this recipe, it adds flavor and is a stabilizer. 

Oil: Pick your favorite neutral flavored oil. 

Grapeseed

Safflower

Canola

Light Olive Oil

How To Make Mayonnaise:
Think again before you settle for store bought mayo my friends.  Homemade is just better, doesn't have added preservatives or weird sounding ingredients, and it's flavor is far superior.
This recipe is simple, straightforward, and fabulous.
All you need is an egg, ground mustard seed, salt, lemon juice, and oil, and you have the makings for an amazing sandwich spread.  
Steps:
Food process your egg and then add lemon juice, mustard seed, and salt, and process again.

With food processor running slowly, add oil until thick.

Add additional lemon juice, salt, or mustard seed to flavor mayo based on personal preference.
Enjoy!!
Note:  See recipe for more detailed instructions.
That's it!  Basically use a food processor and add your ingredients.
Eat it right away or store it for later use.
Of course the trick is using the right types of ingredients, and showing some patience as you add the oil. But if you can do that, you will have amazing homemade mayo in no time.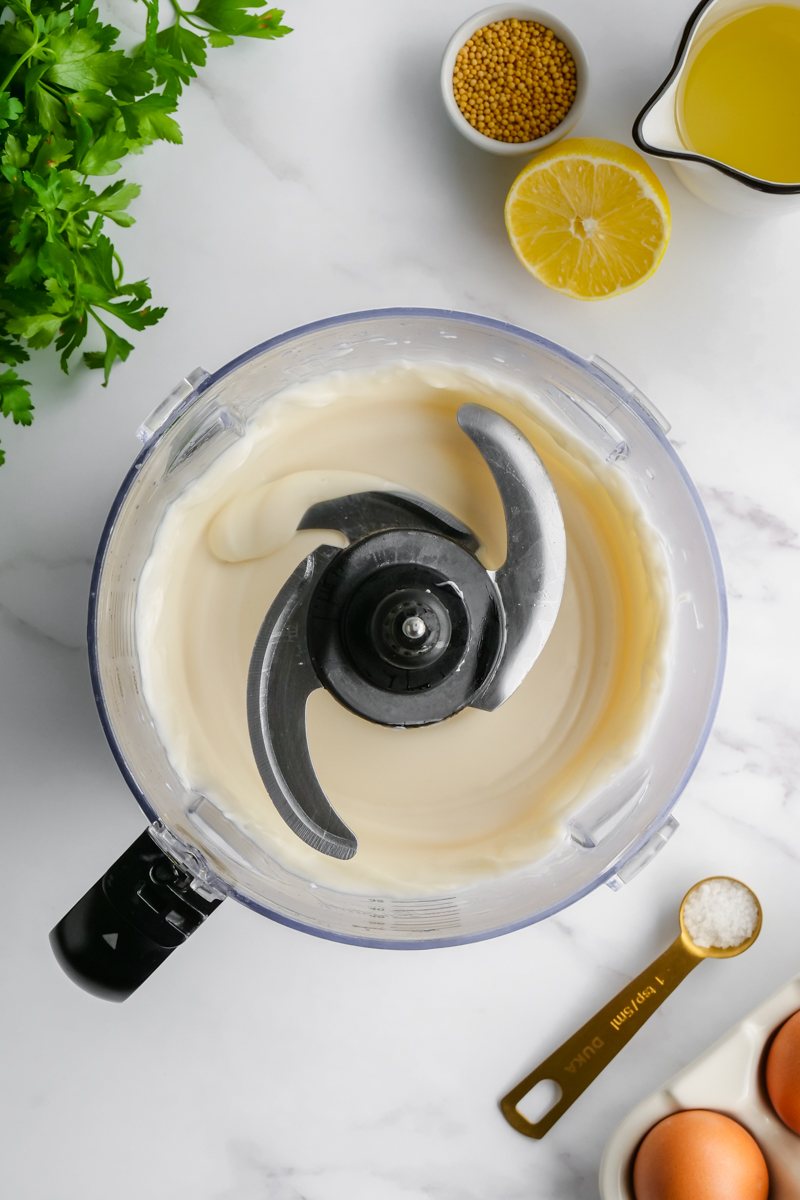 What Is Emulsion?
Okay I am about to get all scientific on you.  Just kidding that doesn't sound like me. But I want to explain how such a simple process, and simple ingredients can result in mayo. 
I will break it down in simple terms.
To get mayo you need emulsion and an emulsifier:
Emulsion

:  The process of combining two liquids that usually can't mix together, like water and oil.

Emulsifier:

  A secret ingredient that helps the unmixable combo above to mix.  In mayo the emulsifier is the egg yolk. Ta Da!  The fat molecules in the yolk help the incompatible oil and water bond. 
It's like magic.
Why do we care?  Emulsion takes place in making mayonnaise. That's why we care. So you can't leave anything out if you want the process to work, and if you make any substitutions, you have to keep in mind that in order to get a creamy finish, you need an emulsifier. And to avoid your mayo breaking you need the emulsifier and the acid. 
How to Fix Broken Mayonnaise
The worst thing that can happen when making mayo is it might break on you, which leaves it looking curdled. That or it doesn't thicken.
Fortunately both are fixable.
This recipe helps to prevent breaking and too thin of mayo by using a whole egg, and  ground mustard. Remember our science lesson from above? The mustard and the yolk are both emulsifiers, which helps bond the liquid and oil and give you a nice, thick, creamy homemade mayonnaise. But you have to be careful to stream the oil into the food processor slowly. This is not the time to rush. If  you do this you will prevent the mayo from breaking. 
But if you mess up, here is how to fix it:
Add 1 teaspoon of mustard to a large bowl.
Use a whisk and slowly beat the mustard with a little bit of the mayo mixture.
Continue adding mayo mixture bit by bit, and whip until it is all added and becomes emulsified and creamy.
 If you do not want to use mustard, you can do the same process with an egg yolk. 

Mayonnaise Tips:
Choose the right oil
Use a whole egg (though there are substitutes)
Add oil slowly. Give the mayo a chance to emulsify.
Have ingredients at the same temperature
Thin with hot water a (very) little at a time, if needed (unlikely).
Do not freeze.
Tip 1:  The Oil You Choose To Use Matters.
Not all oils are created equally and yes you can make a bad choice when it comes to making mayonnaise.  So pay attention if this is your first experience with a homemade mayonnaise recipe.
The wrong oil will lead to bad tasting mayo.
What Is The Best Oil To Use For Mayonnaise?
Use a NEUTRAL FLAVORED OIL
Don't use extra virgin olive oil.  Trust me, just don't.
Extra virgin olive oil will be too strong and will make the flavor of your mayo too bitter.
Good oil options:
Grapeseed

Safflower

Canola

Light Olive Oil

Tip 2:  There Are Alternatives To Raw Eggs In Mayonnaise
Are Raw Eggs Safe?  This is the #1 question I get anytime I talk about making my own mayo. 
So let's go ahead address the raw eggs issue.
There are many reasons people may not want to use raw eggs, and reported risks for consuming raw eggs.  For example, there might be food allergies or some are worried about salmonella, etc. If  you have concerns use your own judgement. 
The CDC suggests a few things you can do to reduce risks of using raw eggs:
Buy pasteurized eggs

Keep eggs refrigerated at 40°F (4°C) or colder at all times.

Only buy refrigerated eggs.

Discard cracked or dirty eggs.
If you take the above steps the risk is very minimal when using pasteurized eggs.
If the eggs are pasteurized there is very little risk they will carry salmonella, so for me personally I have no problem using eggs raw if they have been pasteurized.  
I have eaten raw brownie batter time and time again, and I lose no sleep over it.  
Most mayo uses raw eggs.  There is minimal risk. As always though do what feels right for you. And don't worry I am going to give you a few options for alternatives if you are stressed about the raw eggs. 
Raw Egg Alternatives:
You can replace raw eggs with Aquafaba.  
I know aqua what?  It's just a fancy word for something that doesn't sound that pretty.
Ready?  It's bean juice. 
You know when you open your canned beans they are immersed in that thickish liquid,  that you usually drain off. Instead of draining it, save it. You can  use it instead of eggs. 
Aquafaba can be used as an egg replacer.  Now I have to admit, I have never personally tried it, but I did read a lot of reviews that it works well.
So, if you are in the mood to experiment, give it a whirl in this recipe.  Let me know how it turns out.
Make An Egg Free Mayo Using Milk
Many egg free mayos contain the ingredient milk to help with thickness. I have not tried this version either, but it  is an option. 
Tip 3: Add Oil Slowly
If you do not add your oil slowly, your mayo will not thicken. This is called broken mayo, and it can happen to anyone, especially if you aren't using a great recipe. But with this recipe the biggest risk is simply adding your oil too quicily.
When making mayo, add your oil slowly drop by drop to ensure creamy mayo.
If it breaks for doesn't thicken, you can fix it by  adding another egg yolk and whisking, or adding mustard and whisking until it thickens. 
Tip 4: Ingredients Should Be At Same Temperature
Basically you don't want your egg to come straight out of the fridge cold and have the rest of the ingredients at room temp.
Get your egg up to room temperature by setting it on the counter 30 minutes or so before making your mayo.
Otherwise mayo may not form properly.  Uh oh, we don't want that.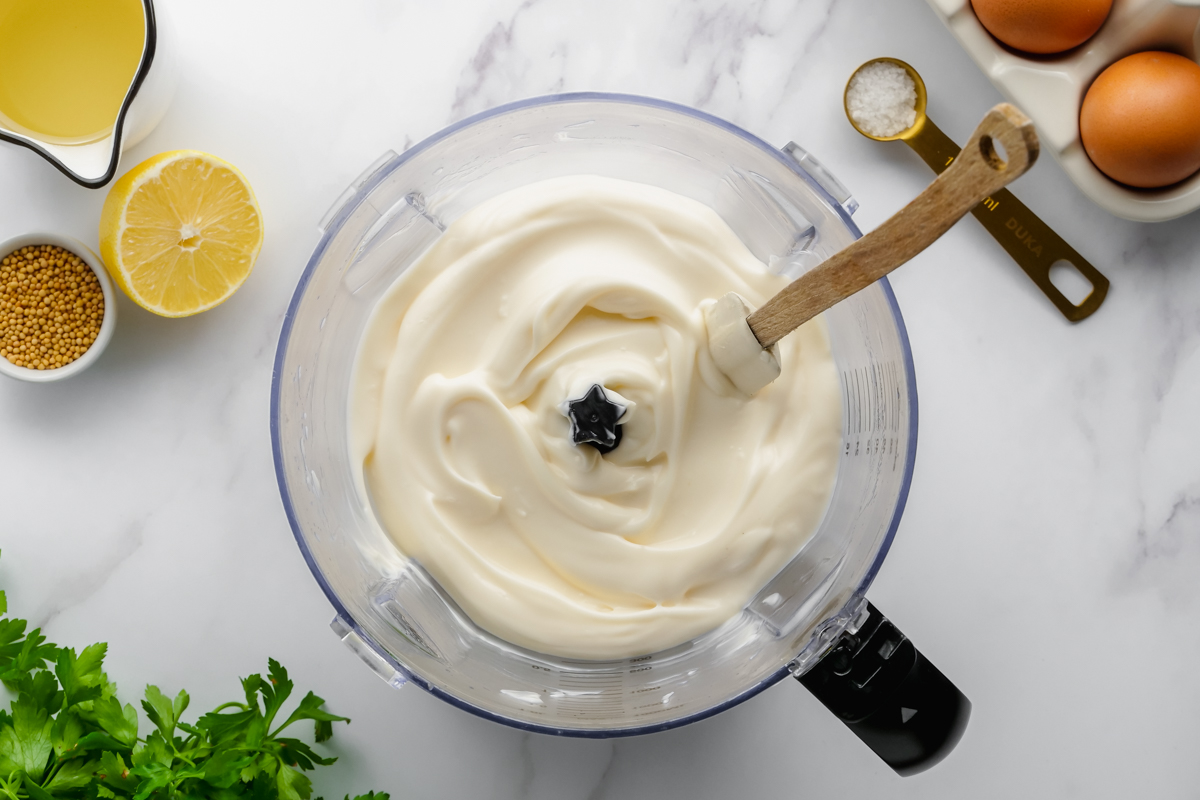 Tip 5:  Thin with Hot Water A Little At A Time 
Thick mayo does not sound like a problems, right?   However, there is a sweet spot to the level of thickness.
If it is too thick add a little hot water, not too much all at once, of course.
Tip 6:  Don't Freeze Mayo
It really is so easy to make and the servings for this recipe are just right, so there really is no need to freeze it and save for later.
Plus it just doesn't freeze well.  The mayo tends to separate and break.
Follow these tips and you will be an expert in the homemade mayonnaise department.

This homemade mayo recipe proves the point homemade doesn't have to mean hard, but it does mean better.
Make this simple mayonnaise recipe and enjoy it on a sandwich or as a secret weapon in a potato or pasta salad.
Mayonnaise Variations
While a classic mayonnaise is amazing, and easy to make, it can be fun to add a few things to it to amp up  your spread. Here are a few of my favorite additions or variations to this recipe, in other words, how to make ailoli:
Fresh herbs

Parmesan

Chipotle

Roasted garlic

Sriracha

Truffles

Curry powder 
This Homemade Mayonnaise Recipe Is The Best!
How To Store Homemade Mayonnaise?
You really only have one option when it comes to storing your homemade mayonnaise.
I am sure you've already guess it.  Store in the refrigerator.
Store mayo in an airtight container in the fridge.  It will last for up to 4 days.
This recipe makes 1.5 cups of mayo so if you are having a group of people over, making a slaw or a potato salad, you probably won't even have left overs.  
However if it is just you and your fam, then make it when you want it and then refrigerate the rest, planning on using it up in 4 days.
Now I have heard of lengthening the shelf life of homemade mayonnaise by letting mayo ferment first.  The mayo sits out for 6 hours first and then can keep in the fridge for a couple of months.
I have never personally tried this method before so I can't vouch for it from my own experience.
However, mayo is really easy to make and fresh mayo is the best, so I just say store it for four days and then toss.  Make a new batch when you need it again because it really isn't hard to make.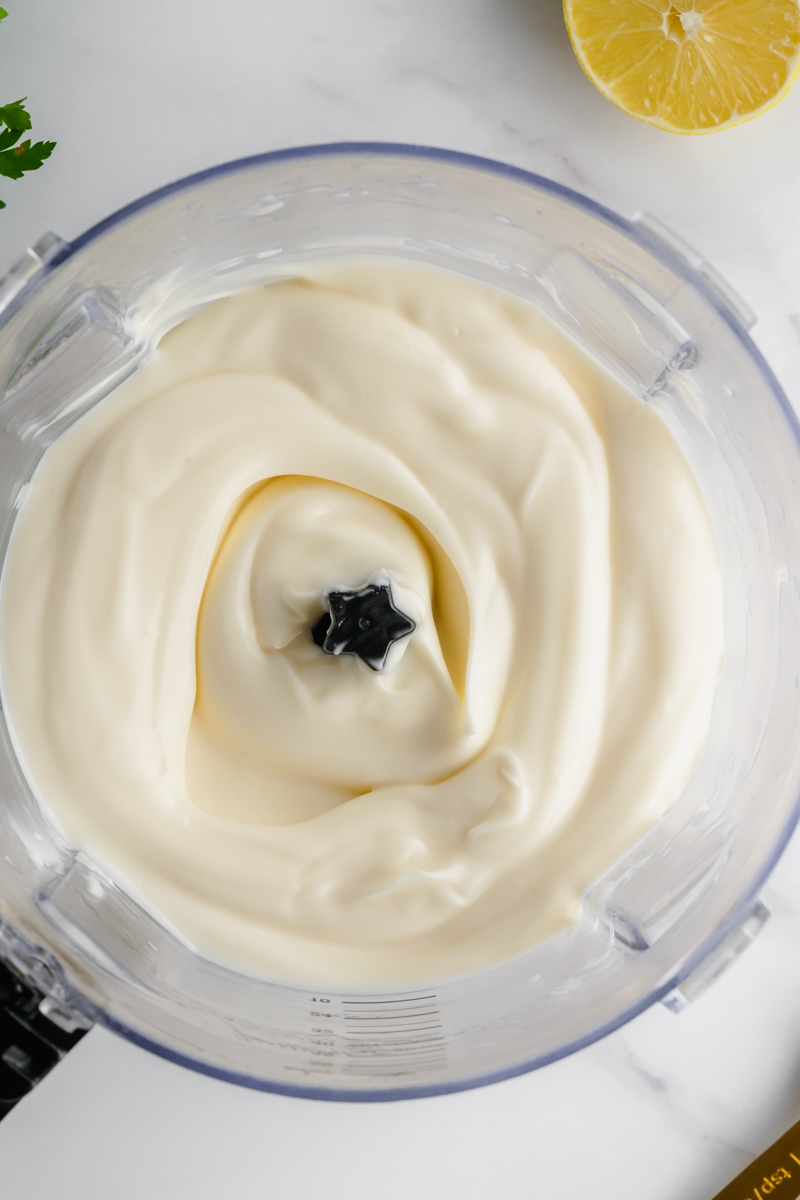 Things to Use Homemade Mayo In:
Other Homemade Spreads Or Sauces To Try:
Video Tutorial for Making Homemade Mayo: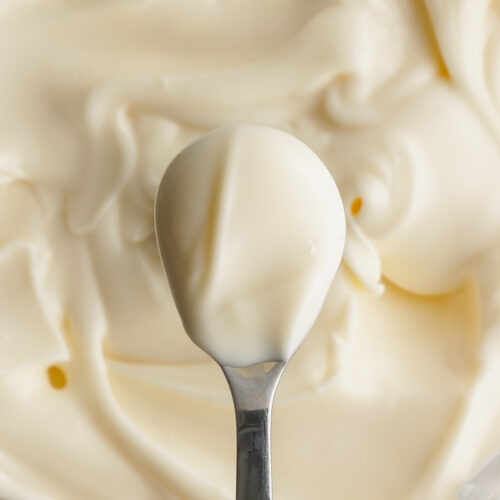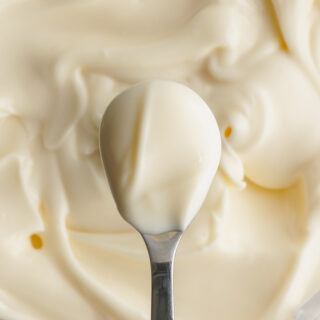 Homemade Mayonnaise
Creamy, rich, and delicious homemade mayo with no added preservatives or chemical stabilizers. This tastes great and is good for you too. You will never want store bought mayo again.
Print
Pin
Rate
Ingredients
1

large egg

at room temperature

1/2

teaspoon

ground mustard seed

1/2

teaspoon

salt

2

tablespoons

lemon juice

freshly squeezed, at room temperature

1 1/4

cups

grapeseed oil

or neutral flavored oil safflower, canola, or light olive oil*
Instructions
Add egg to your food processor and process for about 30 seconds.

Add in the lemon juice, ground mustard, and salt. And process for another 30 seconds.

With the food processor running, slowly drizzle in the oil until the mixture is emulsified and thick. Be sure to add it slowly so you g et a creamy mayo. Take at least two minutes of time to add and process.

Taste your mayo and add additional lemon juice, salt, or mustard for your desired taste.

The mayonnaise is now ready to be used. Enjoy!

Store in the refrigerator for up to 4 days.
Notes
* DO NOT USE extra virgin olive oil as it will make the flavor bitter and the taste will be too strong.
This makes about 1 ½ cups of Mayonnaise
Nutrition
Calories:
315
kcal
|
Carbohydrates:
3
g
|
Protein:
6
g
|
Fat:
32
g
|
Saturated Fat:
4
g
|
Cholesterol:
164
mg
|
Sodium:
1226
mg
|
Potassium:
61
mg
|
Sugar:
1
g
|
Vitamin A:
238
IU
|
Vitamin C:
12
mg
|
Calcium:
25
mg
|
Iron:
1
mg
Our recipe card software calculates these nutrition facts based on averages for the above ingredients, different brands, and quality of produce/meats may have different nutritional information, always calculate your own based on the specific products you use in order to achieve accurate macros for this recipe.
Want to use this recipe in a meal plan?
Try PrePear, my FREE Meal Planning App that allows you to save your recipes, plan meals, shop for groceries, and cook simply in one place. Join Here!
Pin to Pinterest: