These Mashed Loaded Sweet Potatoes are full of the sweet and savory flavors of loaded sweet potatoes with the convenience of mashed potatoes! They're perfect to feed a crowd during Thanksgiving!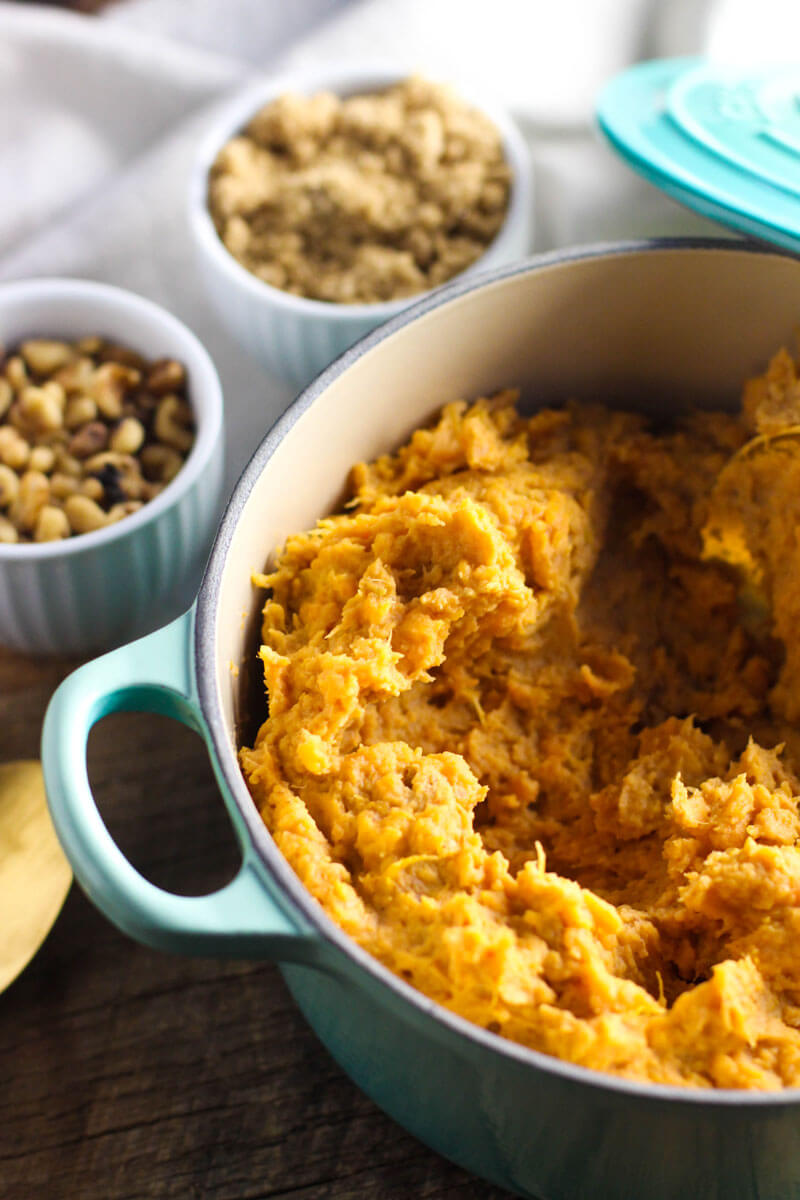 Mashed Loaded Sweet Potatoes
©Eazy Peazy Mealz by EazyPeazyMealz.com
Pin it to your Side Dish board to SAVE it for later!
Follow Eazy Peazy Mealz on Pinterest for more great tips, ideas and recipes!
Ok, so here on Eazy Peazy Mealz we have shown you how to make the perfect turkey, and given you recipes for amazing green beans, fluffy biscuits, and roasted broccoli, as well as tons of other amazing sides.  These Mashed Loaded Sweet Potatoes are just one more addition to the ideal Thanksgiving meal!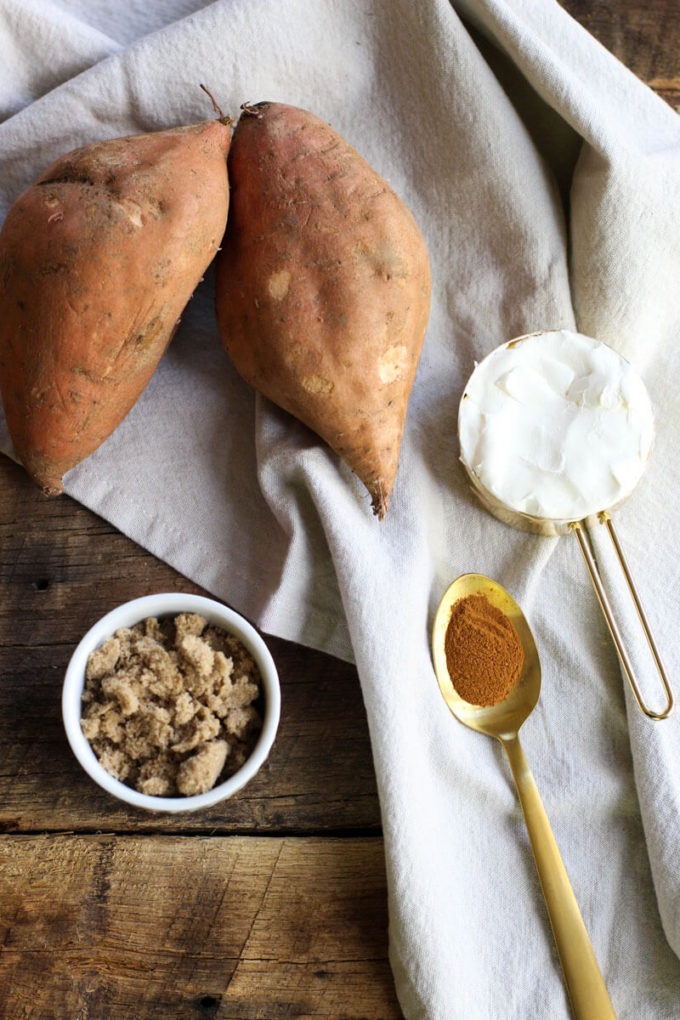 Hey guys! Sam back from The Culinary Compass bringing you another one of my favorite Thanksgiving side dishes! Loaded Sweet Potatoes are one of my favorite dishes, but when oven time is coveted and there are a lot of mouths to feed, these Mashed Loaded Sweet Potatoes bring you all of the flavors without the hassle!
They're filled with brown sugar, half and half, cinnamon, and nutmeg for a creamy and sweet version of mashed potatoes. Why wait until dessert for all of the sweetness?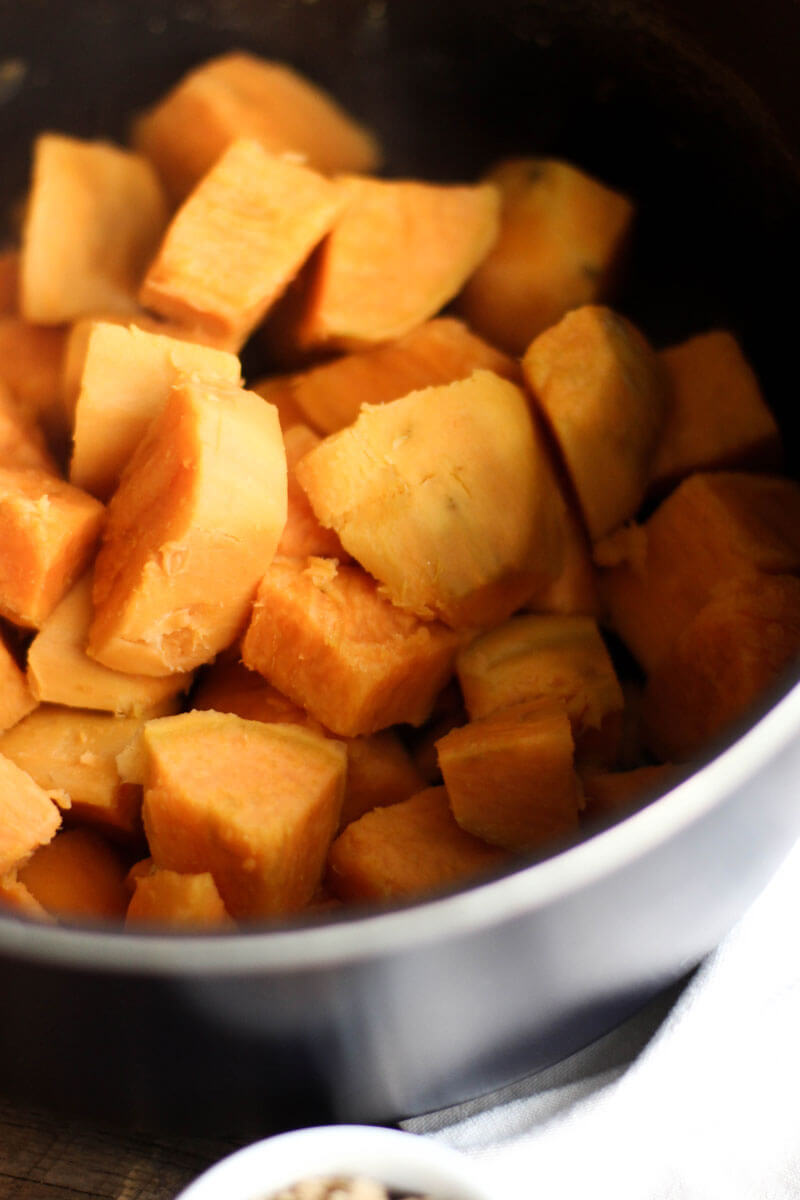 I love the color that they bring to the table! They're always so vibrant and make such a statement on your Thanksgiving table.
I also prefer to hand mash them just so they aren't super creamy, but that's a personal choice. If you're a big fan of creamy mashed potatoes, break out that hand mixer and go to town! You'll probably have to add a little more half and half to thin it out a little more to avoid any Thanksgiving mixer disasters.
The great part about having these Mashed Loaded Sweet Potatoes is being able to top them with whatever you'd like! I'm a big fan of adding crushed walnuts just for a little crunch. Something savory like bacon crumbles would also be delicious!
You can also stick them in individual ramekins and put some mini marshmallows on top. I stick them in the oven under the broiler for a few minutes to get the great gooey centers! If oven time is too tight, break out the Fluff and use that instead.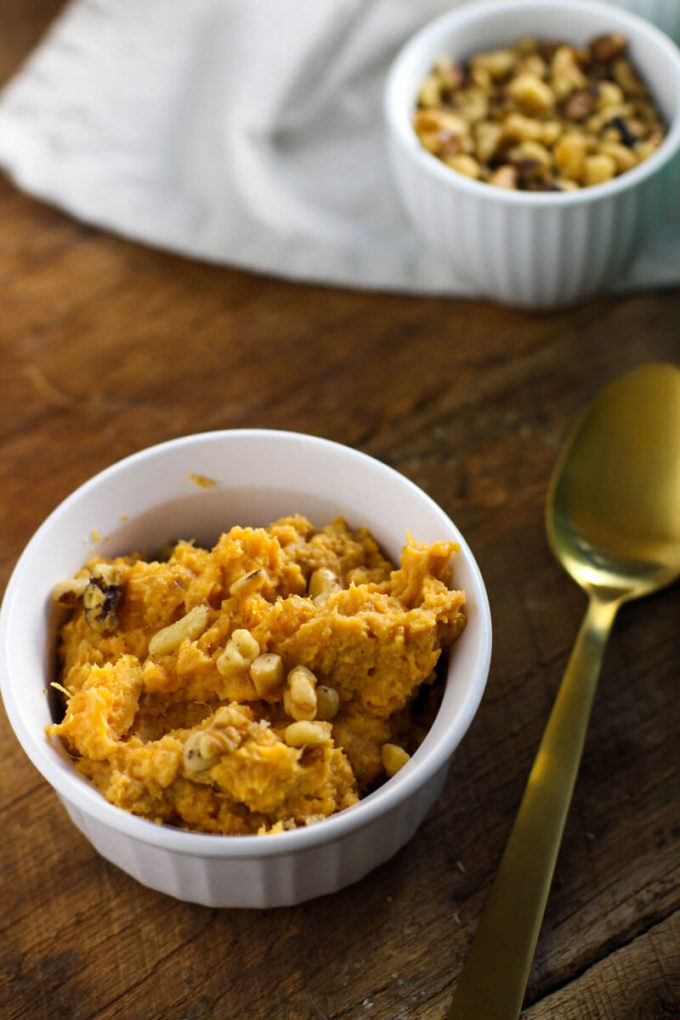 Trying to find more Thanksgiving sides to bring to the table? Try these Honey Braised Carrots, Roasted Acorn Squash with Sausage, Fennel, and Mushrooms, or Quick Baked Turkey Meatballs!
Ingredients
4 sweet potatoes, peeled and cut into 1" cubes
4 oz cream cheese
1/4 cup half and half
1/2 cup brown sugar
3/4 tsp cinnamon
1/4 tsp nutmeg
Optional: crushed walnuts, brown sugar, marshmellows
Instructions
Bring a large pot of water to a boil. Add in sweet potato cubes and cook until fork tender, about 20 minutes. Drain and place back in pot.
Add in cream cheese and half and half. Mix with fork until well incorporated. Add in more half and half to reach your desired consistency if too dry.
Add in brown sugar, cinnamon, and nutmeg until incorporated.
Serve warm with optional topping and enjoy!
7.6.4
866
https://www.eazypeazymealz.com/mashed-loaded-sweet-potatoes/
Pin to your Thanksgiving SIDES board: