Homemade Cranberry Sauce
Tart and sweet, easy, and homemade, this is how you make cranberry sauce from scratch for your Thanksgiving table. It only requires a handful of ingredients and 15 minutes, and is WAY better than anything you can get from a can.
This sweet and tart homemade sauce is perfect over oven roasted turkey breast, slathered on homemade dinner rolls, and accompanying easy turkey stuffing. Buy fresh cranberries when they are in season, and freeze them so you can take advantage of this tasty sauce all year round.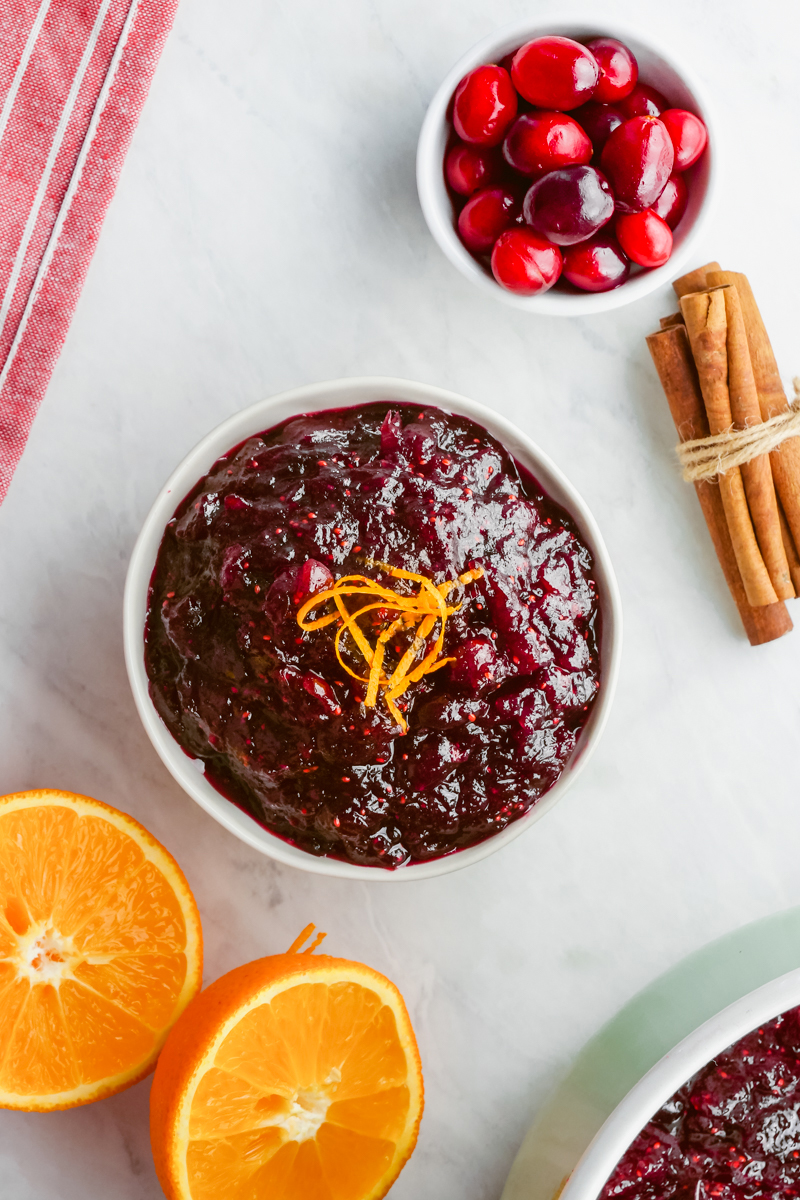 I know, I know, everyone says their cranberry sauce recipe is the best ever, but I have to tell you, I think I own the trophy for this one. This Homemade Cranberry Sauce Recipe puts all other cranberry sauces to shame.  
Nothing says festive like a deliciously, sweet and tart classic like Cranberry Sauce.  Accompanied with just enough brown sugar and white sugar, and the secret weapon of the perfect amount of orange juice added to the mix. The best is brought out in our tart friend the cranberry, making this Cranberry Sauce really shine.
Cranberries are tart, and sometimes an acquired taste, but with this easy, flavorful cranberry sauce, everyone at your Thanksgiving table will be converted to the tart side. 😜
If you are wondering how to make homemade Cranberry Sauce or are just simply intimidated by the idea, don't be. 
This Cranberry Sauce recipe is:
So easy to follow

Produces an AMAZING cranberry orange sauce

Is a crave worthy side, sandwich topper, sauce for ice cream, easy turkey accompaniment, and the list goes on and on. 

Nothing says Thanksgiving like a side of Cranberry Sauce to go with your delicious feast.  But why stop there? Don't limit yourself.  
Cranberry Sauce goes great as a topping for dessert or filling for crepes.  There is so much you can do with this Cranberry Sauce recipe.
Don't you dare look down the grocery aisle for canned cranberry sauce.  Those days are long gone. This Cranberry Sauce recipe is a game changer.  
Once you try this recipe, you will want to make it again and again.

How To Make Homemade Cranberry Sauce:
As a kid, we never had homemade cranberry sauce, so I assumed it was complicated, hard to make or expensive. WRONG.
It is easy.

Affordable.

Delicious.
Store bought, canned cranberry sauce, comes nowhere close to homemade. So if you have ever thought you do not like cranberry sauce, and are basing that judgement off the canned stuff, let me tell you, try the homemade version of cranberry  sauce, and see if it changes your mind. 
It is not hard to make from scratch.  Let's map it out. 
There's some cooking

There's some mashing

There's some cooling. 
That doesn't sound too bad, does it?
Steps for Easy Cranberry Sauce:
Warm orange juice and water in a saucepan, not too hard, right?

Add sugar and stir so sugar will dissolve. This is probably the most important step because you don't want your sauce to be grainy. And it is so easy to accomplish. 

Add cranberries and stir until cranberries start to pop open (about 10 minutes)

Mash cranberries up to create a jam like substance. 

Remove from heat, put in a sauce bowl, and allow cranberry sauce to thicken as it cools.   

Once cool, refrigerate.
Tip:  Cook sauce for 3-5 minutes longer for a thicker preparation.
Note:  Make sure to let Cranberry Sauce cool before putting in the fridge.  Otherwise consistency can be affected.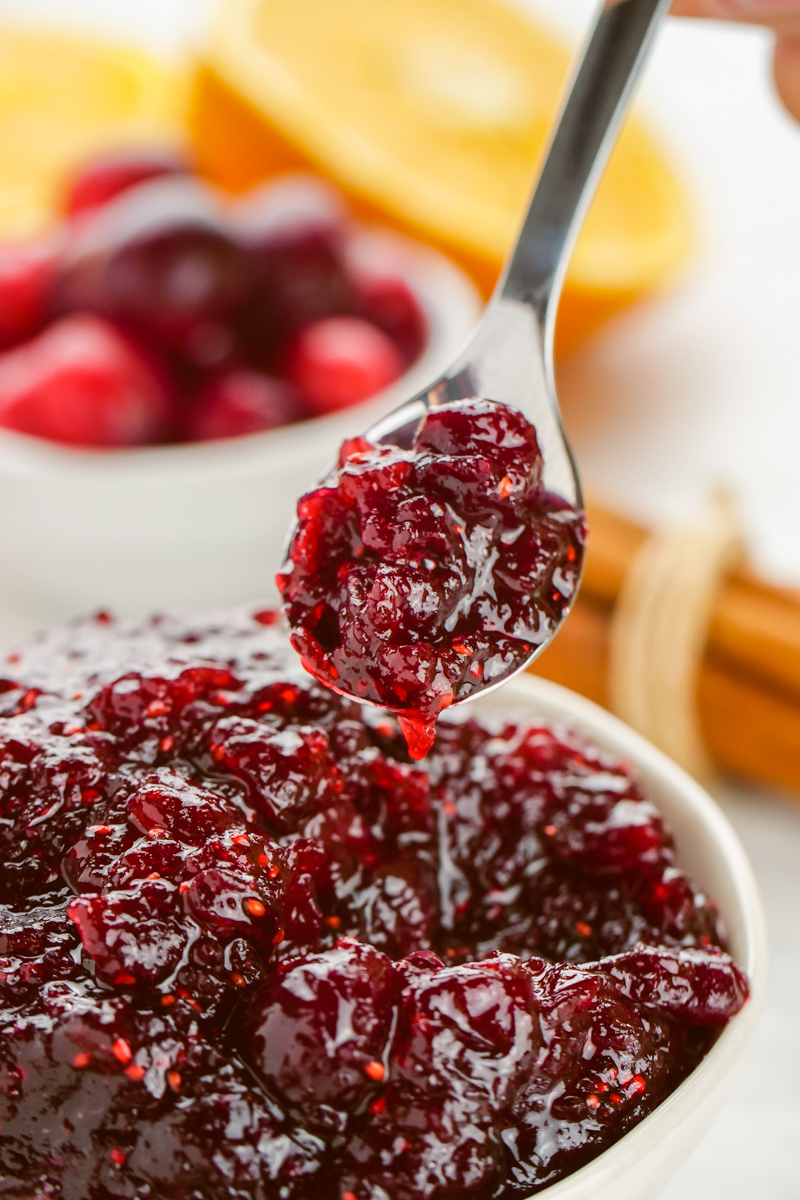 There it is, easy to make, delicious homemade Cranberry Sauce.
Can I Use Frozen Cranberries?  
The answer is, yes you can.  No changes in steps need to be made for the recipe and you don't need to defrost the cranberries first either.  Yay, no extra steps!
What Can I Add To Cranberry Sauce?
Umm, so much, so much, so much, is the correct answer to this question.  
So, if you want to mix things up a little and add some additional elements to your homemade, from scratch Cranberry Sauce, you sure can.  I'm definitely not going to stop you. And encourage you to see what you like best. 
A few of my favorite optional ingredients to add to fresh cranberry sauce:
Pecans or other nuts of choice

Cinnamon

Vanilla

Fruit—pineapple, apples, etc.

Grand Marnier
Think about the type of flavor profile you want your whole Cranberry Sauce to have and then either stick strictly to this Cranberry Sauce recipe, or use it as a base. You can't go wrong there, so add some additional elements and have fun customizing .  
It all comes down to personal preference.  And you will get no argument from me if you want to use this recipe as a base and then add some pecans or a little vanilla.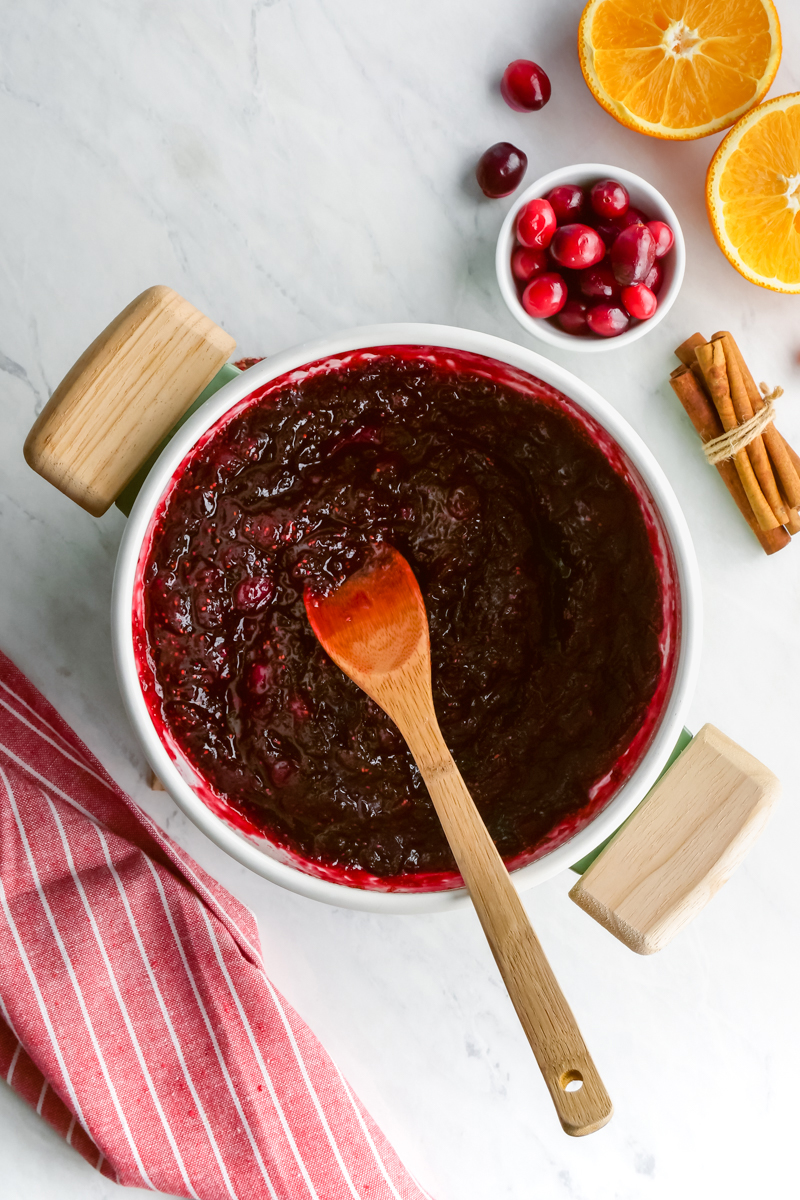 How To Store Cranberry Sauce:
One of the best parts about  making homemade cranberry sauce, besides the fact that it only takes about 15 minutes, is it can be made ahead of your big day, and stored in the fridge. And it just gets better with time.
There is no mystery or life shattering secret on how to store fresh cranberry sauce.  The answer is pretty simple, actually. 
Let it cool completely.

After it cools, store in an air tight container in the fridge. 

It keeps for about 10 days. 
And there you have it.
Can You Store Fresh Cranberry Sauce In The Freezer? 
Now that answer isn't so simple.
I will try to make it simple for you though.  I say no. Don't waste your time freezing something that may change in consistency or texture after it is defrosted.
Especially because this recipe is so easy  and so quick, you are better off simply freezing the fresh cranberries, then making this homemade cranberry sauce the week you plan to use it.
There is a difference in opinion on freezing Thanksgiving cranberry sauce. The main issue is it can get a little watery when it defrosts. This is a pretty thick sauce, so if you want it to be runnier, this works well. 
So can you freeze it? Yes. But be aware of the consistency changes.  You  can fix it with some Ultra Gel or other thickening agent when you defrost if you would like.

Cranberry Sauce All Year!
All year round I say.  Yes, it's a festive treat, but it does not have to be limited to only Thanksgiving dinner.
I think Cranberry Sauce is a little bit misunderstood, actually.  
It has been painted with this brush that it is eaten at Thanksgiving dinner or at Christmas and then that's it.   
It's kind of like back in the day how they would say you don't wear white after Labor Day.  And yet, of course you can.
Cranberry Sauce is a Thanksgiving must. 
There is no arguing that. However, don't let yourself miss out on this treat for the rest of the year.
It is served at Thanksgiving and Christmas because it is light and fresh, and helps cut through the heavy meal. But also because it adds a lovely pop of color and flavor to your dinner table.
You can use it with so many things all year round.  
Use this Cranberry Sauce as a side for a roasted chicken dinner, use on top of this classic waffles recipe, on toast, or as a dessert topper for things like instant pot cheesecake.  There is so much use for this Cranberry Sauce beyond a turkey side and leftover Thanksgiving sandwich topper.
When To Make Cranberry Sauce:
Make The Day Before Thanksgiving, up to the week before.
This Cranberry Sauce recipe is not hard, and is best made ahead. So why not take one thing off your to do list over the holidays?
I love making recipes in advance to cut down on the stress of Thanksgiving Day cooking.  I usually try and prep as many of the Thanksgiving Sides ahead of time as I can. And this cranberry sauce is the perfect thing to make ahead because it is served chilled. This means it has to be made at least one day  ahead anyway, and it stores well in the refrigerator.
Make it the day before Thanksgiving and check it off your list. Or even up to a week before and just pull it out when you are ready to serve. 
Make Cranberry Sauce All Year Long
As already mentioned, there are so many uses for Cranberry Sauce, from a side, to a breakfast and sandwich topping, or to a sauce for a dessert. 
Keep this recipe handy because you can use it all year long in so many capacities, which equals making this recipe whenever.
Make The Day Before Christmas.
Use Cranberry Sauce for a special Christmas morning breakfast or side for Christmas dinner.  Homemade Cranberry Sauce is under utilized, can you imagine how good it would be with these super easy cinnamon rolls? Sweet and tart! Yum.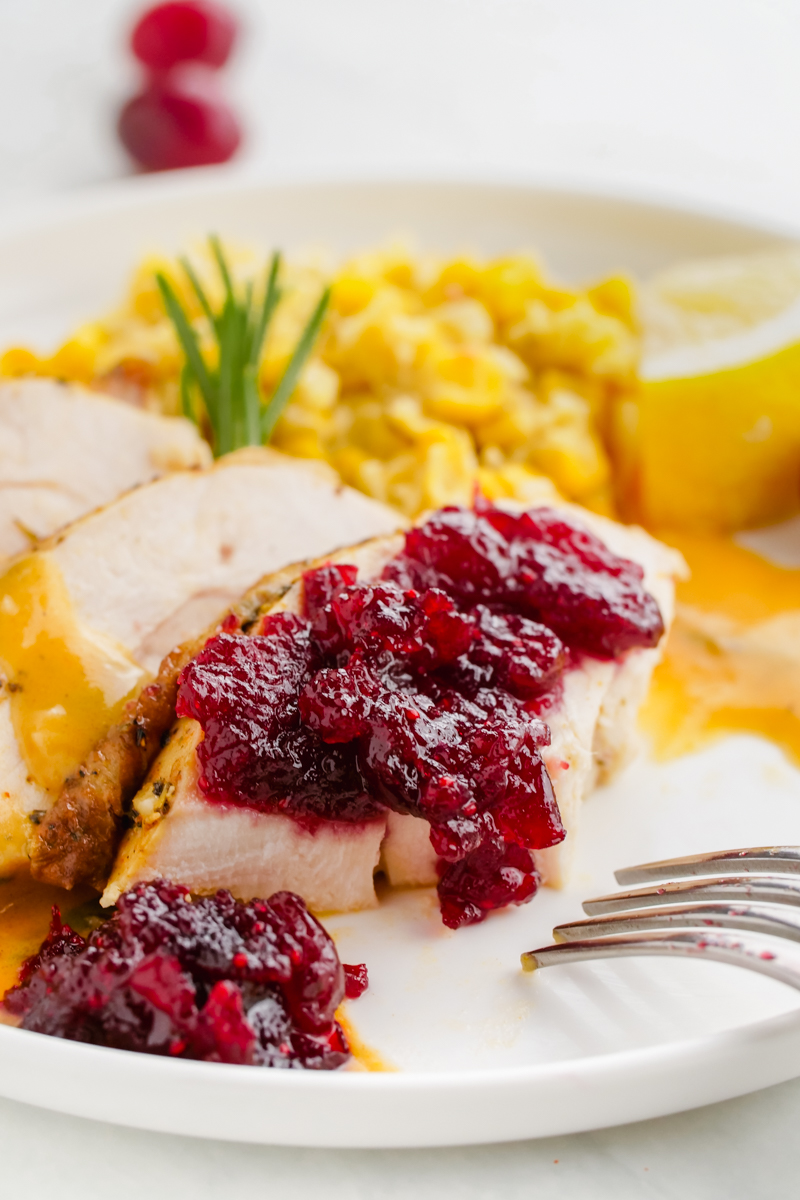 Serving Suggestions:
As already mentioned, there are so many options.  Serve Cranberry Sauce with:
Or, if you aren't in the mood for a feast, keep it simple and serve it as a winning topping to an easy waffles recipe.
You Haven't Experienced True Cranberry Sauce Until You've Tried This!
And now that I've got you thinking about cranberries, here are some other cranberry inspired favorites.
How To Make Cranberry  Sauce: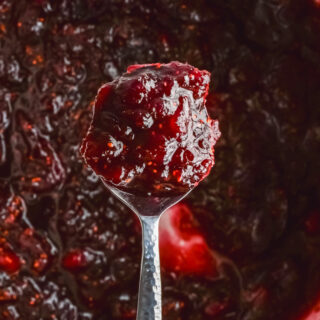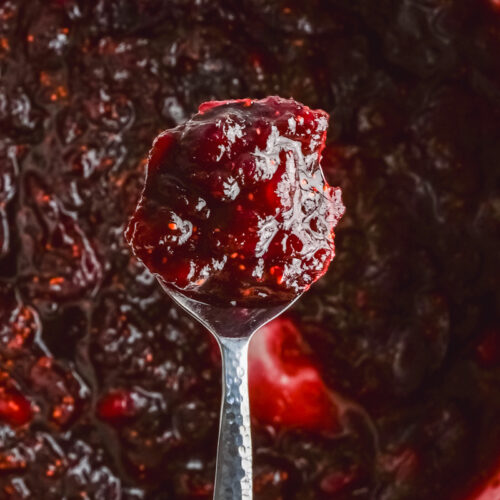 Cranberry Sauce
Tart and sweet homemade cranberry sauce. Learn how to make cranberry sauce in just 15 minutes with fresh cranberries to serve on your Thanksgiving table.
Print
Pin
Rate
Ingredients
12

ounces

cranberries

1/2

cup

white sugar

1/2

cup

brown sugar

1/2

cup

orange juice

1/2

cup

water
Optional:
1/4

tsp

cinnamon

1

tsp

orange rind

grated

1/2

cup

Pineapple juice

Use pineapple juice instead of water

1/4

Grand Marinier

Sub in ¼ cup grand Marinier for other liquid

1/2

cup

Fresh raspberries

Add fresh raspberries, pineapple, etc.
Instructions
In a medium sized saucepan over medium heat, warm orange juice and water.

Once warm, but not boiling, add sugar, and stir while continuing to heat in order to dissolve the sugar in the orange juice and water.

When sugar is dissolved, stir in the cranberries and cook until the cranberries start to pop open (about 10 minutes).

Use a wooden spoon to mash some of the cranberries up to create a jam like substance.

Remove from heat and place sauce in a bowl. Or allow it to cook 3-5 minutes more for a thicker preparation.

Cranberry sauce will thicken as it cools.
Nutrition
Calories:
127
kcal
|
Carbohydrates:
33
g
|
Protein:
1
g
|
Fat:
1
g
|
Saturated Fat:
1
g
|
Sodium:
6
mg
|
Potassium:
85
mg
|
Fiber:
2
g
|
Sugar:
29
g
|
Vitamin A:
57
IU
|
Vitamin C:
13
mg
|
Calcium:
17
mg
|
Iron:
1
mg
Our recipe card software calculates these nutrition facts based on averages for the above ingredients, different brands, and quality of produce/meats may have different nutritional information, always calculate your own based on the specific products you use in order to achieve accurate macros for this recipe.
Want to use this recipe in a meal plan?
Try PrePear, my FREE Meal Planning App that allows you to save your recipes, plan meals, shop for groceries, and cook simply in one place. Join Here!
Pin to your Thanksgiving Sides board: