Smoked Pulled Pork: 
You don't have to be a pit master to make mouthwatering pulled pork at home. Smoked pork shoulder gives you savory, juicy, flavorful meat you can use in sandwiches or as the star of a delicious barbecue plate. This is the best pulled pork recipe around!
You know I am obsessed with making food on my Traeger grill. And that I think everything, literally everything, tastes better when cooked over smoke. But smoked pork shoulder, or pork butt is my favorite thing to make. You can roast a huge pork shoulder, and have shredded pork for days! And it is good in everything.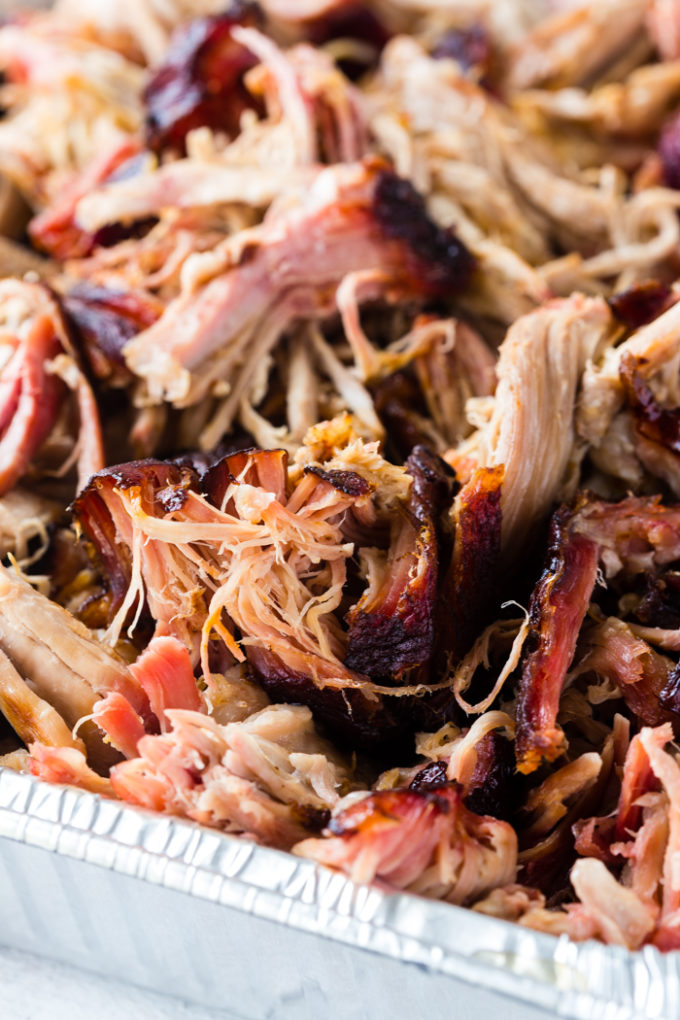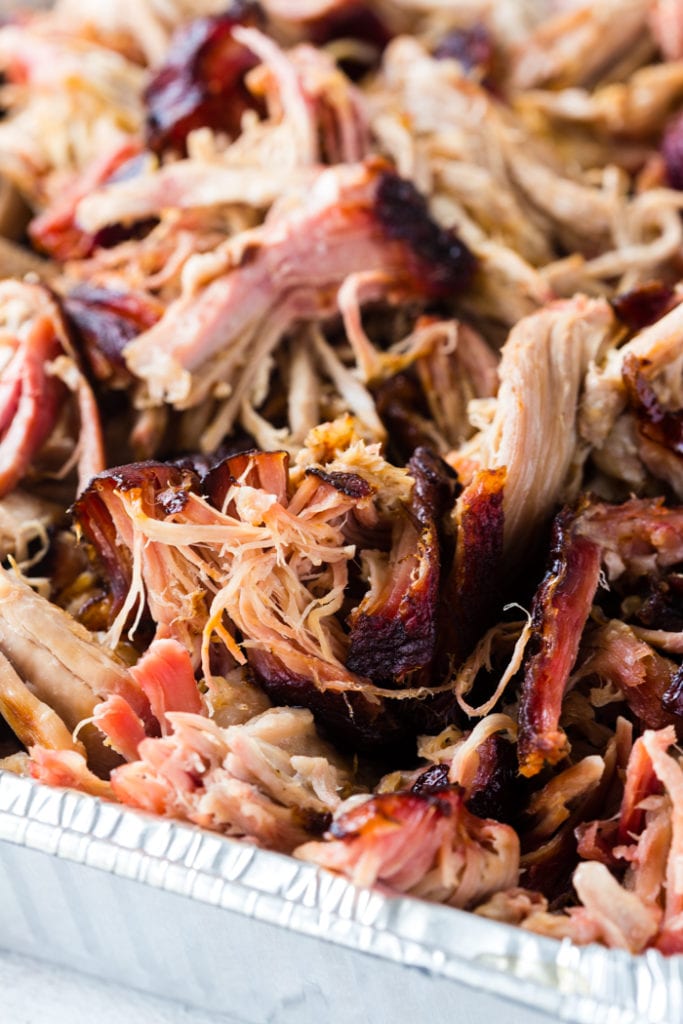 There are some serious barbecue partisans out there, but I've decided not to take sides. I like ALL of it. Carolina pulled pork, Texas brisket, Kansas City ribs…so it was a big day when I got my own smoker, and the first thing I wanted to find was the best pulled pork recipe. After a little trial and error, and I can say with confidence: I got it! This smoked pulled pork is perfectly smoky, juicy and tender—a meat-lover's dream. It is butter soft, super flavorful, and perfect as is, smothered in BBQ sauce, or teriyaki sauce. 
What temperature do you use for smoked pulled pork?
Smoke is a pretty forgiving. And not all smokers are created equal when it comes to how consistently they maintain temperature. You'll be smoking somewhere between 200 and 250, depending on how large a piece of meat you have and long you want to leave the meat in the smoker. For this recipe I use 225 degrees to cook an 8-pound smoked pork shoulder until it reaches 202 degrees. 
When it is done, it should have an amazing dark bark, and the interior will be juicy, fork tender, and so delicious. I have literally made close to 30 pork shoulders in the last year, serving it at parties. And the best ones have all been cooked at about 225 degrees. My Traeger grill will fluctuate a few degrees while cooking, especially if you open the lid, so I set it at 225, and let it do it's thing.
Well, then, how long does it take to smoke a pork shoulder at 225?
At 225, figure roughly 2 hours per pound of meat, so the same piece of smoked pork shoulder takes from 12- 16 hours at 225.  There are a lot of factors in how long it takes, including the humidity in the air, how consistent the grill holds temperature, the outside temperature, and more. So, my biggest suggestion is to never cook your pork butt or pork shoulder based on time alone. 
Use it as a rough estimate for when to put your pork on to smoke, but do yourself a huge favor, and cook based on temperature. A meat thermometer is your best friend when smoking. Especially if you want a beautiful exterior bark, and tasty flavorful interior that is juicy.
Cook to between 195 degrees and 202 degrees. If you want softer pork cook it to the higher temperature end of things.
A lot of pitmasters will speed up the time by wrapping their smoked pork butt in foil or butcher paper at 165 degrees, this will shorten the process and help to push their meat through this stall period.
If you are in a time crunch, this is a good idea. HOWEVER, if you can go low and slow, and take the time, I would suggest not wrapping. When you don't wrap it, it will get more of the smoke flavor. And develop a richer bark, that dark exterior that almost looks like you burnt your meat, but is really the caramelized, delicious bits that give it the most flavor.

How do you know when your pulled pork is done?
This pulled pork recipe uses a rub that helps the meat develop a delicious bark on the outside, which does make a person wonder what's going on inside. Because smoking cooks meat at such a low temperature, though, you don't have to worry about the inside being underdone when the outside is cooked. Check the internal temperature—the pork should be 195-201, and pull apart easily.
But you get the tenderest, juiciest pulled pork if you wait to shred it. Wrap the meat in foil when you take it out of the smoker and let it sit for an hour. An hour of rest in a cooler, or wrapped in a towel will help it to reabsorb the juices.
After that hour you can shred it.
Extras: Pork butt, pork shoulder, Boston butt…what piece of pork do I use for pulled pork?
All of them. Any of them. The great pork secret is…<drumroll>…they're the same thing. Bone-in pork shoulder, Boston butt roast, or pork butt are just different names for the same thing. The "butt" isn't, well, where Porky sits down. When you're talking about pork cuts, "butt" means the butt end of the shoulder—the upper shoulder. The upper part of the rear leg is where you get ham. So…ham is the pig's butt, and the butt is the pig's shoulder. Got it?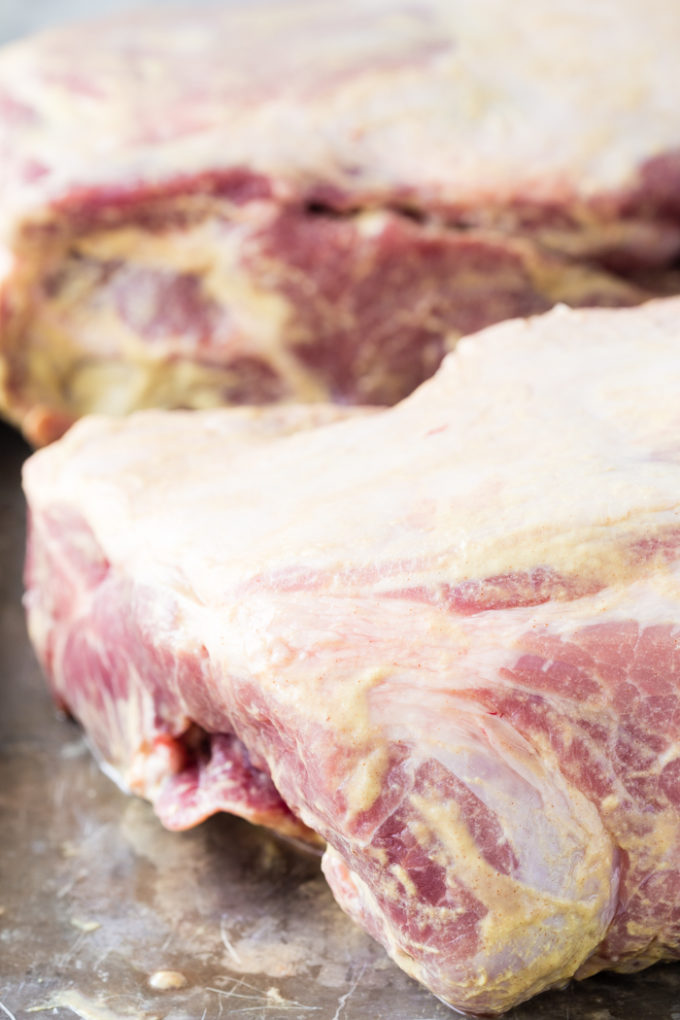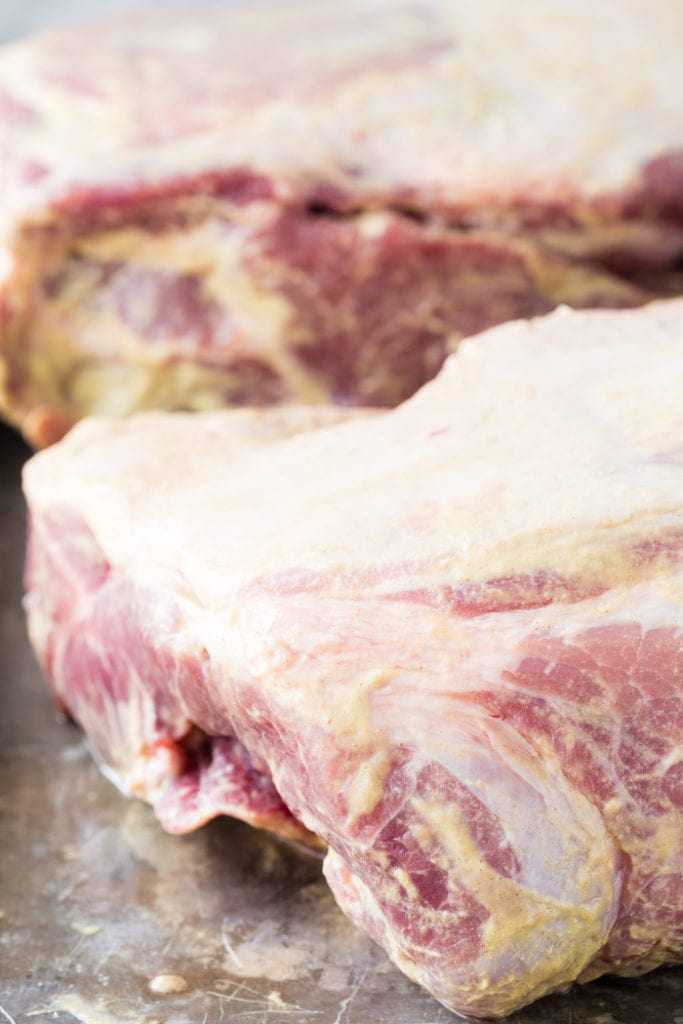 To get the flavor I want, the moisture I want, and the bark I want, I start by rubbing the pork shoulder down with mustard. Don't worry, your pork is not going to taste like mustard when it gets done cooking. I promise. Then I slather it with a delicious rub recipe that is made up of spices you already have in your cupboard.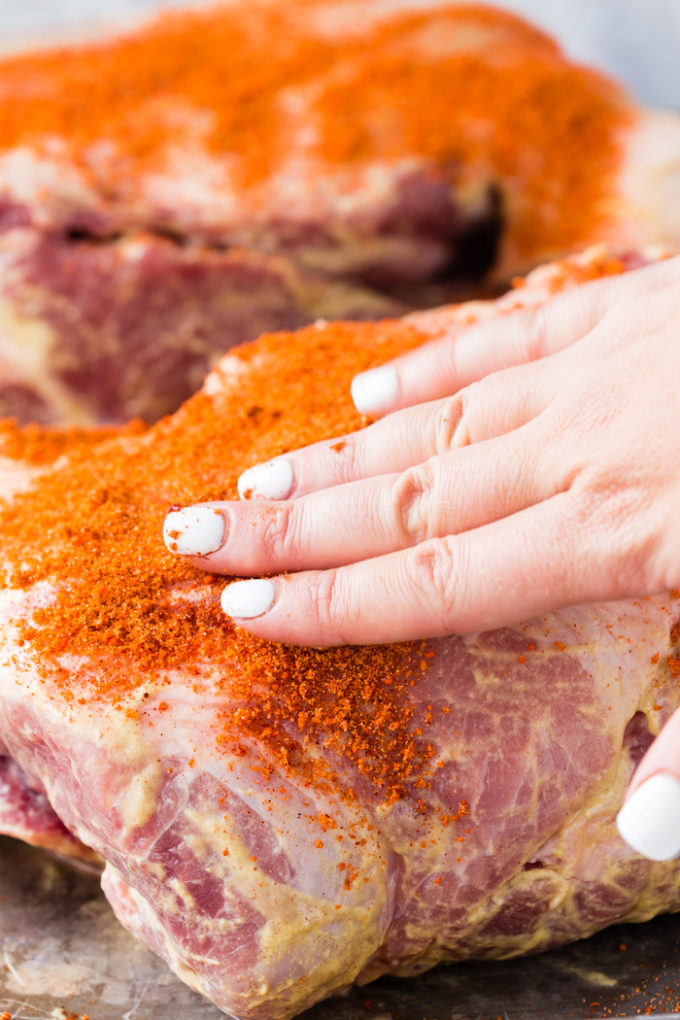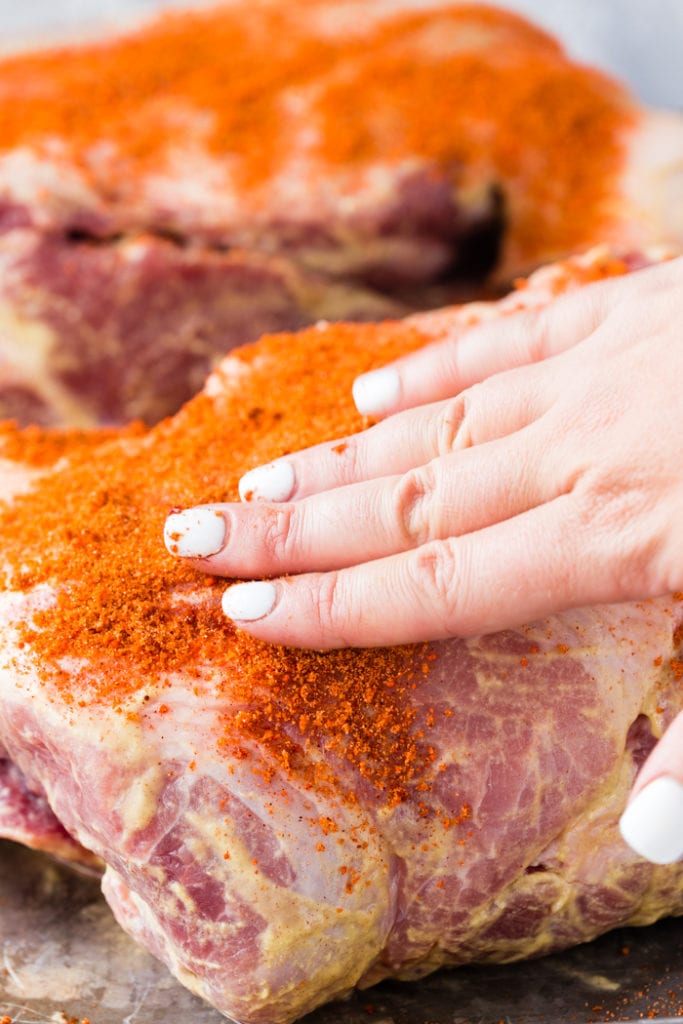 It seems like when people start talking about barbecued ribs or pulled pork, they get as excited about the sides as they do about the meat. You should be excited, too, because they're all things you fix ahead of time. That means you can relax and enjoy family and friends, not worry about when the meat is going to be done, and then serve up a stress-free feast whenever you're ready. Here are my favorites: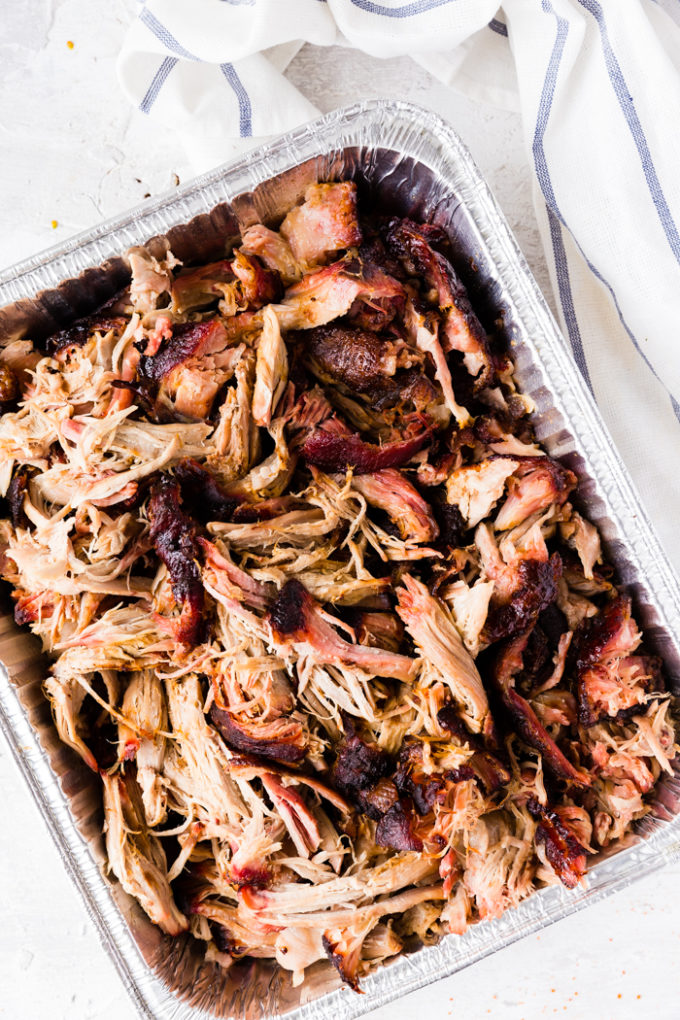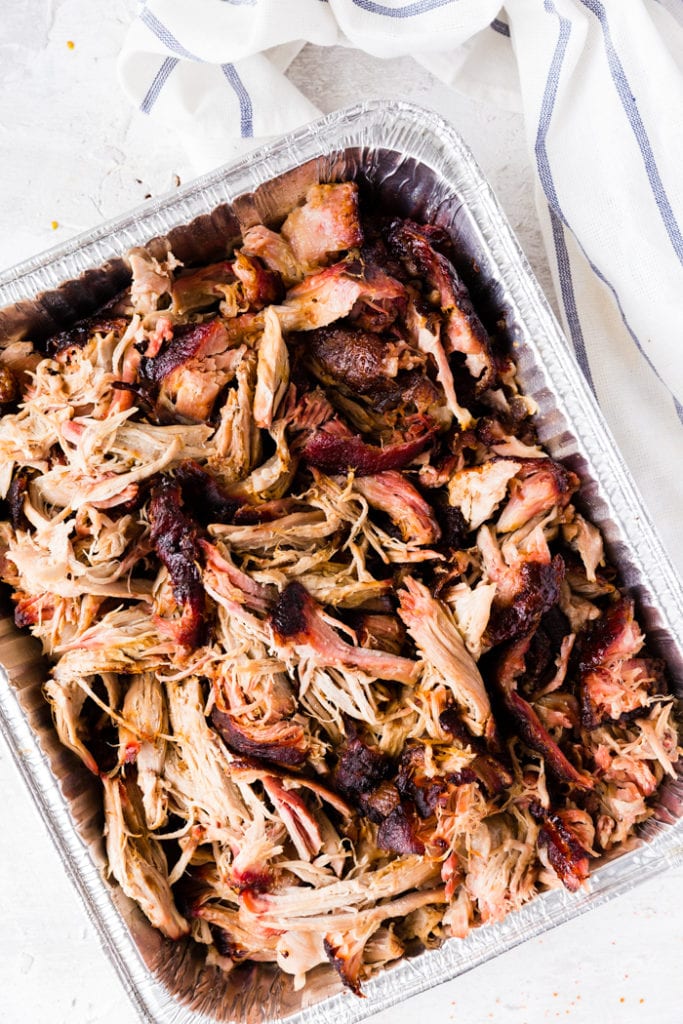 More Delicious Recipes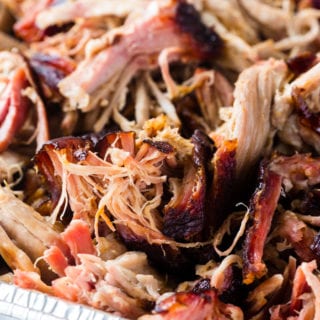 Smoked Pulled Pork–Pork Shoulder or Pork Butt
A delicious and easy to make smoked pork, this pulled pork, or shredded pork roast is made with pork shoulder and cooked low and slow on a pellet smoker until it reaches an internal temperature of 195-202 degrees, for a melt in your mouth, buttery soft, shredded pork.
Print
Pin
Rate
Ingredients
1 8-10

pound

pork shoulder roast or pork butt roast

1/4

cup

yellow mustard
Spice Mixture
1/4

brown sugar

1/4

cup

coarse sea salt

3

Tbs

cracked black pepper

2

Tbs

smoked paprika

2

tsps

chipotle powder

optional

2

tsps

garlic powder

2

tsps

onion powder
Instructions
Preheat smoker to 225 degrees F for indirect smoking.

Remove your pork from the packaging and pat it dry with paper towels.

Put the yellow mustard on the exterior of the pork shoulder and rub it all over, or use a pastry brush and brush it all over the pork.

Mix the spice mixture up in a bowl, and reserve 2 Tbs.

Season your pork roast on all sides with remaining spice mixture, Rub it all over the top and bottom and coat liberally.

Place your seasoned roast on the smoker fat side up. It is bet to put it right in the middle, avoiding any hot spots on your smoker.

Insert a meat thermometer you can check without opening the smoker if you can.

Smoke the pork until it reaches at least 195 degrees. This can take anywhere between 12-20 hours, depending on the consistency of heat in your smoker and the size of your pork roast.

Once your pork reaches the desired temperature between 195-202 degrees, remove the pork shoulder from the smoker and wrap in foil.

Rest your pork for a minimum of 1 hour.

Once the hour is up, shred the pork shoulder.

Sprinkle with reserved seasoning and enjoy.
Notes
This recipe was adapted from Hey Grill Hey https://heygrillhey.com/simple-smoked-pulled-pork/
Nutrition
Calories:
241
kcal
|
Carbohydrates:
2
g
|
Protein:
30
g
|
Fat:
11
g
|
Saturated Fat:
3
g
|
Cholesterol:
104
mg
|
Sodium:
1936
mg
|
Potassium:
582
mg
|
Vitamin A:
520
IU
|
Vitamin C:
1.4
mg
|
Calcium:
34
mg
|
Iron:
2.3
mg
Our recipe card software calculates these nutrition facts based on averages for the above ingredients, different brands, and quality of produce/meats may have different nutritional information, always calculate your own based on the specific products you use in order to achieve accurate macros for this recipe.
Want to use this recipe in a meal plan?
Try PrePear, my FREE Meal Planning App that allows you to save your recipes, plan meals, shop for groceries, and cook simply in one place. Join Here!
Pin to your Grilling or Smoking board on Pinterest: