Instant Pot Baby Back Ribs
Fall off the bone tender, crazy delicious, and super easy Instant Pot Baby Back Ribs, that taste like you smoked them for hours, but only take about an hour total to make.
This is a real dinner winner, that will have you licking your fingers, and wondering how you survived before the Instant Pot.
When you want quick, easy, delicious ribs. This is the recipe for you. Serve with twice baked potatoes, coleslaw, corn on the cob, and a pitcher of mojitos for a fun summer meal outside!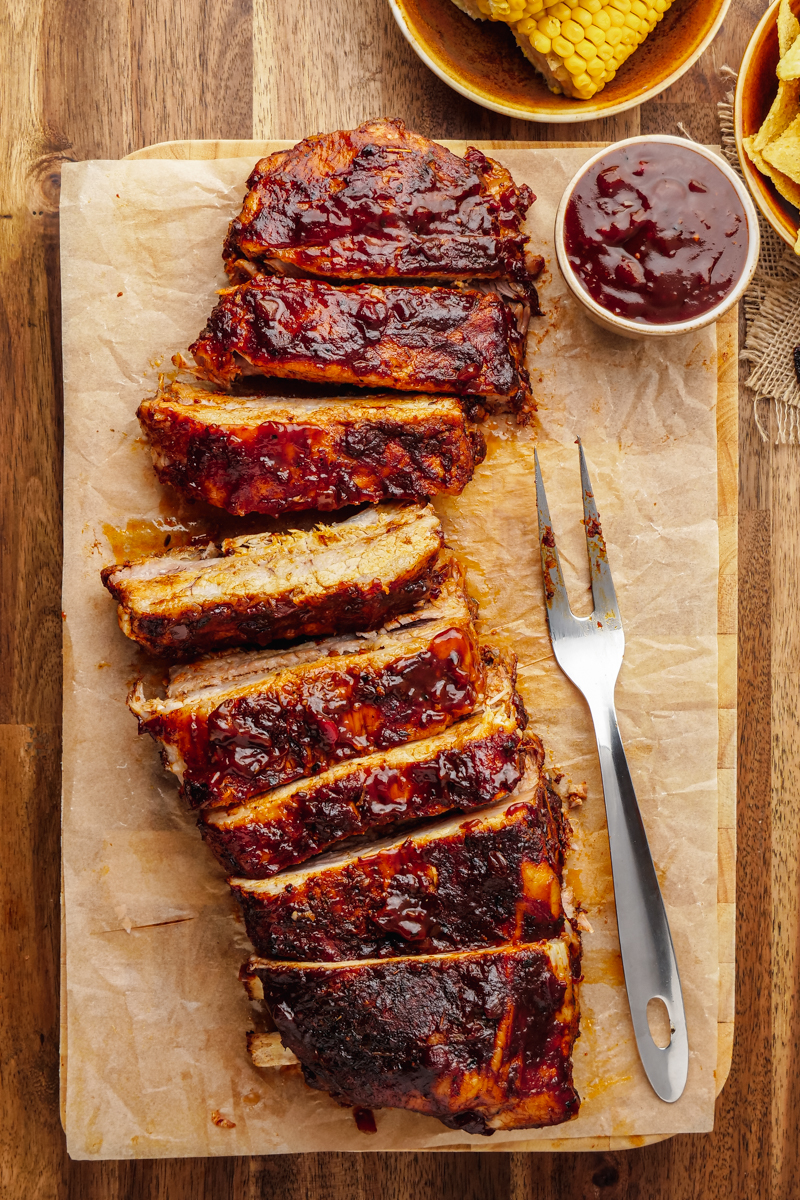 If you are new to the Instant Pot, check out this guide for Cooking with an Instant Pot.
Ribs scream summer to me, especially when served with a Summer Coleslaw, and I have an amazing recipe for Oven Baby Back Ribs. Seriously amazing. But I have to say, unless I am making ribs for a crowd,  this Instant Pot recipe is now my go to. It is so easy. It is so fool proof, even my kids can do it. And the ribs turn out tender, fall off the bone, tender. And juicy, and just so stinking good.
The pressure cooker helps make the ribs extra flavorful, and quickly breaks down the connective tissues that make ribs tough. So you get big, meaty bites, that are absolutely deliciously tender.
Where the pressure cooker really shines, is it has this ability to take a big cut of meat, and cook it to tender perfection in half the time. And today I am sharing all my secrets to getting perfect ribs, that hold together, but are so tender the bones slide right out. And I will even share my tip if you literally want them to fall apart!
Get your napkins ready…you are going to need them.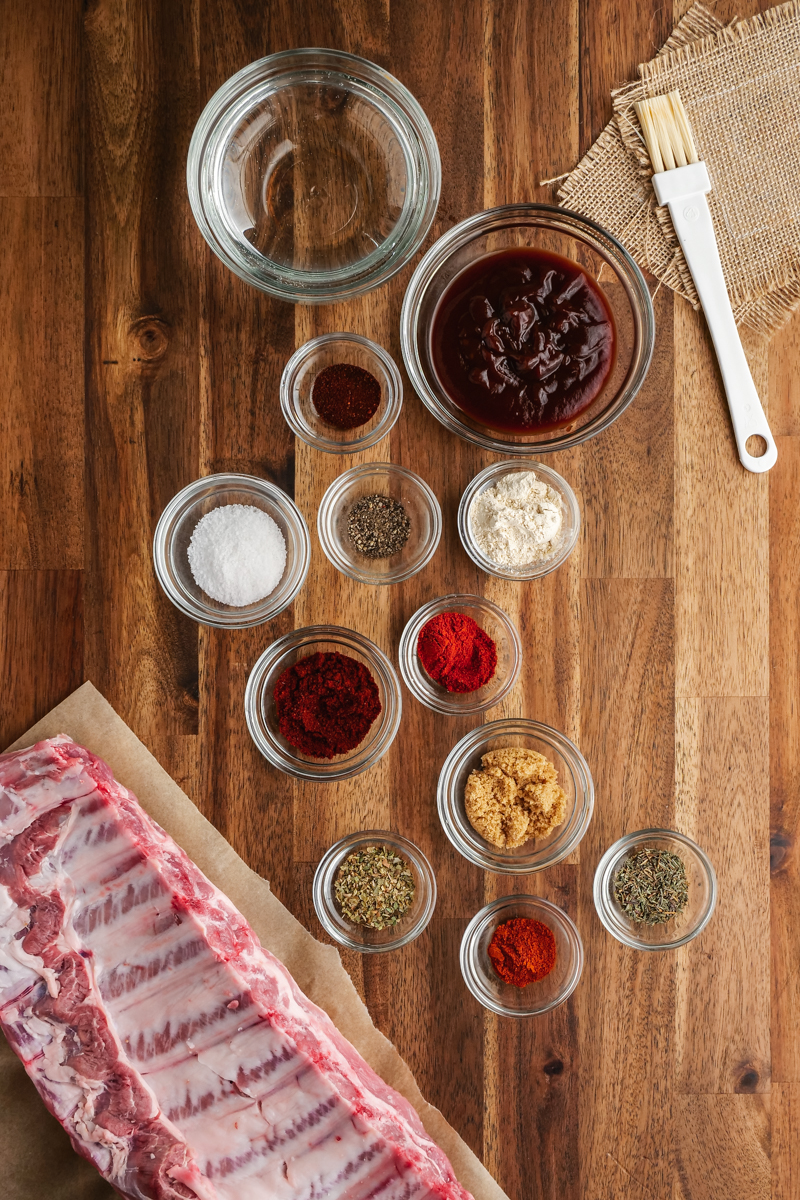 Ingredients Needed
Ribs: As you can see from the post title, this is a recipe for Baby Back Ribs, but luckily, you can use spare ribs too if you need, and I will tell you how to adjust the cooking time for the different cut.
Water: Pressure Cookers need liquid to help them come to pressure. I have tested this recipe with water, orange juice, apple juice, and beer. And have found that because I don't cook the ribs in the liquid, it does not make a huge impact what liquid you use. And so I say save money and use water! But, if you want some extra flavor, sub in a different liquid of your choice.
Liquid Smoke: This little addition of liquid smoke is part of what takes these ribs over the top! You get the flavor of smoking them on a pellet grill for hours, but without having to actually smoke them. Saving you money, time, and effort. So if you have it, use it. But, you can skip it. But don't!
Spice Rub: The spice rub is one I make myself, and the reason is, I like to control the flavors. BUT…if you are in a hurry, a pre-made, sweet rub that is made for pork or poultry, and it works well. But you will find these spices are probably mostly already in your spice pantry, and are all easy to find.
BBQ Sauce: This is another instance where you can make it yourself, and use a homemade bbq sauce, or simply buy your favorite bottled kind. We love Bull's Eye and Sweet Baby Ray's for these ribs.

Spice Rub
A dry spice rub is an excellent way to infuse ribs with flavor.
The spice rub is homemade, and has salt, brown sugar, paprika, chili, garlic, oregano, thyme, chipotle, and some pepper.
This rub is the perfect combo of sweet and savory.
If you really want to add flavor, you can rub the ribs down several hours before cooking, wrap them in plastic wrap, and refrigerate. It works, and it helps. BUT, I have found that I often forget to plan in advance, and don't want to take the trouble in advance. So rest assured, I have tested this rubbing them a few minutes before and a few hours before, and you can do either!
The key, is make sure to remove the membrane from your baby back ribs before you cook them!
How to Remove the Membrane from Baby Back Ribs 
The membrane is a thin silver layer located on the back side of the ribs, the bone side. Find it on either end of the ribs,.
Once you find it,  using a butter knife, slide it between the membrane and bones. And lift up.
Once you have lifted it, you should be able to use a paper towel to pull the membrane up, and simply tear it off.
Once you have done that, just rub your ribs down with your spice mix.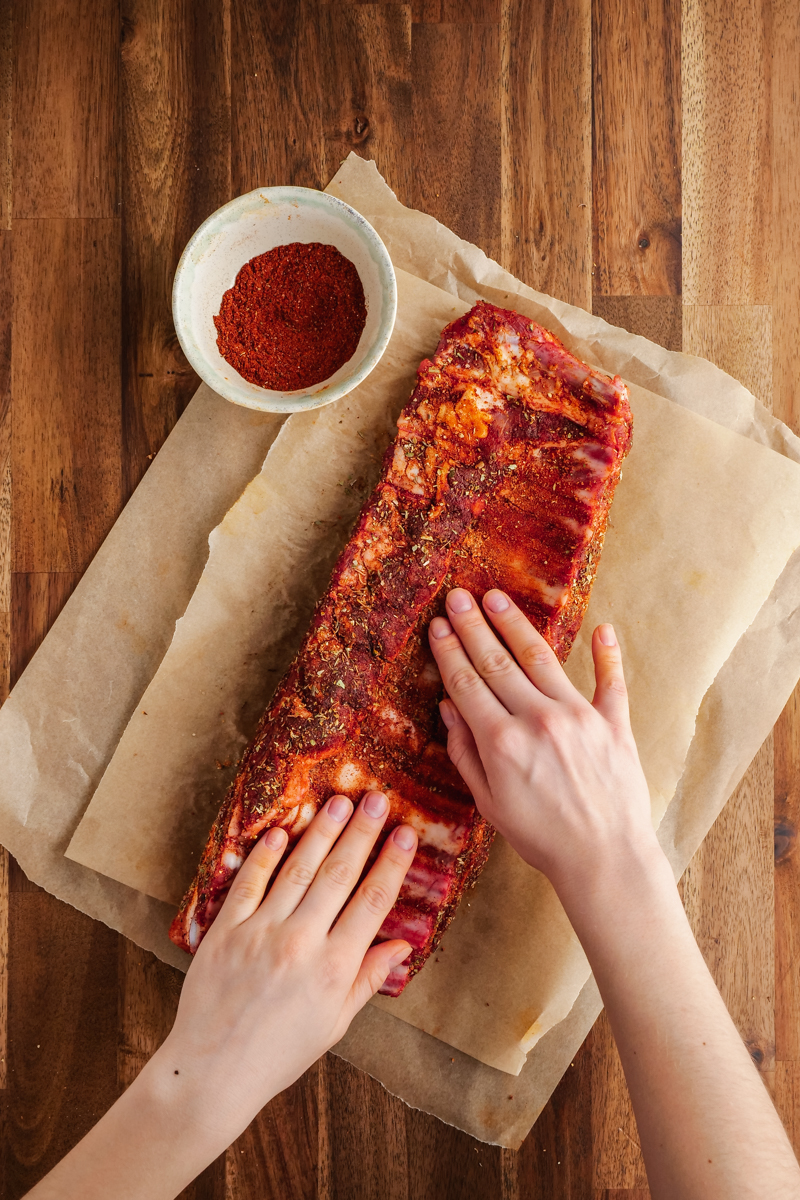 Pressure Cooker Method
Now that your ribs are prepped and ready to go, it is time to pressure cook them. The full instructions can be found in the recipe card, but here are the basics of how this method works.
Rub: Season the ribs with a spice rub.
Liquid: Add water to the bottom of the instant pot. And the liquid smoke to add the smoked flavor.
Place Trivet in:
Add Ribs: You can either curl the ribs around the instant pot, with the meat side out. Or, cut into sections, and stack them like a teepee formation.
Cook: Cook on high pressure until tender to the bite.
Naturally Release Pressure: This is important. Chances are you will smell these ribs and want to hurry and dig in, BUT… they will not be nearly as tender and moist if you don't let the pressure naturally release. Give it 15 minutes of time, then move the dial to let the rest of the pressure release.
WHAT SIZE INSTANT POT ?
6 quart or larger pressure cooker is needed to fit the ribs! If you use a larger pot, you will need to add additional liquid in order for it to come to pressure.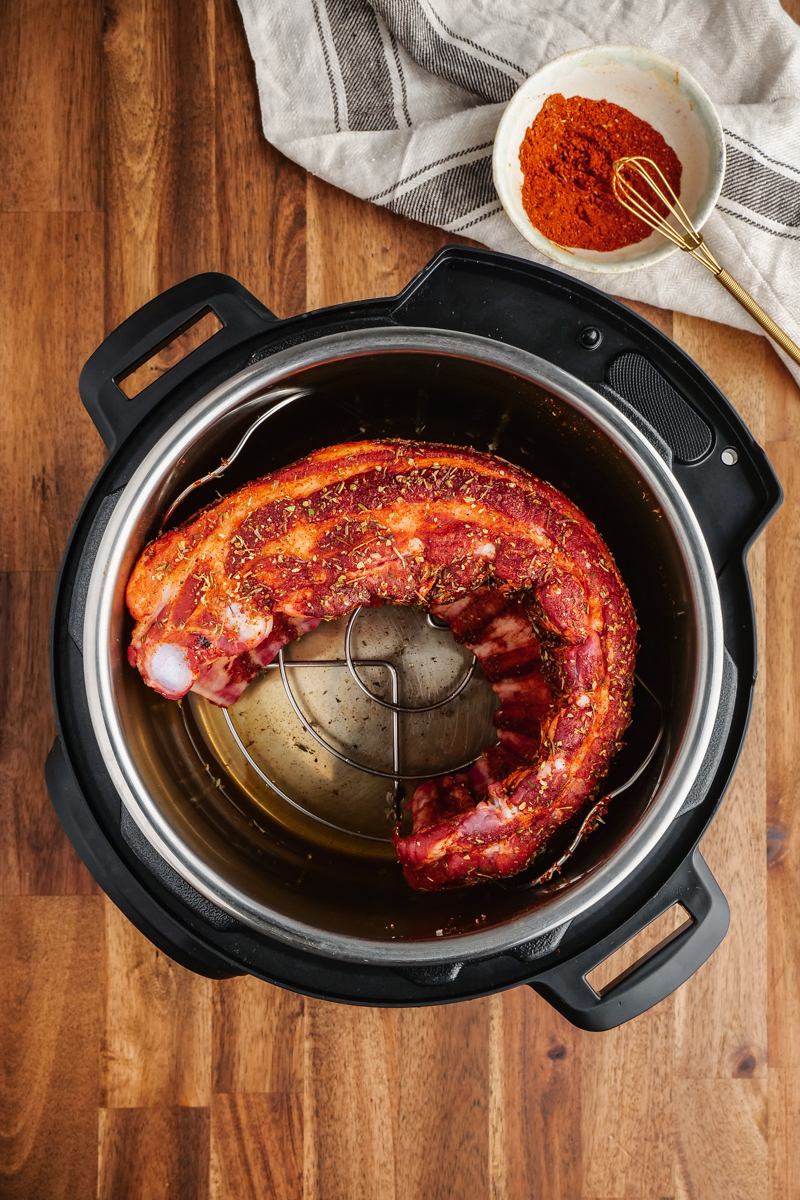 How Long To Cook Ribs:
For this recipe, I wanted tender to the bite, but not falling apart. I want the rib bones to be easy to remove, but wanted some structure to the ribs. If you want them to fall apart in your hands, cook for a little longer. Otherwise, use this guide:
Baby Back Ribs: 25-30 Minutes
Spare Ribs: 30-35 Minutes
Altitude impacts the boiling point of water, which impacts pressure. So, if you are at a low altitude shoot for the lower end of the time spectrum, and at higher altitudes cook longer.
Keep in mind it takes about 10 minutes for an instant pot to come to pressure. And you want a 15 minute natural pressure release time. So you are looking at about 50 minutes of time in the instant pot, even though it is only actively cooking for 25-30 of those minutes.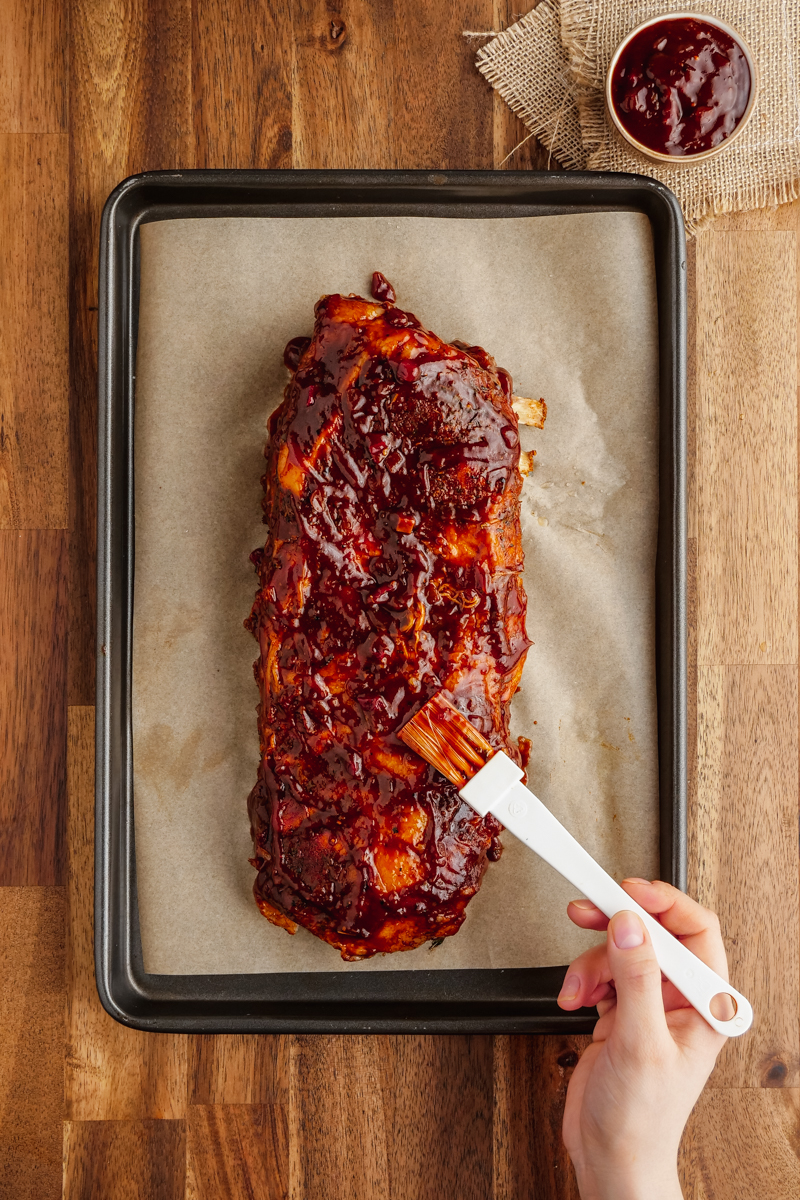 Caramelizing the BBQ Sauce:
Once your ribs are done in the instant pot, it is time to add your bbq sauce, and caramelize it. If you are making your own sauce, you can cook your ribs down in the liquid, in which case, I recommend using a flavored liquid, then use that liquid as the base for your sauce.
But over here, we like keeping it eazy peazy, while not sacrificing flavor, so we cooked them on a trivet, and used a bottled BBQ sauce.
Preheat oven to broil on high.
Brush BBQ sauce of choice over the ribs.
Broil 3-5 minutes, keeping  a close eye, until sauce is caramelized, and starting to char, but not burnt!

Then you just remove the ribs from the oven, slice them, and dig right in. I always let them rest for about 5 minutes so the juices can distribute throughout, during which time, I heat up a little extra sauce for those that like it extra saucy.
Then we dig in. I love pairing this meal with this totally delicious made from scratch, cornbread. And serve it with a leafy green salad, a cucumber salad, or a vegetable side, and some kind of potato, like smashed potatoes.
But it doesn't matter what you serve it with, it will steal the show, and these ribs will be an instant, instant pot favorite.
Tips and Tricks
Buying Baby Back Ribs: Great end results always start with great ingredients. When purchasing baby back ribs, look for ones that offer a fairly even thickness throughout the rack, this way you don't end up with some over and other under-cooked parts. Also look for a nice even marbling.
Use a Trivet: If you want to, you can place your ribs directly in the liquid, but the flavors from the meat will flavor the liquid, and you will lose some of it. So, to preserve those flavors, use a trivet. The instant pot comes with one, so use it!
Watch Broil Closely: Things can go from good to bad in the broiler quickly, and you do not want to burn your ribs, especially after smelling them while they cook. So do not get distracted when they are under the broiler. Pay attention so you get that nice caramelization, but don't end up with burned ribs.

Serve With: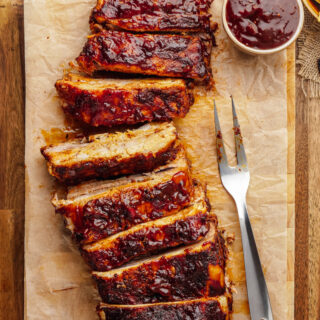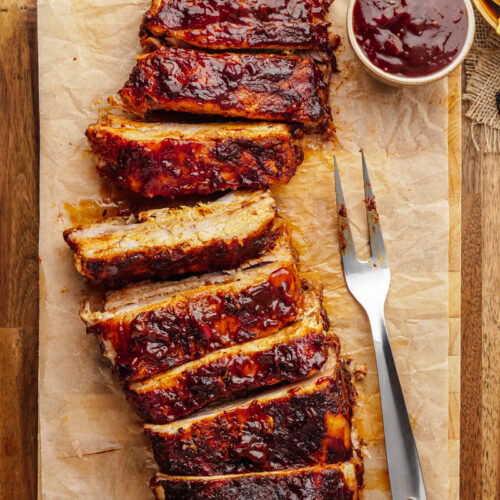 Ingredients
1

rack

baby back pork ribs

2 pounds, rinsed, patted dry, silver lining removed.

1

cup

water

1

tsp

liquid smoke.

¼

cup

barbeque sauce

or as needed
Spice Rub
1

Tablespoon

kosher salt

1

tablespoon

brown sugar

1

tablespoon

chili powder

1

teaspoon

smoked paprika

2

teaspoons

garlic powder

1

teaspoon

thyme

1

teaspoon

oregano

½

teaspoons

cayenne pepper

½

teaspoon

chipotle powder

1

teaspoon

ground black pepper
Instructions
Remove the membrane from the underside of the ribs. To do this, find a corner and pull it all the way down the entire length. Or use a butter knife, and slip it under, and pull it off. Then wash and dry the ribs, patting them with a paper towel to fully dry them. Set aside.

Combine spice rub ingredients in a small bowl, and stir to mix completely. Set aside.

Rub all sides of the rack of ribs with the spice rub. Completely coat the exterior.

Prep your instant pot by pouring the water, and liquid smoke into the bottom of the pot. Then place the trivet into the bottom so the ribs won't be sitting directly in the liquid.

Add the ribs, on top of the trivet, wrapping them into a circle, inside the pot liner. If you can't fit them, by wrapping them, you can cut them, and place them in a teepee like formation on the trivet.

Close and lock the lid. Place valve to the sealing position.

Select high pressure and set the timer for 30 minutes.

Meanwhile, when there is 15-20 minutes of time left before ribs are done, preheat the oven to Broil on High. Line a baking sheet with aluminum foil.

The pot will take 10- 15 minutes or so to come to pressure, then 30 minutes of cook time. Once this is done, allow 15 minutes for pressure to naturally release (pot should read L00:15). After the 15 minutes, turn the valve to release pressure, and carefully open the lid (away from you).

Use tongs to remove the rack of ribs from the pot, and place on the lined baking tray.

Brush ribs on all sides with your favorite barbeque sauce. Coating them liberally.

Place tray in the preheated oven, and broil 3-5 minutes to caramelize the BBQ sauce, watching closely so as not to burn them.

Use an instant-read thermometer inserted into the center to ensure they are done, it should read 145 degrees F (63 degrees C).

Serve with extra sauce if desired.
Our recipe card software calculates these nutrition facts based on averages for the above ingredients, different brands, and quality of produce/meats may have different nutritional information, always calculate your own based on the specific products you use in order to achieve accurate macros for this recipe.
Want to use this recipe in a meal plan?
Try PrePear, my FREE Meal Planning App that allows you to save your recipes, plan meals, shop for groceries, and cook simply in one place. Join Here!
Pin to your Instant Pot board: