Sun Dried Tomato, Spinach and Cheese Egg Cups
Sun Dried Tomato, Spinach and Cheese Egg Cups make a great grab and go breakfast choice.  They are low carb, packed with protein, can be made ahead, and are absolutely delicious. 
Serve with a summer fruit salad, blueberry muffins, or a variety of other egg muffins for a complete breakfast.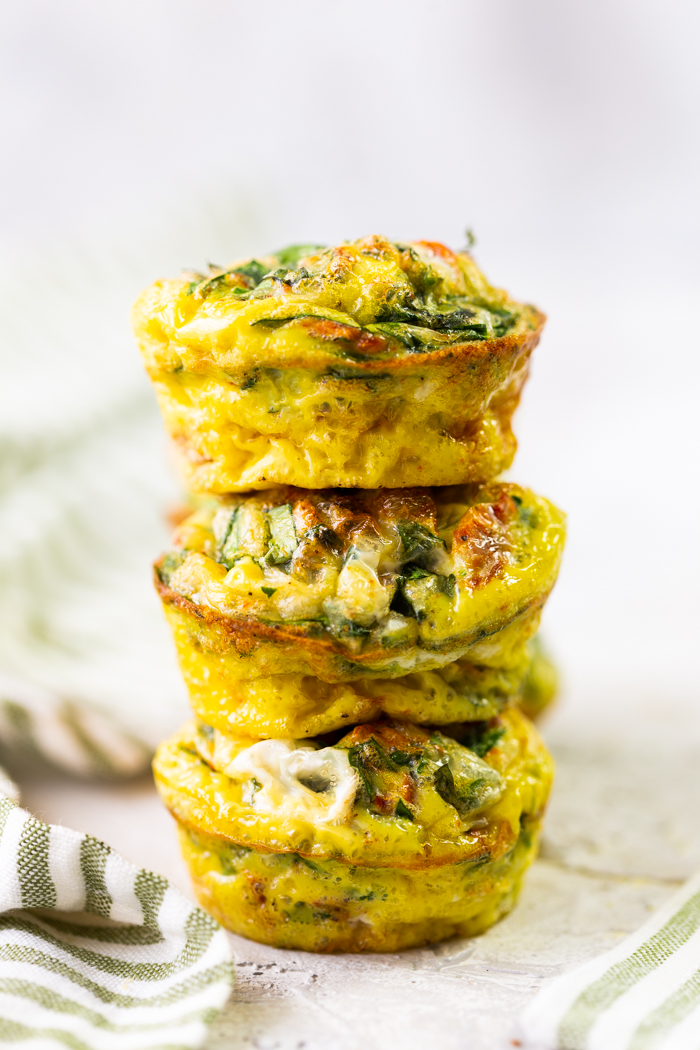 Delicious sun dried tomatoes, melted cheese, and spinach make this breakfast egg muffin recipe unforgettable because it provides the perfect balance of flavor with each and every bite.
Make this egg muffin recipe when you want a utensil free dish that is easy to make and even easier to eat.  
Sun Dried Tomato, Spinach and Cheese Egg Cups are the perfect muffin tin eggs for families who don't have a lot of time in the morning but still want a tasty, nutritiously filled meal.
I am a big fan of egg muffins or egg cups.  What I think really sets this breakfast egg muffin recipe a part from the rest are those delicious sun dried tomatoes.  
Sun dried tomatoes can really elevate a dish and offer a great flavor to the eggs.
How Many Calories Does An Egg Muffin Have?
Not only are these Sun Dried Tomato, Spinach, and Cheese Egg Cups delicious, but they don't have to kill your calorie count for the day either.
As a baseline egg muffins are not that high in calories.  
If you make an egg muffin with just an egg, it will be about 70 calories, give or take.  Add a conservative amount of cheese and you can expect to be up to about 100 calories.
One sun dried tomato is about five calories or so, depending on how many you personally want to put in each egg muffin there shouldn't be that large of an increase in calories.  Five or 6 sun dried tomatoes will add about 30 calories to the dish.
Then lastly, spinach typically does not need to be a concern in regards to calories.  A whole cup of raw spinach is only about 7 calories.
As you can see an egg muffin is usually a pretty low calorie breakfast option.   Obviously recipes that go heavy on things like sausage and cheese will increase the calorie intake, but you as the chef can be mindful of portion size.
However as a whole, egg muffins can make a great, low calorie breakfast option, especially these Sun Dried Tomato, Spinach, and Cheese Egg Cups.

Can You Meal Prep Eggs?
Some egg dishes can definitely be prepped ahead of time and that is one of the things I love about egg cups.  
I love that you can make these Sun Dried Tomato, Spinach and Cheese Egg Cups at the beginning of the week and they store great in the refrigerator for up to five days, providing you with an easy breakfast option all week long.
If you prefer egg muffins warm, after storing the fridge, reheat them in the microwave for 20 seconds or so.  
Make Ahead and Freeze:
Plus, for a longer term solution you can make egg cups ahead of time and freeze them.  So, when you have a week that is too busy to even think about cooking, but you want to feel like you started your week off right, you can pull out some already made delicious egg cups from the freezer.
Egg cups or egg muffins last for up to 3 months in the freezer.
Plus if you want to get really ahead of the game, you can crack open a bunch of eggs and put different toppings in each egg muffin.
Egg muffins make a great canvas for so many flavor combos.  There are just so many great egg muffin recipe options.
Make Ahead Egg Muffin Options:
While egg muffins are a great make ahead dish, not all egg dishes are.  For example while you can make things like hard boiled eggs and put them in the fridge for up to 7 days, hard boiled eggs are not a freezer friendly dish.
If you are looking for another freezer friendly egg dish, try Low Carb Ham and Cheese Crustless Quiche.  You can freeze a quiche already cooked or uncooked.
Quiche is another great make ahead egg dish and I am always wanting those meals saved to my recipe card.
I love make ahead dishes because it helps me feel ahead of the game.  I love knowing that I have a home cooked meal in either my fridge or freezer just waiting for me to take out and eat at my soonest convenience.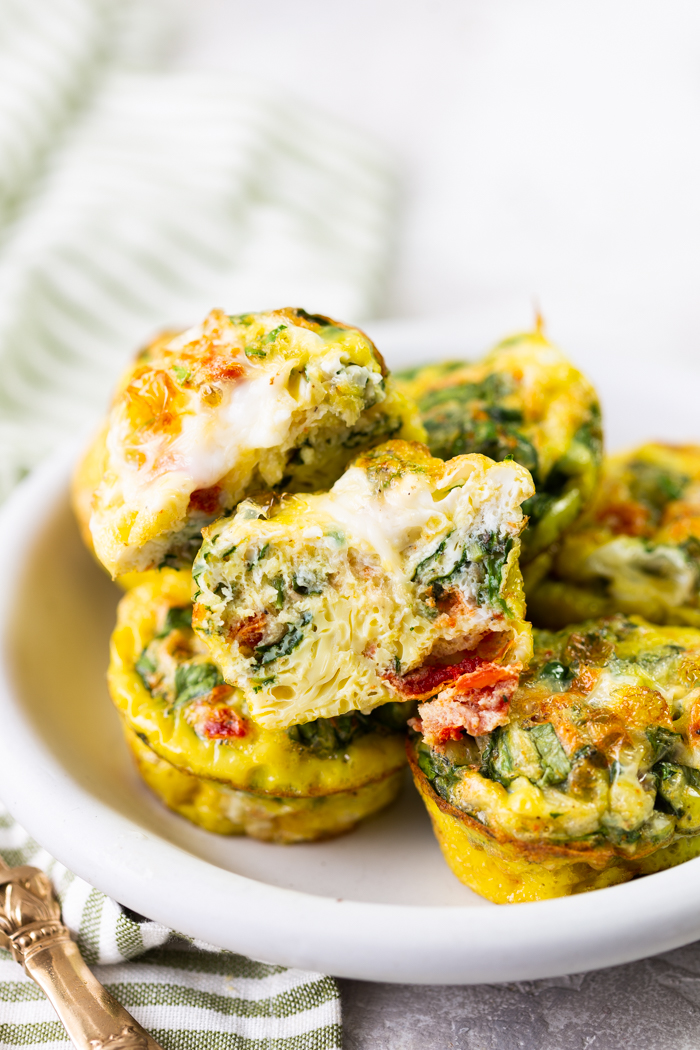 How Can I Use Excess Eggs?
Trust me an excess of eggs does not have to be problematic, in fact it is more like a gift.  Eggs are a magical food in my opinion because you can do so many things with them.
Not only can eggs be just simply cooked up in a pan or made in so many different ways, they are also used in so many baked recipes, and are incorporated as a topping in many meals.
Ways To Use Excess Eggs:
Use Eggs For Breakfast More.
Having eggs all the time for breakfast does not have to be as boring as it sounds.  There are so many different ways so prepare eggs. Plus, eggs can be such a low calorie, nutritional dish.  
Breakfast Options:
Make Some Freezer Friendly Treats.
Eggs are used in tons of baked goods.  Wouldn't it be nice to have some goodies stashed away in the freezer the next time you are having a sweet tooth craving or for when a friend unexpectedly drops in.
Freezable Treats Made With Eggs:
There are so many options when it comes to baked goods that use eggs and that can be stored in the freezer for later use.
Incorporate Into Your Dinner Rotation Dishes With Eggs In Them.
Use a sunny side up egg as a topper for a salad or stir fry or make dishes like
Pineapple Fried Rice Stuffed Egg Rolls
Pulled Pork Breakfast Hash (Keto Breakfast)
Having eggs in your dinner does not always have to mean breakfast food for dinner.
There are so many different types of dishes that use eggs as an ingredient.  Having an excess of eggs does not have to be problematic.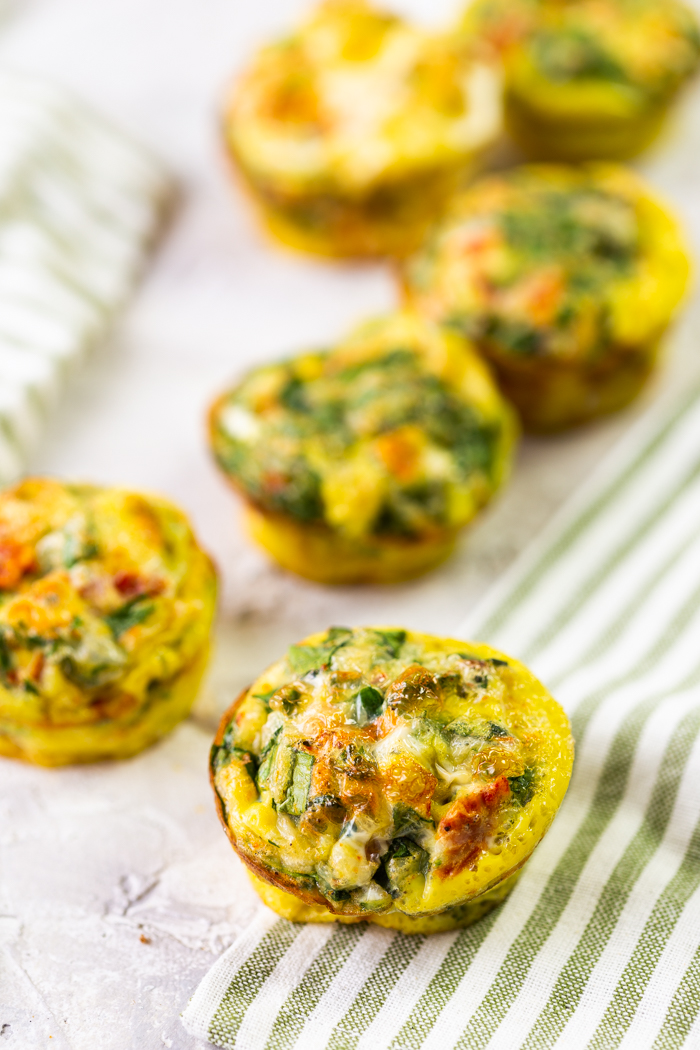 How To Get Baked On Eggs Out Of Muffin Tins?
I love to cook.  I hate the clean-up afterwards.  And let's face it, everyone is willing to eat the dish, but no one is offering to help with the clean-up.
Here is the good news though, this meal is not only easy to make, clean up can be easy too.
For starters after making this dish, you won't have tons of plates, utensils, pots, and pans to wash. Yay!
However although that is all good news, clean-up can still have its price if you have that one pan that serves as your clean-up nemesis because it has some really stubborn stuck on food.
Don't worry that does not have to be the case with the left over food on the muffin tins from egg muffins.  There are some useful tricks that will make cleaning food off of this muffin tin no big deal.
Tips For Getting Baked On Eggs Out Of Muffins Tins:
Prevent The Mess The Best You Can.  Use Nonstick Cooking Spay.
I try to minimize mess from the beginning.  I do not want to have hard to scrub off baked on food on my pans.  Don't forget to spray muffin tins with nonstick cooking spray to help minimize left over stuck on food.
Allow Time For Muffin Tins To Sit In Water.
I know sometimes once you are done with the meal you want everything to be cleaned up immediately.  However, your time is valuable too though and if cleaning up immediately means making the job take twice or even three times as long, then waiting may be a better option.  
Provide time for the remaining stuck on food to loosen up, resulting in actual scrub time being quicker and easier.   Let the muffin tin sit in water for a few hours.
Use Baking Soda And Water Mixture When Scrubbing.
Baking soda makes a great cleaning agent when it comes to scrubbing.  Mix water and baking soda together to form a paste.
With this paste and a scouring pad, scrub unwanted left over food.  Food should remove a lot easier.
Another Scrubbing Option Is Salt.
Salt is another option for scrubbing.  No water needed to form a paste. Just sprinkle salt on the muffin tins and scrub.
Use whatever method you like best.  I personally prefer to let the pan soak before doing anything else, so once I start cleaning I can put in less effort.

Serving Suggestions:
Sun Dried Tomato, Spinach and Cheese Egg Cups make the perfect breakfast, lunch, or snack.  
I personally like my egg muffins warm, but you can eat them cold, warm, or at room temp.  After storing the fridge, if you want these egg cups warm just heat them up in the microwave until they are warm enough for you, usually about 20 seconds or so.
If you are looking for a great, kid-friendly drink to wash these egg cups down with, I suggest Citrus Sangria.  It has a great flavor and will wake you right up in the morning.
Breakfast Egg Cups, A Brilliant Breakfast Dish!
Breakfast food does not have to be either boring or labor intensive.  The Sun Dried, Tomato, Spinach and Cheese Egg Cups are anything but boring and can be made in  pinch.
Looking for some other breakfast egg muffin recipes, try Easy Denver Omelet Breakfast Cups  or Jalapeño Popper Egg Muffins.  Either are great choices for a quick breakfast dish.
First though, make sure to try these Sun Dried Tomato, Spinach and Cheese Egg Cups, the sun dried tomatoes really make this egg muffin dish pop with flavor.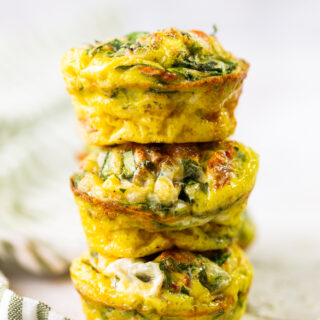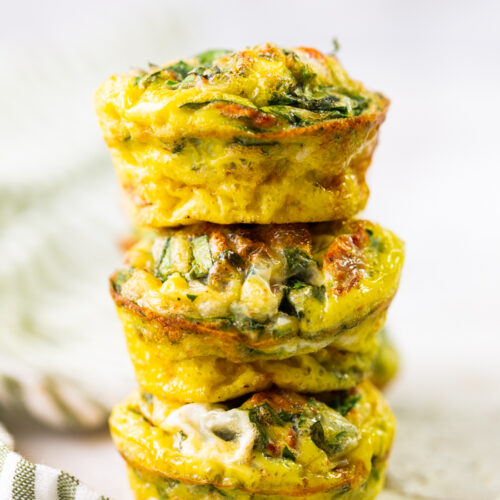 Sun-Dried Tomato, spinach and cheese egg cups
This tasty breakfast hash is made with bacon, sweet potatoes, beets, turnips, red onion, and celery and then topped with a fried egg.
Print
Pin
Rate
Ingredients
10

large eggs

1

teaspoons

sea salt

1/4

teaspoon

black pepper

1/3

cup

sun dried tomatoes

chopped

3/4

cup

spinach

chopped

1/4

cup

fresh basil

chopped or chiffoned

1

cup

Parmesan cheese

grated
Instructions
Preheat oven to 400 F.

Get a 12 count muffin tin, and line with silicone liners, or use a silicone muffin pan. Or coat a regular muffin pan with non-stick cooking spray. Set aside.

In a large mixing bowl, crack in eggs and whisk together with salt and black pepper.

Add in all other ingredients

Divide evenly into muffin tins filling 2/3 full. Top with additional parmesan cheese.

Bake in preheated oven for 12-15 minutes, or until set.
Nutrition
Calories:
93
kcal
|
Carbohydrates:
2
g
|
Protein:
8
g
|
Fat:
5
g
|
Saturated Fat:
2
g
|
Cholesterol:
142
mg
|
Sodium:
388
mg
|
Potassium:
173
mg
|
Sugar:
1
g
|
Vitamin A:
490
IU
|
Vitamin C:
1.8
mg
|
Calcium:
125
mg
|
Iron:
1.1
mg
Our recipe card software calculates these nutrition facts based on averages for the above ingredients, different brands, and quality of produce/meats may have different nutritional information, always calculate your own based on the specific products you use in order to achieve accurate macros for this recipe.
Want to use this recipe in a meal plan?
Try PrePear, my FREE Meal Planning App that allows you to save your recipes, plan meals, shop for groceries, and cook simply in one place. Join Here!