Teriyaki Chicken Stir Fry
Teriyaki Chicken Stir Fry is the the perfect stir fry dish. This stir fry recipe consists of tender pieces of chicken marinaded in a sweet and savory, easy to make homemade teriyaki sauce.
With perfectly balanced seasonings, this stir fry dish proves that minimal ingredients does not have to mean minimal taste. Teriyaki chicken stir fry packs a punch of flavor with each and every bite. Serve with lava cake or lemon shortbread cookies for a sweet ending to your meal.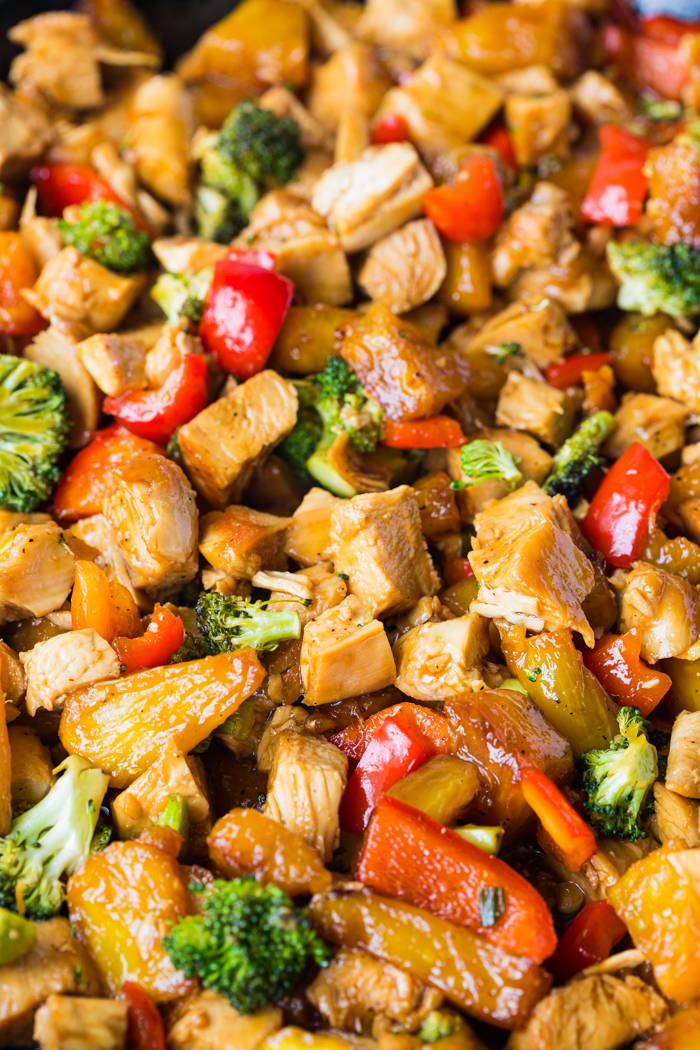 This quick chicken recipe offers one complete meal.  Serve teriyaki chicken over rice or noodles and have an easy, hearty stir fry dish that is perfect for any night of the week.  
Teriyaki Chicken Stir Fry is not only delicious, it has a great universal flavor that even the pickiest of eaters can appreciate.  
What I love about this stir fry dish is that not only does it make a great dinner, it makes a great meal for left overs or provides a great option for a more exciting meal for lunch.
In fact, I often use the leftover Skillet Teriyaki Chicken to make this stir fry!
What Does it Mean to Stir Fry?
Stir fry in cooking is one of my favorite types of cooking. In a nutshell, stir fry is done on the stove and is a fast method of cooking on high heat and stirring constantly. With the stir fry method a frying pan or wok is used and typically food is cooked with oil.
It is easy and offers a style of cooking that can be taken in so many different directions. There are so many different sauces and proteins that can be used to get different results from stir fry: like this beef stir fry, or this Chicken Asparagus stir fry noodles. 
Because you are cooking at high temperatures and the food is sliced into small portions, things cook quickly. This means you have watch and stir constantly, and your food will be done fast!
So, while food is cooking, be attentive and frequently stir the food. Stir fry cooks quickly, and this teriyaki chicken version is no exception. You will have the dinner on the table in minutes.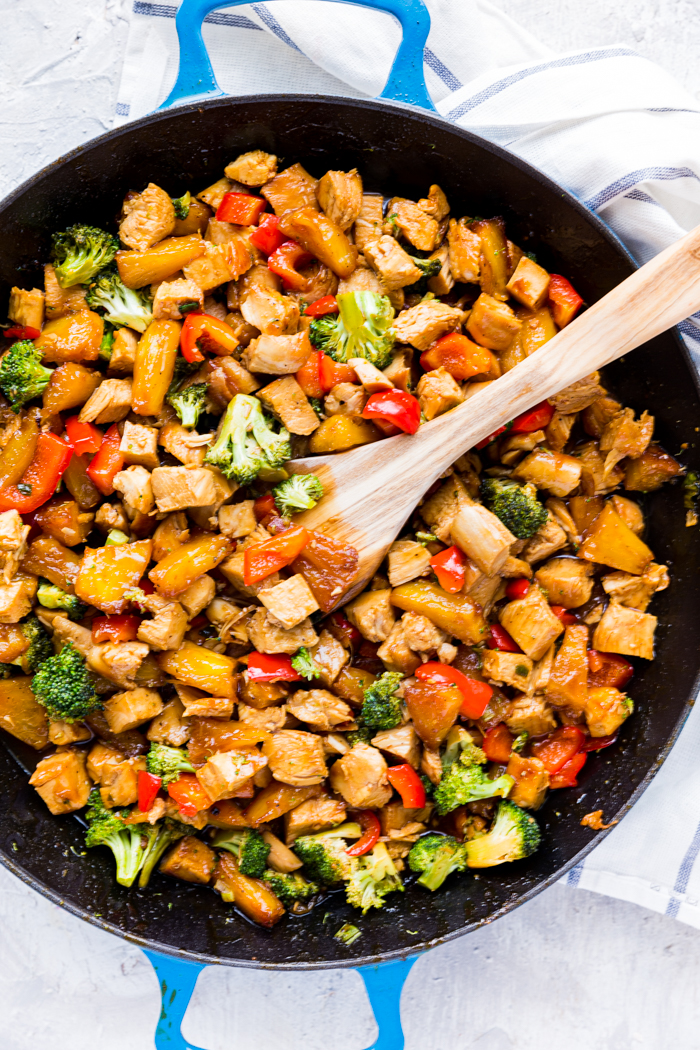 How Do You Cook Stir Fry?
Heat up work or frying pan

Use oil that is good with high temperatures (peanut oil or vegetable oil has a higher smoke point, so better for this type of cooking)

Once oil is heated up, add food in sequence. 

Cook onions first and quicker cooking veggies like spinach last
Stir fry is an easy to make, and easier to customize dish, especially this Teriyaki Chicken Stir Fry. You can add your favorite vegetables, or take out the things you do not like. So have fun with it. 
How Do I Make Stir Fry Better?
Although stir fry can be a pretty basic and easy dish, there are certain things that can be done to help elevate a stir fry.
How To Make Stir Fry Better:
Use A Homemade Sauce.
Homemade sauces and marinades are typically just better than store bought ones.  I really like the teriyaki sauce used in this recipe. Not only is it homemade, it has a great balance of sweet and savory elements to it. And it thickens nicely. 
If you want extra for the rice, just set some aside.
Use Fresh Veggies.
Frozen veggies will do in a pinch, but if you really want the dish to be even that much better, use fresh vegetables in your stir fry.  
Frozen mixes are fine, but also with fresh vegetables you can pick the best combination of vegetables based on your own personal preference.
Also with frozen vegetables, they often add liquid to the pan, which means you won't get the same end results. If opting to use frozen vegetables, rinse with hot water first, and pat dry so you get that sear and flavor stir frying adds.
Don't Put All Different Types Of Vegetables In The Pan At The Same Time.
Recognize the different cook times of different types of vegetables.  Tougher vegetables will take longer to cook, while vegetables like spinach will cook really fast, which means vegetables like spinach should go in last.  
For this recipe, most of the vegetables cook at the same time, and if you were to add something else, you could adjust. Or cut the vegetables differently. For example, a smaller piece of carrot might take the same amount of time to cook as a larger piece of pepper/
Note: Onions usually should go in first before other vegetables because they need time to get sweeter in taste. However, this recipe only calls for green onions as a garnish. 
Go Against The Grain When Cutting Meat.
Obviously you want tender meat.  In order to make the cut of your meat more tender, don't cut with the grain of the meat.  Cut against it.
Cut Pieces Of Meat All The Same Size.
To help ensure a more even cook, make sure the meat pieces are proportionately the same size.
This is a good rule of thumb for vegetables as well.  For example, make sure the size of the carrots match the other pieces of carrots.
Don't Cook All Ingredients At A High Temperature.
Yes, stir fry is usually cooked at a high temperature, but before you start cooking ingredients, make sure to cook flavor focused ingredients like garlic and ginger before you cook the other food items and cook them at lower temperatures.
Or add them at the end and turn the temps down so you do not end up with bitter garlic from burning it.
Use An Oil That Is Recommended For High Temperatures.
For example, peanut and vegetable oil work great with high temperatures of heat. Not all oils do.  Olive oil, for example, should only be used with medium temperatures, not high temperatures.
Stir fry is a great cooking method for so many ingredients and with these few tricks you can help ensure your stir fry comes out the best.  
What Should I Put In My Stir Fry?
I love to use chicken, sea food, or steak in a stir fry accompanied with whatever veggies I am in the mood for.
However, one way to make sure the flavor and end result is just perfect, is to follow carefully a trusted recipe.  This Teriyaki Chicken Stir Fry is great for anyone, whether you make stir fry all the time or are new to the stir fry scene.  
It is not a difficult recipe and the directions are easy to follow.
What Equipment Do You Need To Stir Fry Foods?
A stir fry dish does not have to be a labor intensive meal, especially with this Teriyaki Chicken Stir Fry recipe.  Therefore, there is not a lot of equipment needed to pull off this meal.
In fact, most kitchens have what is needed to make a simple stir fry dish already on hand without even making an extra trip to the store.
Equipment Or Food Needed For A Basic Stir Fry:
Oil

Vegetables

Meat of Choice (unless making a vegetarian dish)

Marinade (teriyaki sauce recipe of course)

Cutting Board and Knife

Wok

or large skillet frying pan
Stir fry dishes are great when you want to incorporate some veggies and want it all included in one stand alone dish, providing a meal that can use most of the items already right in your kitchen.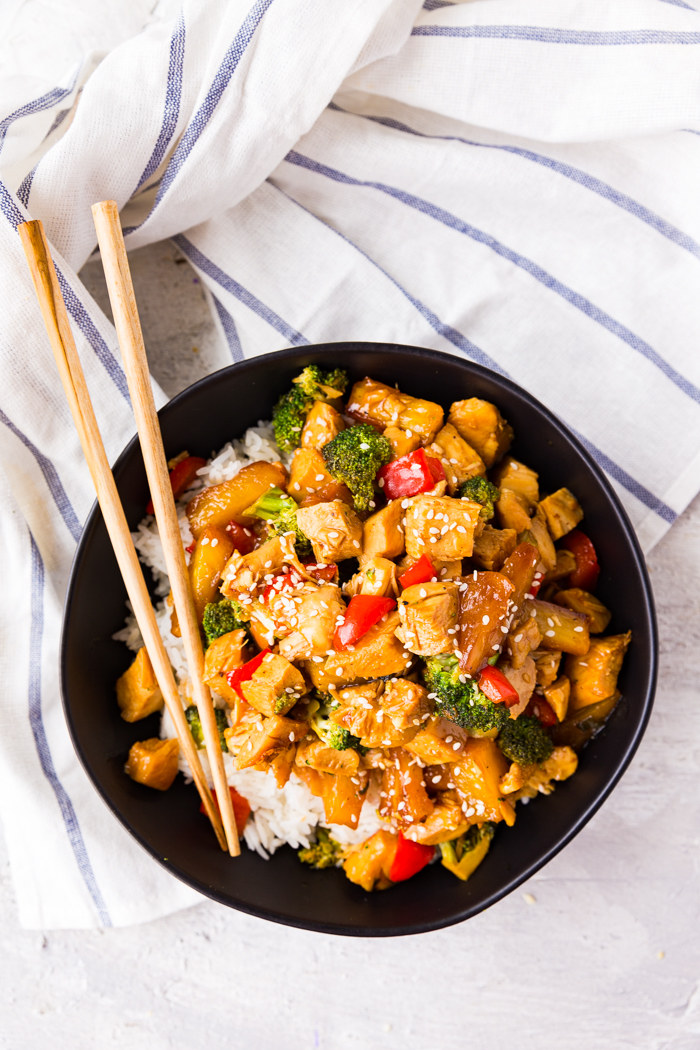 Are Stir Fries Healthy?
Another thing I love about stir fry food is that it can be very healthy.  A lot of times fast and convenient does not equal healthy too. However, with a stir fry dish you CAN make a fast, convenient, and healthy meal.
Typically stir fry recipes don't use a lot of oil, like for example Teriyaki Chicken Stir Fry does not need a lot of oil.  Also, veggies and a lean protein can make a great healthy combo.
Although a stir fry dish can be healthy, just like with any healthy dish there are ingredients that can turn a healthy dish into a not so healthy option.
Things To Watch For That Can Make Stir Fry Recipes Unhealthy:
Unhealthy sweeteners and sodium in sauces

Large portion sizes

Unnecessary amounts of oil
Is Stir Fry Good For Weight Loss?
Just like stir fry can or cannot be healthy depending on choices made by the chef, stir fry can or cannot be good for weight loss.
A lean protein accompanied with vegetables is a great choice.  However, if the sauce is loaded in calories, then you may ruin your supposed to be low calorie meal.
Also, be aware of portion sizes whenever you are trying to lose weight.  While you can have tons of vegetables, typically, you want to make sure you aren't eating a heaping mound of rice or loading up with tons of sauce.
If you are mindful of those few things you can have a healthy, diet friendly meal.
Try subbing traditional rice for a cauliflower rice, for example.
What Do You Eat With Stir Fry?  Serving Suggestions:
There are so many options when it comes to stir fry.  I love to serve stir fry over rice noodles or rice. Teriyaki Chicken Stir Fry makes a great stand alone meal if you are in a hurry.  
You can serve it with a fun appetizer like Spicy Garlic Ginger Edamame!  However, if you have the time there are some great sides that go nicely with this dish.  
Grilled pineapple makes an easy, yet really tasty side. It's grilled pineapple marinaded in coconut milk and brown sugar, resulting in a caramelized, delicious pineapple side dish.
Another great side is the Apple Spinach Salad with Balsamic Vinegar Dressing.  Delicious and refreshing, this salad would compliment well this warm stir fry dish.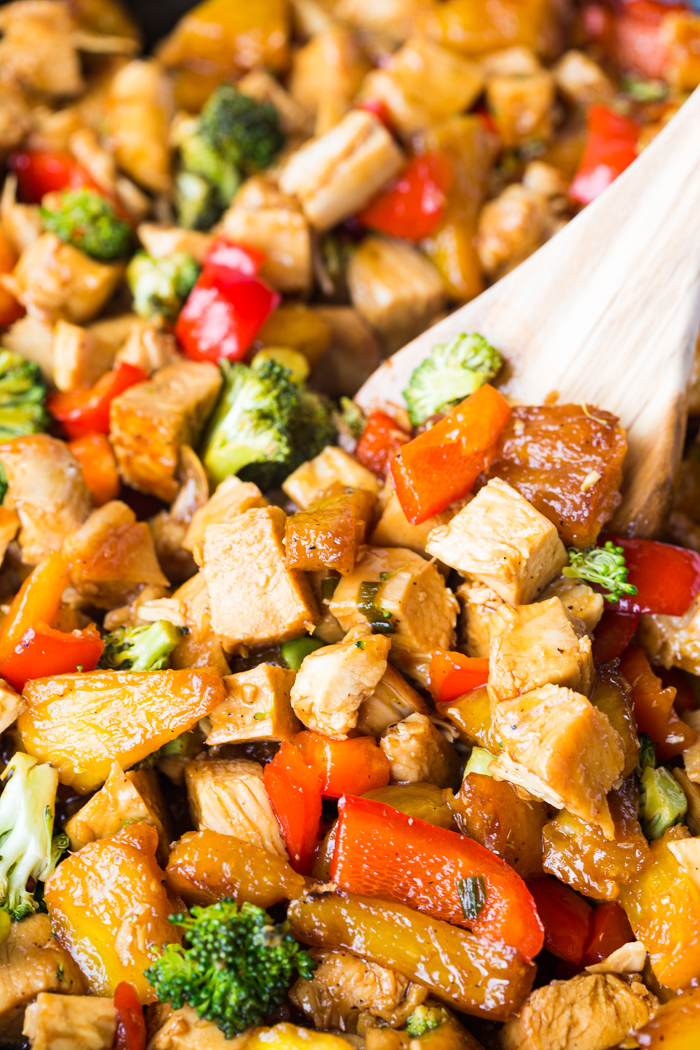 Make Life Easy On Yourself And Try Teriyaki Chicken Stir Fry!
Teriyaki Chicken Stir Fry is one of my favorite stir fry dishes.  It comes together quickly and it offers a great flavor.
Looking for other stir fry dishes?  
Try Beef Stir Fry or Sheet Pan Chicken Stir Fry.  Either will make a great meal choice for you, family, and friends.
First though make sure to try this amazing Teriyaki Chicken Stir Fry.  It will be a dish you will want to make again and again.
Other 30 Minute Meal Ideas: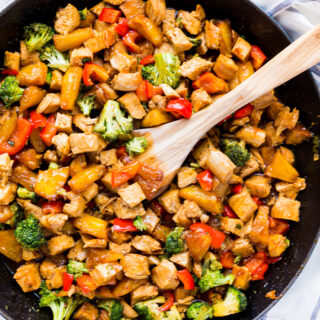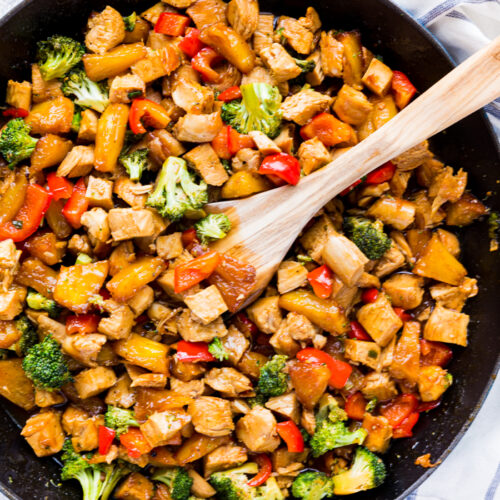 Teriyaki Chicken Stirfry
This chicken stir fry recipe has tender pieces of chicken marinated in a sweet and savory, homemade teriyaki sauce and is delicious served over rice.
Print
Pin
Rate
Ingredients
4

boneless skinless chicken breasts pounded to even thickness

2

Tbs

peanut oil

1

cup

teriyaki sauce

homemade

1

tsp

garlic
The Rest
2

cups

diced pineapple

fresh

1

head broccoli

cut into small florets

1

red pepper

chopped

2

green onions

sliced

1

Tbs

sesame seeds

1

cup

of prepared Teriyaki Sauce

see below
Teriyaki Sauce
1

tablespoon

cornstarch

1

tablespoon

cold water

1/2

cup

white sugar

1/2

cup

soy sauce

1/4

cup

cider vinegar

1

clove

garlic

minced

1/2

teaspoon

ground ginger

1/4

teaspoon

ground black pepper
Instructions
Place chicken between pieces of plastic wrap, and use a meat mallet to pound chicken until even thickness

Season with salt and pepper on both sides.

Put olive oil in a large skillet, and turn on to medium heat.

Cook for 5-7 minutes on each side over medium heat until browned and cooked through. Transfer to a plate and cover to keep warm.

To same skillet add diced pineapple, red peppers, broccoli, and saute over medium heat for 1-2 minutes until garlic is fragrant.

Dice chicken into little pieces, approximately 1 centimeters square.

Add chicken back into pan, and top with teriyaki sauce.

Cook 1-2 minutes until sauce is reduced to desired thickness.

Serve over rice, garnish with green onion and sesame seeds.
Nutrition
Calories:
2072
kcal
|
Carbohydrates:
267
g
|
Protein:
150
g
|
Fat:
45
g
|
Saturated Fat:
8
g
|
Cholesterol:
289
mg
|
Sodium:
29132
mg
|
Potassium:
4265
mg
|
Fiber:
13
g
|
Sugar:
223
g
|
Vitamin A:
4860
IU
|
Vitamin C:
402.6
mg
|
Calcium:
381
mg
|
Iron:
18.2
mg
Our recipe card software calculates these nutrition facts based on averages for the above ingredients, different brands, and quality of produce/meats may have different nutritional information, always calculate your own based on the specific products you use in order to achieve accurate macros for this recipe.
Want to use this recipe in a meal plan?
Try PrePear, my FREE Meal Planning App that allows you to save your recipes, plan meals, shop for groceries, and cook simply in one place. Join Here!
Pin to Your Dinner board on Pinterest: