Traditional Lasagna Recipe with hot Italian sausage, rich, hearty caramelized onion and garlic red sauce, mushrooms, and petite diced tomatoes, with creamy ricotta cheese and mozzarella.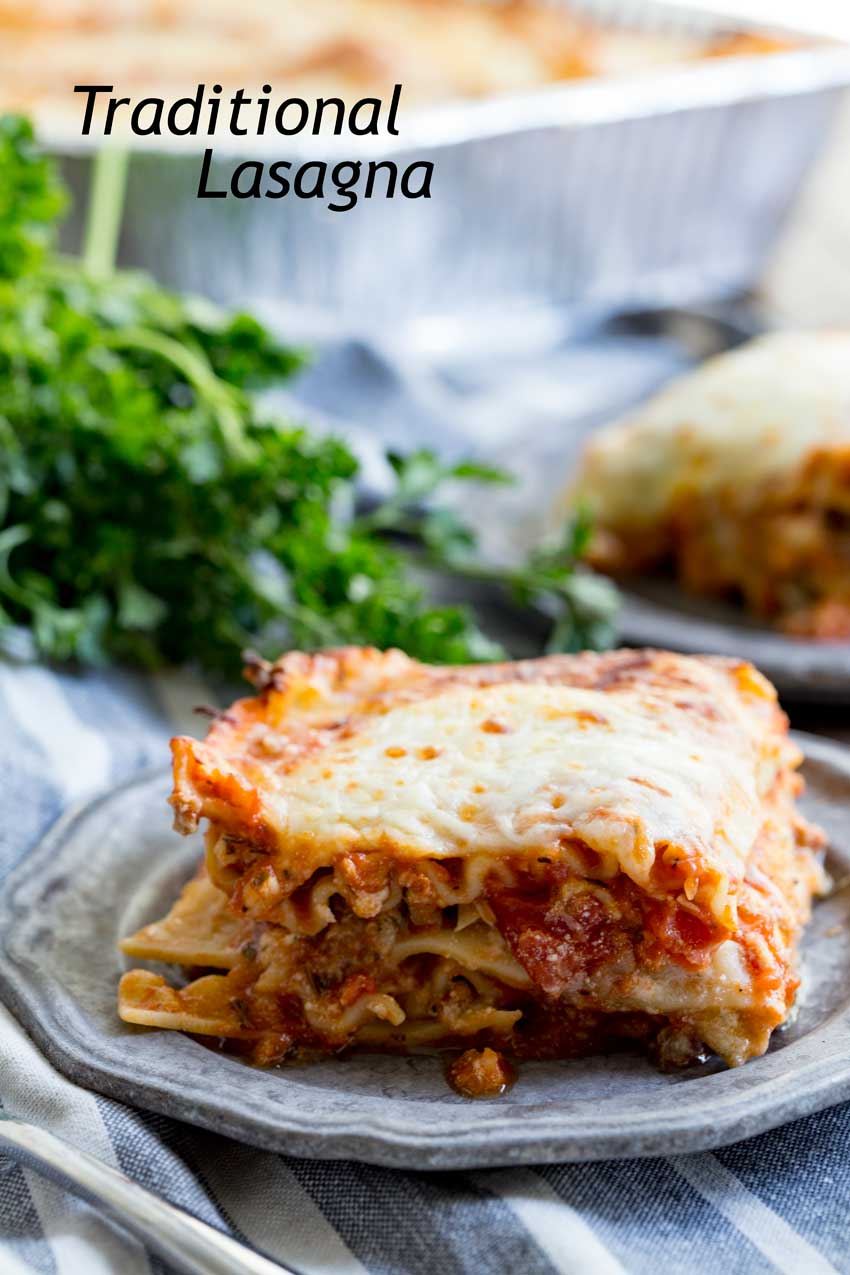 Are you guys just appalled that I don't already have a traditional lasagna recipe on my site? Me too! With nearly 1200 recipes shared in my career as a food blogger, I can't even believe I forgot to share such a standard and traditional recipe with you guys. I have lasagna soup, lasagna roll ups, and other lasagna inspired recipes, but no actual lasagna. But today I rectify that. Check out this easy video for making traditional lasagna:
My sister in law makes the best lasagna so I asked for her recipe. She said she pretty much just eye balls it. So I am sharing my version of hers. And when it comes to lasagna, there is a lot of cooking and chopping, and layering and work to do, and I am a bit of a lazy cook. So when it comes to sauce, I love a good jarred sauce to make life easier. I used a Caramelized Onion and Garlic Sauce from Mezzetta. It has tons of flavor, and is great for a lasagna. One jar is all you need. I usually double my batch with lasagna so I can make one for dinner, and one to stick in the freezer for a busy night.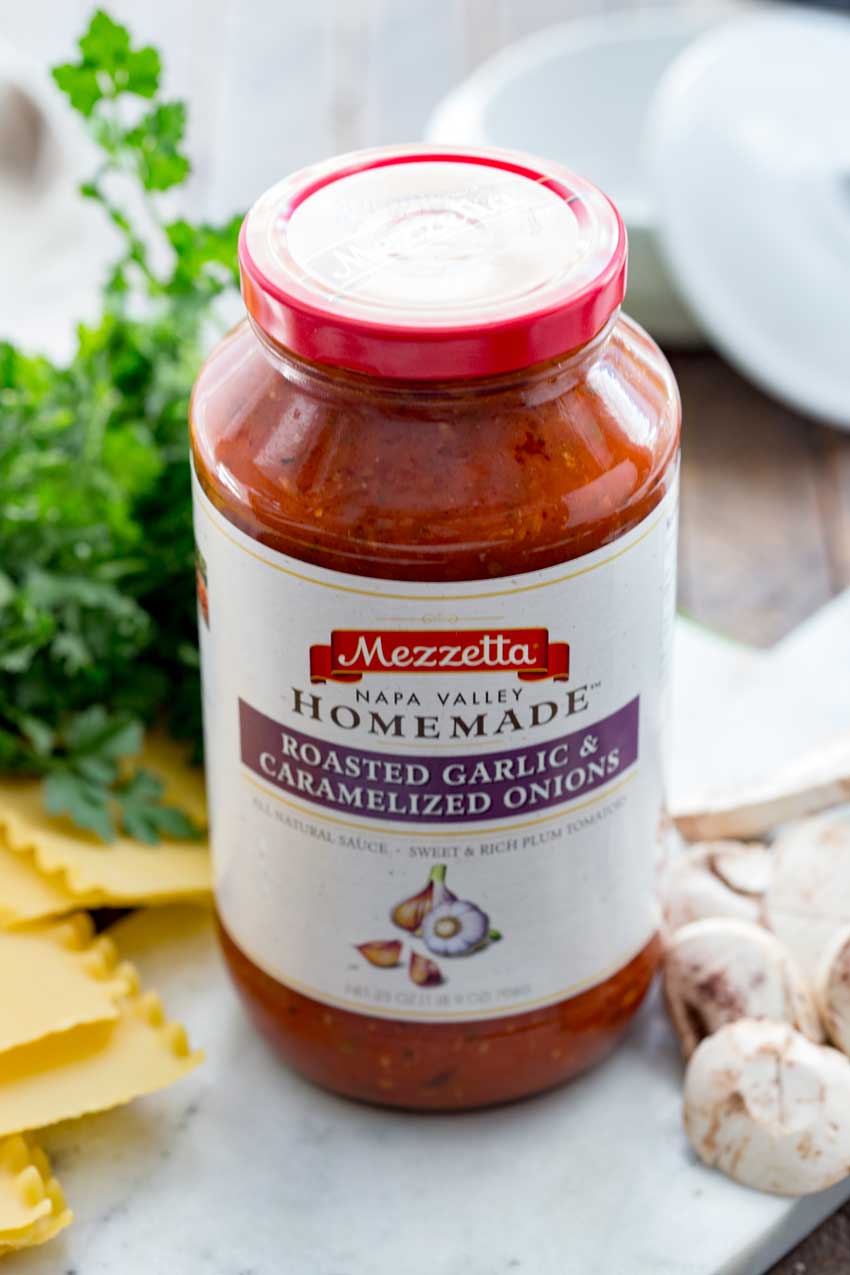 I hope you will try that method, it really is nice to always have a back up plan in place for dinner. And my family is pretty much always happy with lasagna. If you want to add some variations to this particular recipe, feel free to omit mushrooms, add green peppers, add hamburger, or cottage cheese and customize as you see fit. This is a traditional recipe, and oh so tasty!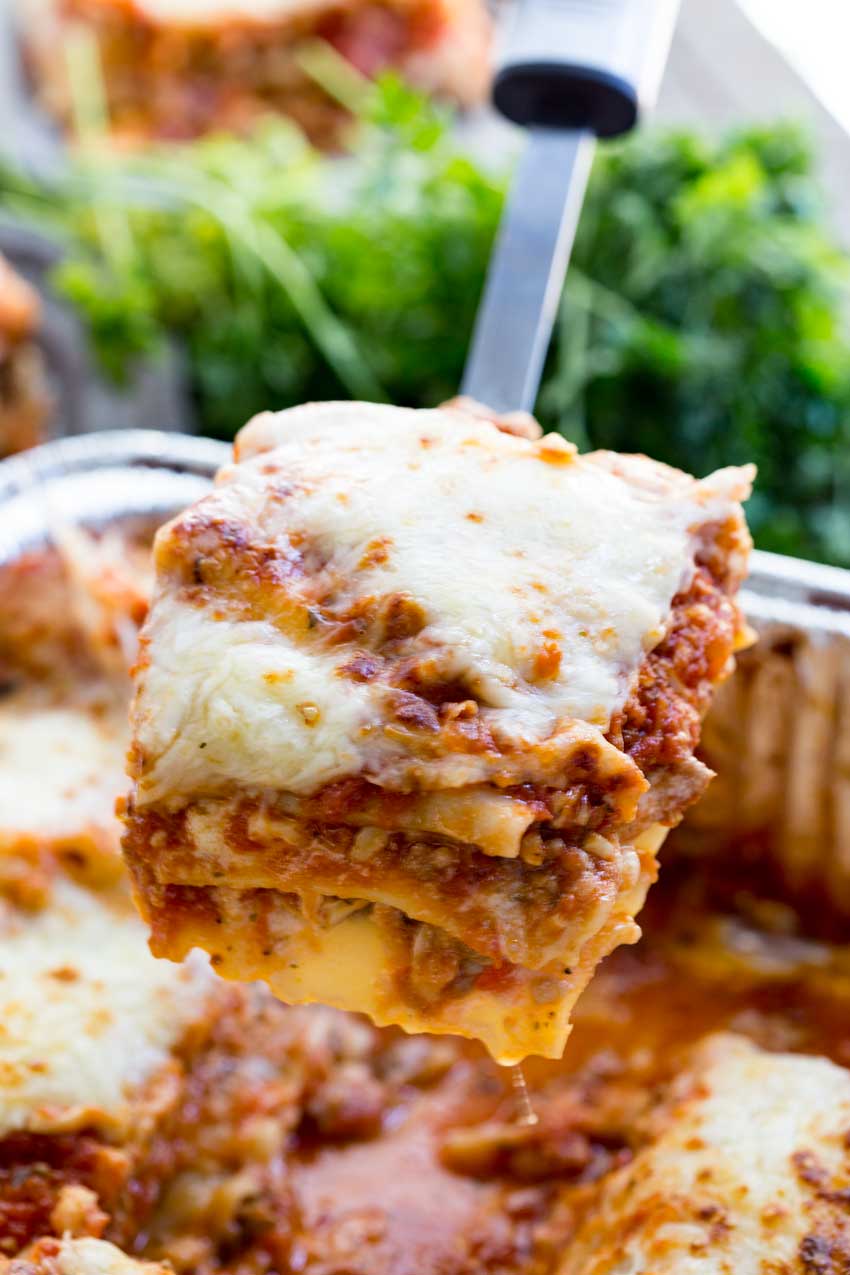 Traditional Lasagna Recipe
traditional lasagna recipe with hot italian sausage, mushrooms, and a caramelized onion and garlic sauce.
25 minPrep Time
PCook Time
25 minTotal Time
Ingredients
9-12 cooked lasagna noodles
1 jar (25 oz) roasted garlic and caramelized onions sauce
1 1/2 lbs hot Italian sausage, browned and crumbled
8 ounces white mushrooms, chopped
1 can (14.5 ounces) petite diced tomatoes
16 ounces Ricotta Cheese
2 eggs
1/2 tsp garlic salt
1/2 tsp dried parsley
5 cups mozzarella cheese (divided)
Instructions
Preheat to 350 degrees
Cook noodles according to package directions, and lay flat on wax paper
Brown and crumble sausage over medium high heat in large skillet.
In a large bowl mix ricotta, garlic salt, parsley, and eggs and 2 cups mozzarella cheese with a hand mixer until combined.
Pour a little of the jarred sauce into a 9x13 foil pan.
Layer noodles, cheese mixture, crumbled sausage, white mushrooms, petite diced tomatoes, additional cheese, and sauce. You should get 3 layers, the top layer should be noodles, sauce, then about 1 cup of cheese.
Cover lasagna with foil.
Bake for 50 mins, remove foil, and bake additional 10 mins to brown the cheese.
Let rest 5-10 mins, and serve.
7.6.4
814
https://www.eazypeazymealz.com/traditional-lasagna-recipe/
Pin to your dinner board:
Get EZPZ Updates In Your Inbox!