This shop has been compensated by Collective Bias, Inc. and its advertiser, Dr Pepper. All opinions are my own. #OneOfAKindFan
Sweet Dr Pepper BBQ sauce glazed little smokies, prepared in the slow cooker, and perfect for enjoying while watching your favorite college football team play!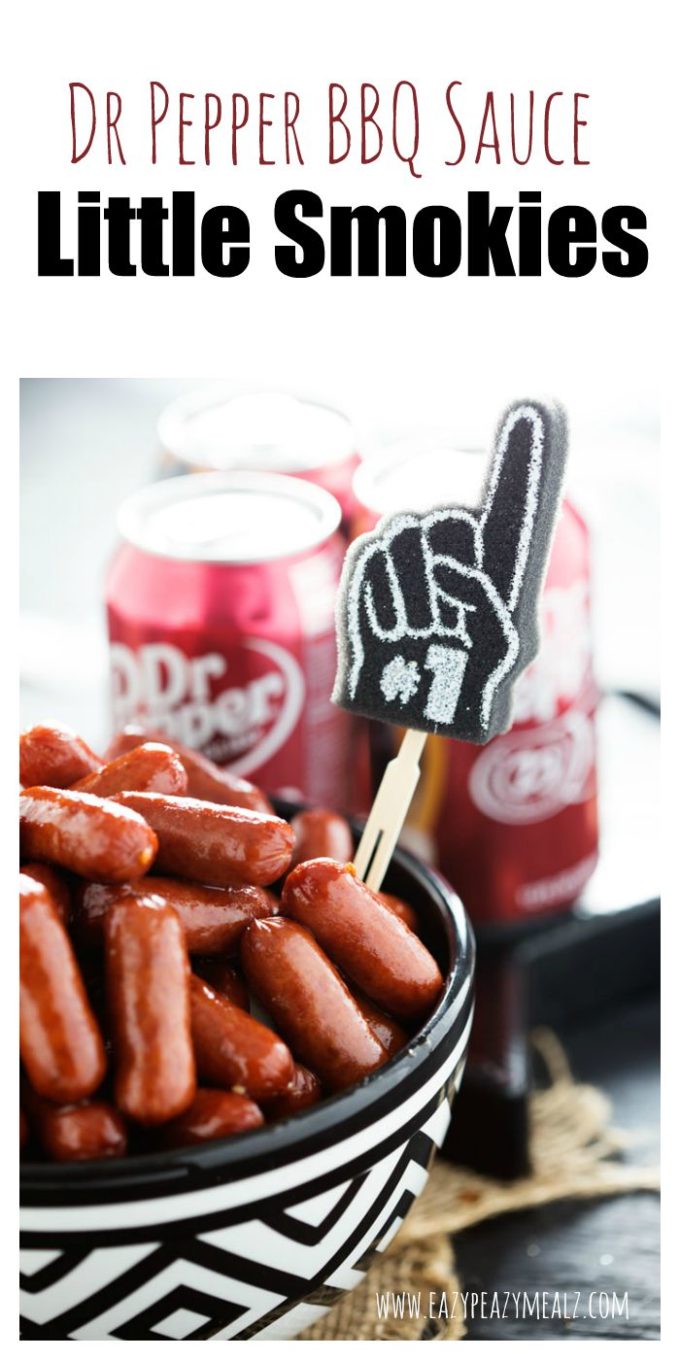 Let's talk about football for a minute, I like-ish football. Really, I like the food associated with football. But at my house, I am over-ruled. The boys in this house love sports! So Saturdays at our house always involve football.
If our local college football team is playing, we are watching. So I figured if my Saturday is going to consist of a lot of watching, it better also have something really tasty and fun to eat while we watch. Yes…my life does revolve around food.
And drinks!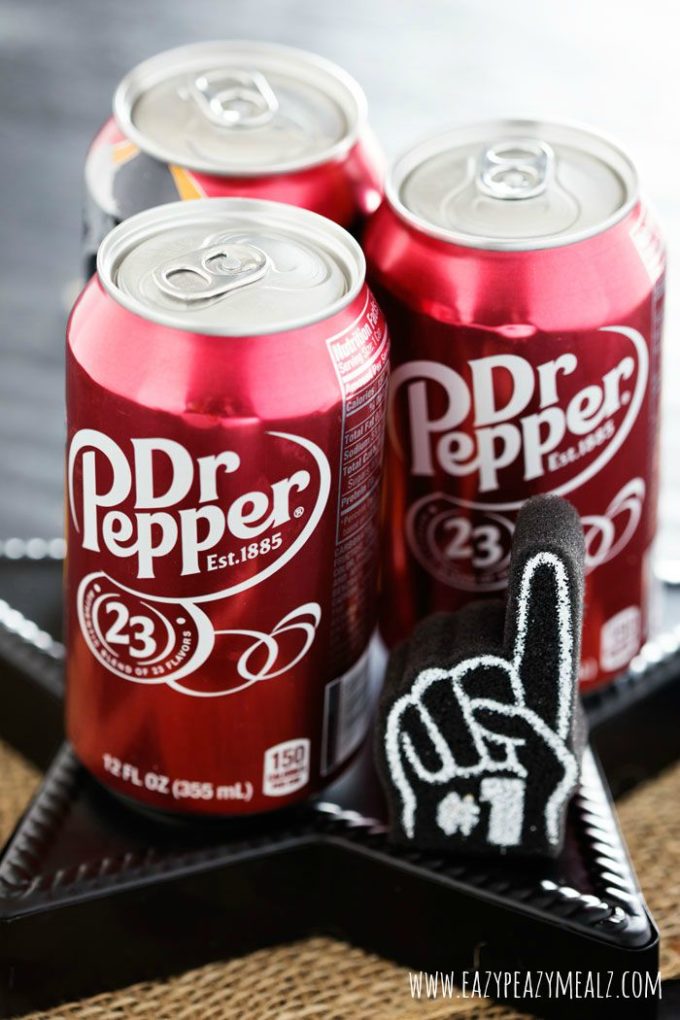 By now you probably already know how much I love Dr Pepper. Lurve it! For reals though. It is my favorite. There are days when I have to remind myself to drink water too.

So I decided to combine my love of food and my love of Dr Pepper and make something extra delicious–Dr Pepper BBQ sauce!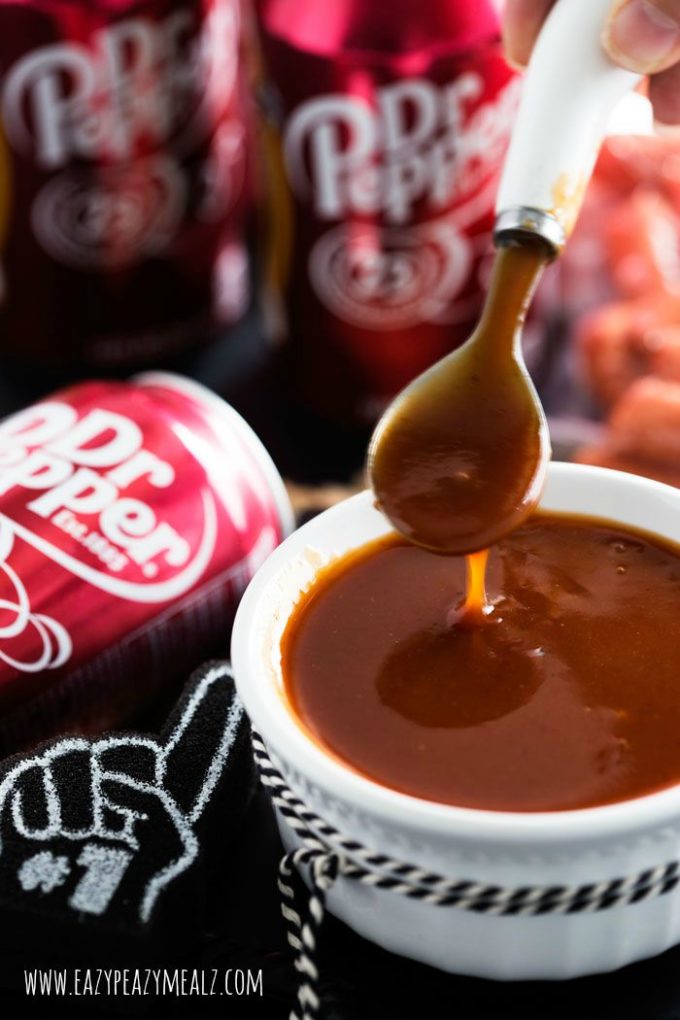 I was looking for a way to use Dr Pepper in a football friendly food, and found this sweet sauce made by Elizabeth Karmel so I thought I would give it a try. I adapted it for our tastes, and then simmered little smokies, or mini sausages in it in a slow cooker so they would stay nice and hot and yummy, and be ready for game time!
And so, Dr Pepper BBQ sauce, poured on little smokies, then cooked in a slow cooker! Delicious.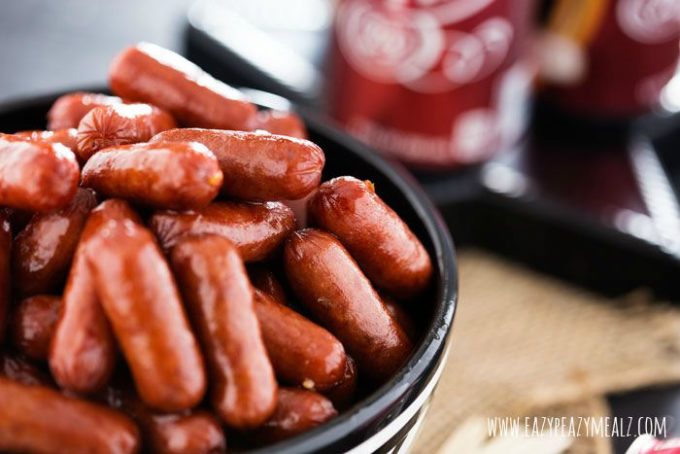 Here's how to make it:
Head to Target and pick up some Dr Pepper. Then gather up your ingredients. Melt butter in a heavy saucepan.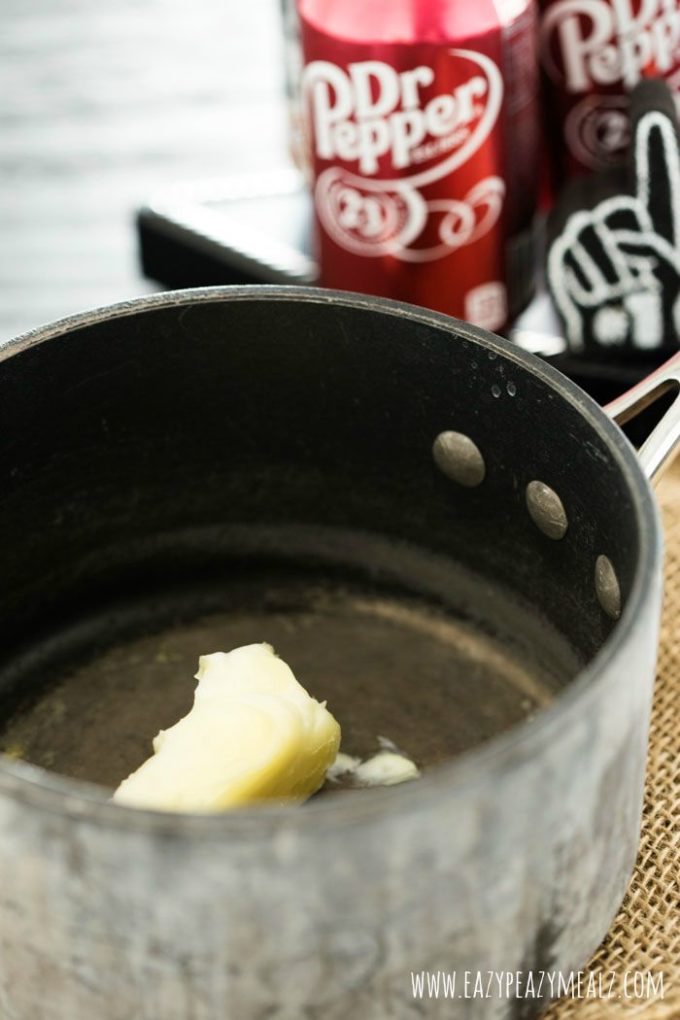 Then add in your garlic and onion, and saute it! This takes like 8-10 minutes. Pour in the Dr Pepper, and put the rest of your ingredients in the same pot, then simmer for 15 minutes.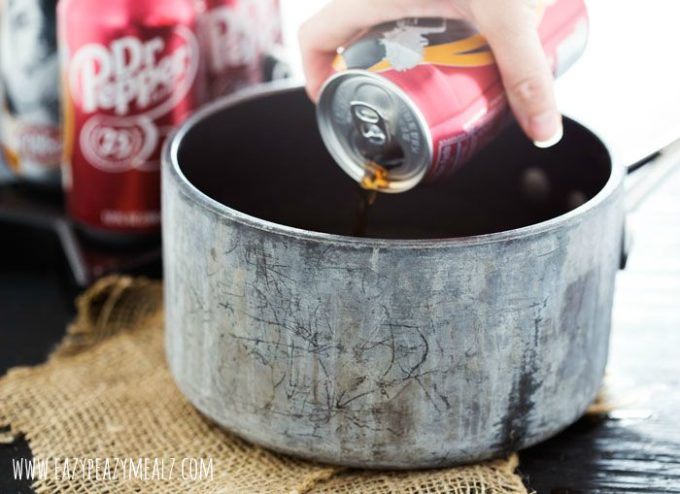 Puree in a blender.  Then you have this lovely sauce, but it will need to thicken. It will do this inside your slow cooker.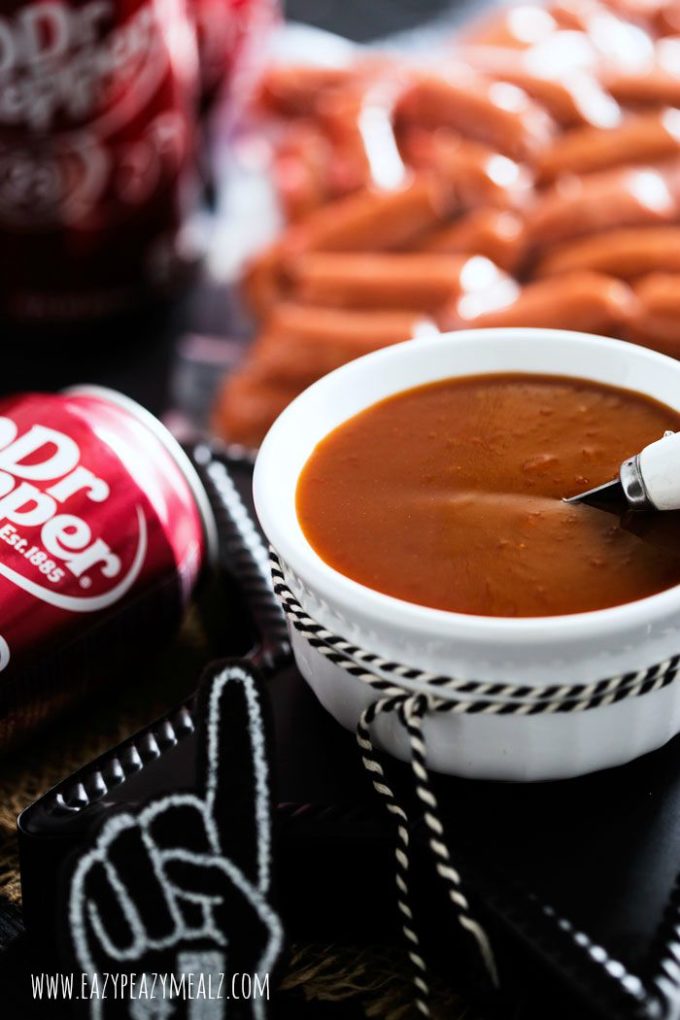 At this point, put your little smokies (small sausages) in a slow cooker, pour your sauce over them.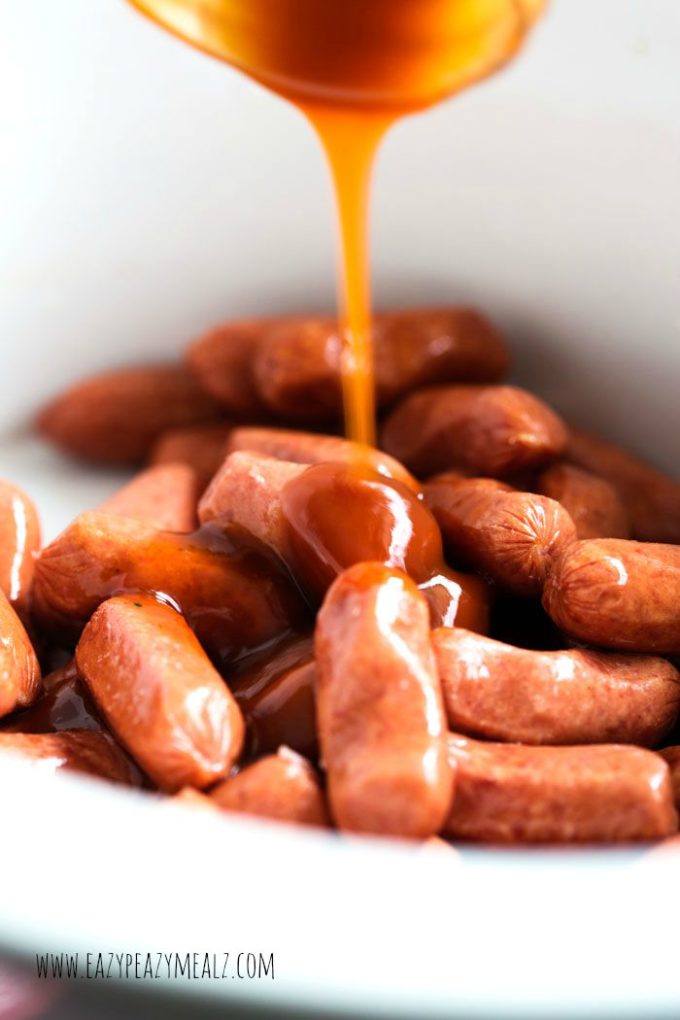 Let the sausages simmer in the sauce in the slow cooker for 2-3 hours.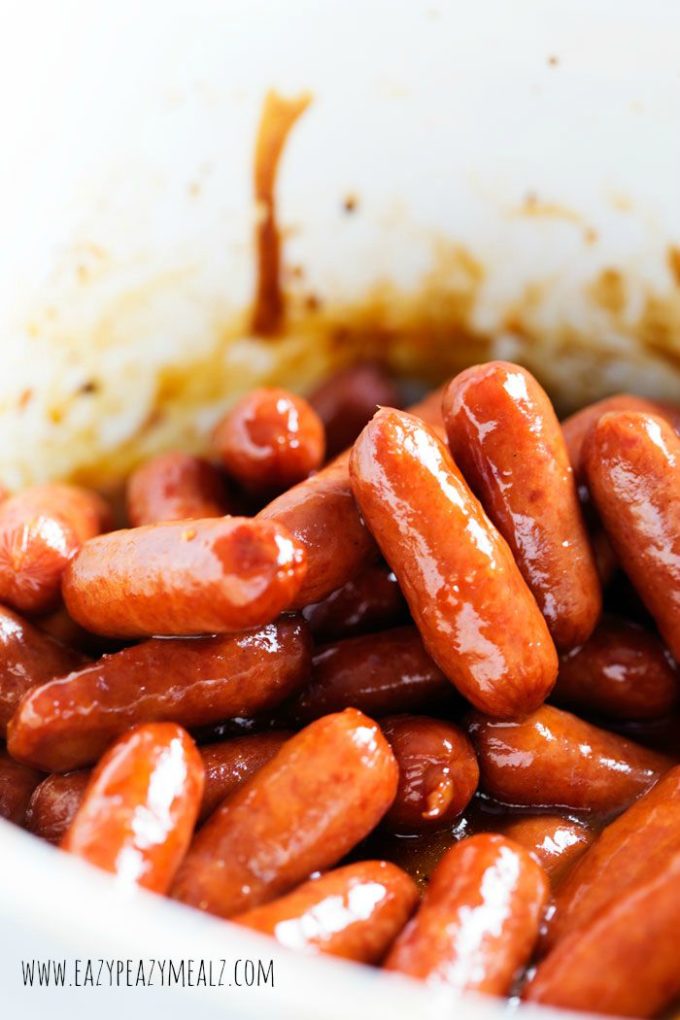 Then enjoy while watching a game! It is an easy, delicious recipe. And the BBQ sauce can be used on more than just the smokies. Try it on Ribs! Or Chicken! Or dip vegetables in it! Yum!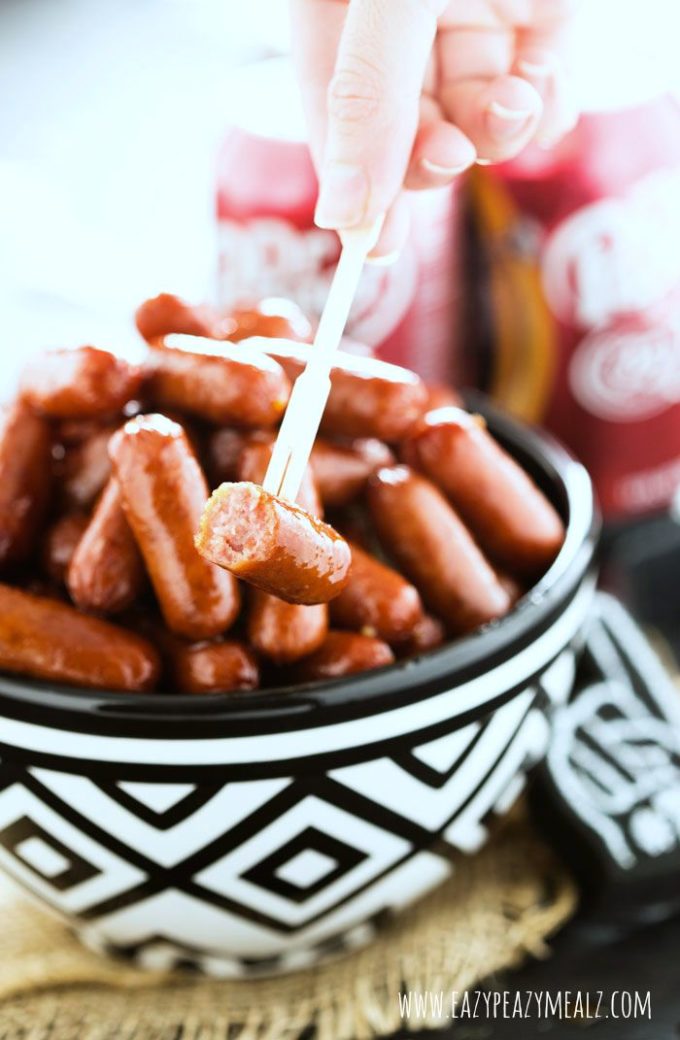 Dr Pepper BBQ Little Smokies
20 minPrep Time
4 hrCook Time
4 hr, 20 Total Time
Ingredients
1/4 cup butter
1 yellow onion, chopped
1 Tbs minced garlic
1 cup ketchup
3 Tbs chili sauce (prepared chili sauce)
One can Dr Pepper (12-ounce)
1/2 cup apple cider vinegar
1/3 cup Worcestershire sauce
1/2 cup brown sugar
2 Tbs molasses
1 tsp onion powder
1/2 tsp salt
1/2 tsp pepper
1 Tbs hot sauce of choice (adjust according to heat preference)
28 ounces of "Little Smokies" or mini sausages
Instructions
Melt butter in a heavy saucepan. Then add in your garlic and onion and saute it until translucent, about 8-10 minutes.
Put the rest of your ingredients in the same pot, then simmer for 15 minutes.
Puree in a blender. The sauce is not as thick as it will be, don't worry. If planning to use it for something other than the little smokies, turn it down and cook for another 20-30 minutes until desired thickness is achieved.
Otherwise, put the mini sausages in a slow cooker
Pour BBQ sauce over the top.
Cook for 2-4 hours on high temperature.
Serve warm!
7.6.4
606
https://www.eazypeazymealz.com/dr-pepper-bbq-little-smokies/
Find more delicious ways to use Dr Pepper here.
Anyway, it is delicious, and you can pick your Dr Pepper up at Target. And you can use the Cartwheel offer for Dr Pepper to save money! From Nov. 1 – Dec. 12, use Cartwheel to receive 5% off of 12-packs and 2-liters of Dr Pepper or 10% off of 6 or 8-packs of bottles and cans. #COLLECTIVEBIAS
And speaking of money… From Nov. 2 – Dec. 13, those who upload an Instagram photo showing how they are a #OneOfAKindFan of Dr Pepper will be entered for a chance to win a $100 Target GiftCard™. A winner will be awarded each week. Must be 18 or older to enter.
Dr Pepper #OneOfAKindFan Photo Sweepstakes

Get EZPZ Updates In Your Inbox!