3 day Southern Iceland itinerary. Golden circle, Reykjavik, and more. How to spend a weekend in Iceland and see all the sites.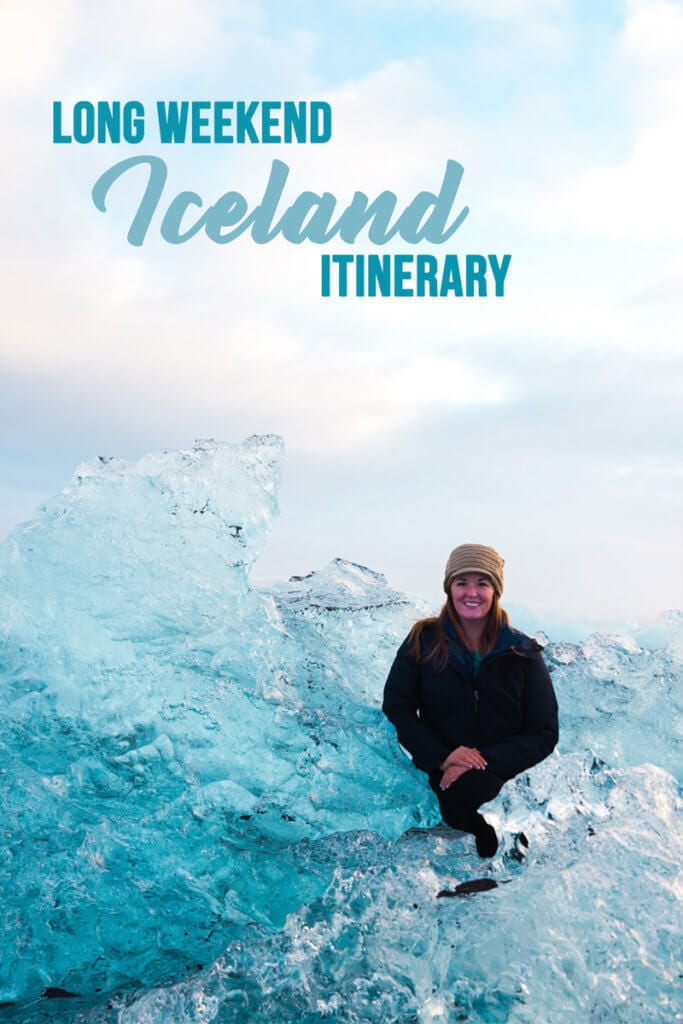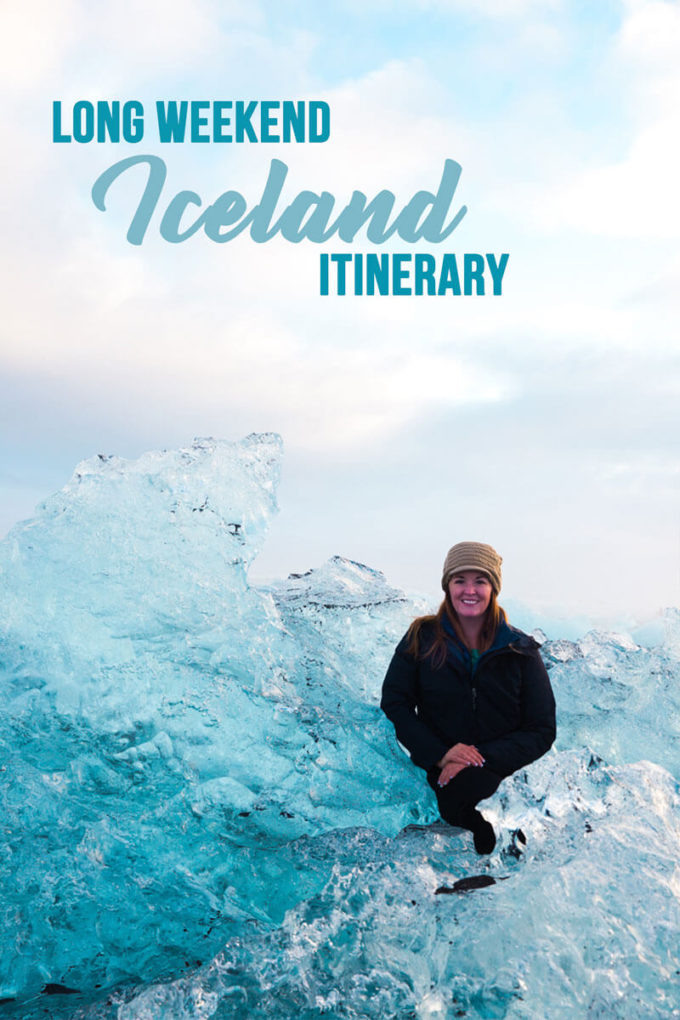 This is a sponsored post, written on behalf of SADCars.com, all opinions are my own.
Iceland is an insanely beautiful place to visit, and there is a lot to do and see. Especially if you love nature. There are glaciers, beaches, waterfalls, hiking, and so much more. Because I know how hard it can be to put together a plan for travel when you just aren't sure what you want to do, and only have a few days, so I thought I would put together a 3 day itinerary with my favorites, and highlights of what to do!
Quick Overview of Itinerary
Day 1:
Pick up SADCar
Blue Lagoon
Thingvellir National Park
Silfra
Day 2:
Golden Circle- Waterfalls
Vik
Glacier Lagoon
Day 3:
Iceland Itinerary Day 1:
If you are flying into Iceland from the US, chances are you will get in early morning. So don't go to your hotel and go to sleep, instead get started exploring.
Pick up your SAD Car!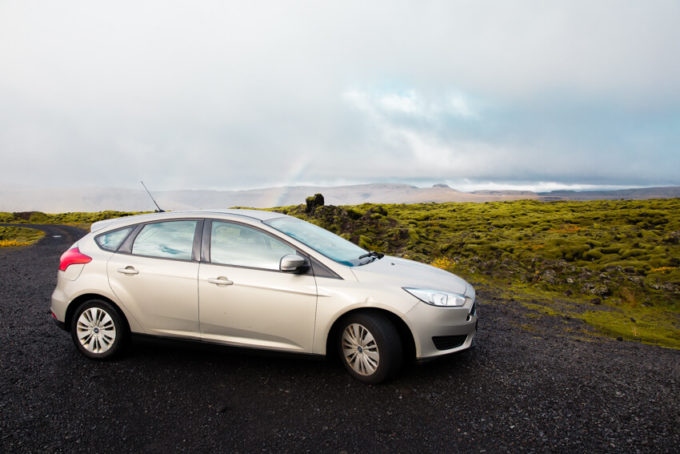 We used a rental car from SAD Cars, This is an awesome family owned company that has given new life to old, but reliable, cars. They are budget friendly car rentals. And trust me, you are driving through nature, and you don't need a brand new car.
Book your car online at Sadcars.com.
The pickup process is easy. You just go to the rental car area, and wait for your SAD car shuttle driver.
They will take you to the office, where you will determine the type of insurance, etc. you want, sign your contract, and get your car.
The cars are picked up on empty and should be dropped off on empty as well. So your next stop is going to be the gas station near the SADcars location.
Head to Grindavik
Grindavik is where the Blue Lagoon is located. Make sure you book this in advance or you won't be able to get in. I suggest booking the 8 am time, you won't be fighting the crowds.
Breakfast at Café Bryggjan: If you have a really early flight into Iceland, you may have a little time to kill before the Blue Lagoon. Getting a traditional fisherman's breakfast at Café Bryggan is a fun way to start off your Icelandic experience. Be sure to try the pickled Herring with eggs and brown bread. It is a thing. Trust me.

Once you are finished with breakfast head to the Blue Lagoon for a soak in the lovely geothermal pool. Spend a few hours enjoying the mud masks, and sipping some vitality juice, and soaking in the water.
Learn more about the Blue Lagoon here.
Thingvellir National Park
Once you have finished soaking in the Blue Lagoon, hop in the car and drive an hour and a half or so to Thingvellir National Park. Pre-book a 2 pm Silfra Snorkel or diving tour, and spend your time before your tour exploring the park and learning about it's history.
Be sure to bring some cash to pay for parking, as the parking area at Thingvellir National Park is paid, and you will get a ticket if you don't feed the meter.

After exploring the park, head to the meeting place, and hook up with your Silfra tour guides. Get suited up, and go enjoy the beautiful water, and snorkeling the continental divide.
Read all about snorkeling Silfra here.
Hvolsvollur Airbnb
Once you are done at Silfra, either go check out more of Thingvellir National Park, or head to wherever you are staying that night. Might I suggest Hvolsvollur and an Airbnb.
We stayed at this Airbnb, and it was awesome. The family that runs it is warm and so nice. The wife knits Icelandic sweaters, so if you want an amazing souvenir from your trip, you could ask her to make you a sweater and can even pick your own yarn, and she will ship it to you.
Get some sleep because you are going to want to get up early!
But, if you get lucky you may be able to watch Northern Lights. Probably worth staying awake for.
Iceland Itinerary Day 2:
Wake up early so you can head out around 8 am. Today is going to be a long day. But trust me, it is so worth it.
Once you have gotten up, and had some breakfast, head out the door and drive to see some pretty amazing waterfalls:
Seljalandsfoss
This will be about a 10 minute drive.
You will get wet if you choose to walk up and behind the falls, so wear a rain jacket and waterproof pants.
Gljúfrabúi Waterfall
Hidden Waterfall (just past seljalandsfoss)- Gljúfrabúi Waterfall.
This fall is just down the road from Seljalandsfoss, in fact you can see it from the fall, but it is hidden back in the rocks, so unless you know it is there you might miss it.
Take a few minutes to hike up, wear good shoes, with grip, and that can get wet. And go enjoy this beautiful fall. When we asked our hosts at our Airbnb what their favorite falls are in Iceland, they said this one.

Skógafoss
This may be the most iconic photo spot in Iceland.
Wear waterproof clothes, and get in close so you don't get a bunch of other people in your photos.
Plan to get wet.
Vik
Vik is a cute little town with a darling church and some great shops. If like me you did not pack as well as you thought, and want to pick up some clothes or gear that is more Iceland friendly, they have a good sized Ice Wear store.
You can also pick up some lunch in Vik, there is a restaurant at the Ice Wear store, or a great little buffet in the gas station. Grab some food here if you didn't pack snacks because you won't have as many options for food for the second half of your day.
Once you leave Vik head a few minutes away to the beautiful black sand beaches, with balsalt columns, and rock formations, and check out the awesomeness.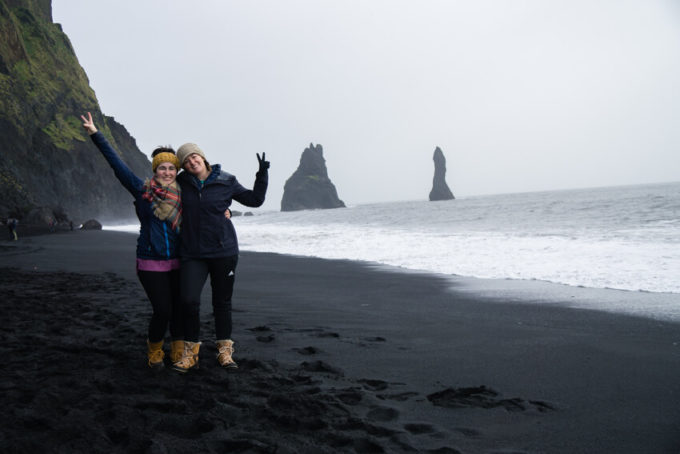 We spent about an hour here taking photos, and climbing the rocks, and just observing nature at its finest.
Reynisdrangar- Balsalt rock formations
Reynisfjall- Mountain
Reynisfjara Black sand beach
Troll Stones (stones in water)

Eldhraun Lava Field
After leaving Vik, start driving toward the Glacier Lagoon. Along the way you will want to make a stop in the Lava Fields. They are beautiful, and the green moss growing on them is awesome.
As you drive, note the areas where there is no green moss, they are called Sandurs. This is where the water that has melted under the glacier due to the ground heating up from volcanic eruptions. When the glacier outburst happens, the area floods, and all of that built up melted glacier water, pushes out, and goes to the sea, flooding whole areas. It can take out bridges, etc. These are called outwash plains.
Jökulsárlón Glacier Lagoon Iceland
One of my favorite places in Iceland was the Glacier Lagoon. The glacier and icebergs are just so gorgeous, there are birds, seals, and even whales! We did not spend a ton of time here, but it was so gorgeous and beautiful, and worth the super long drive from the Airbnb.
I would say not to bother to take the boat ride, you can see and even touch the icebergs without being on the water.

Diamond Beach
Across from the Glacier Lagoon, is the ocean, and another black sand beach. You can drive across the bridge, and go over to that beach, which will be studded with icebergs that look like diamonds on the beach.
You ca pick them up, watch the waves crash against them, and see an amazing sight. We loved capturing photos here, and just walking around and looking at everything.
Fjallsarlon Iceberg Lagoon
After leaving Diamond Beach you can head back toward Hvolsvollur, and on the way stop at another Icebery Lagoon. It is not as impressive, but it is pretty great to see regardless. We only spent about 10 minutes here, but I don't regret it a bit.
Then make the long drive back to Hvolsvollur. Along the way you could stop to pet the Icelandic ponies, get some photos of beautiful scenery or just enjoy the views as you drive.
Now get some sleep. Tomorrow won't be as busy, so you can sleep an extra hour or so.
Iceland Itinerary Day 3
Kerið
Wake up and check out of your Airbnb! Hop into your SADcar, and head for Kerið.
Kerið is a volcanic crater lake, composed of red volcanic rock.
Where I live in Utah there is a crater nearby, so I wasn't as excited to visit Kerið but I found it to be stunning. The landscape is lovely, the crater beautiful, and the surrounding area jaw dropping.
The crater is steep-walled but one wall is sloped more gently, and is full of beautiful moss. It is easy to descend, and you can check out the beautiful lake.
It is fairly shallow, and due to the minerals in the soil, it is an opaque beautiful aquamarine.
It was originally believed Kerið was formed by a huge volcanic explosion, it is now believed that Kerið was a cone volcano which erupted and emptied its magma reserve then collapsed. The current pool of water at the bottom of the crater is at the same level as the water table and is not caused by rainfall.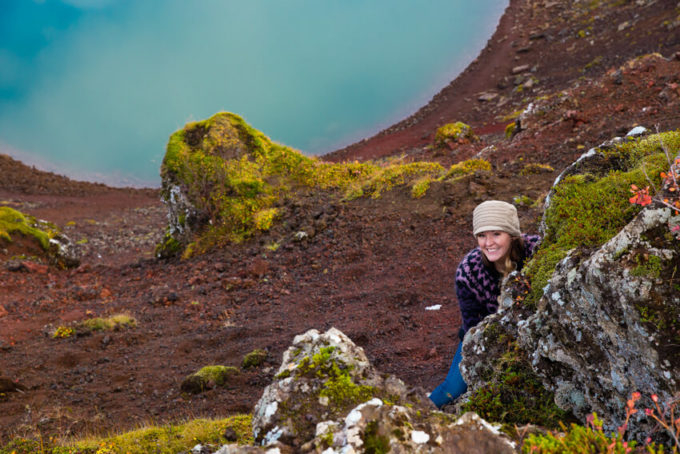 Reykjavik
After visiting Kerið hop in your car and head to Reykjavik for an afternoon visit before heading to the airport and ending your stay in Iceland.
Harpa Concert Hall
Make your first stop Harpa. You can park nearby (paid), and stay parked there the rest of the day, while you walk the city. It is a very walkable city.
Take a minute to check out the Harpa Concert Hall. It is beautiful. It is a fun structure, and has some great views. Take 10-15 minutes to check it.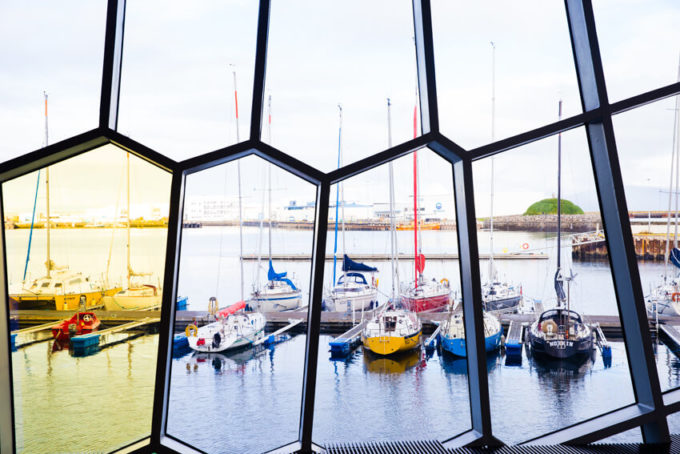 Hot Dog Stand – Bæjarins Beztu Pylsur
Now go the famous hot dog stand and get one (or two) of their delicious hot dogs. They really are so yummy. If you like hot dogs. They use these crispy onions. And they have a great mustard sauce. Basically they are delicious. And Bill Clinton ate there. Which is why it is famous.
Not only are these hot dogs good, they are cheap. Food in Iceland is ridiculously expensive, so take advantage of the cheap hot dogs!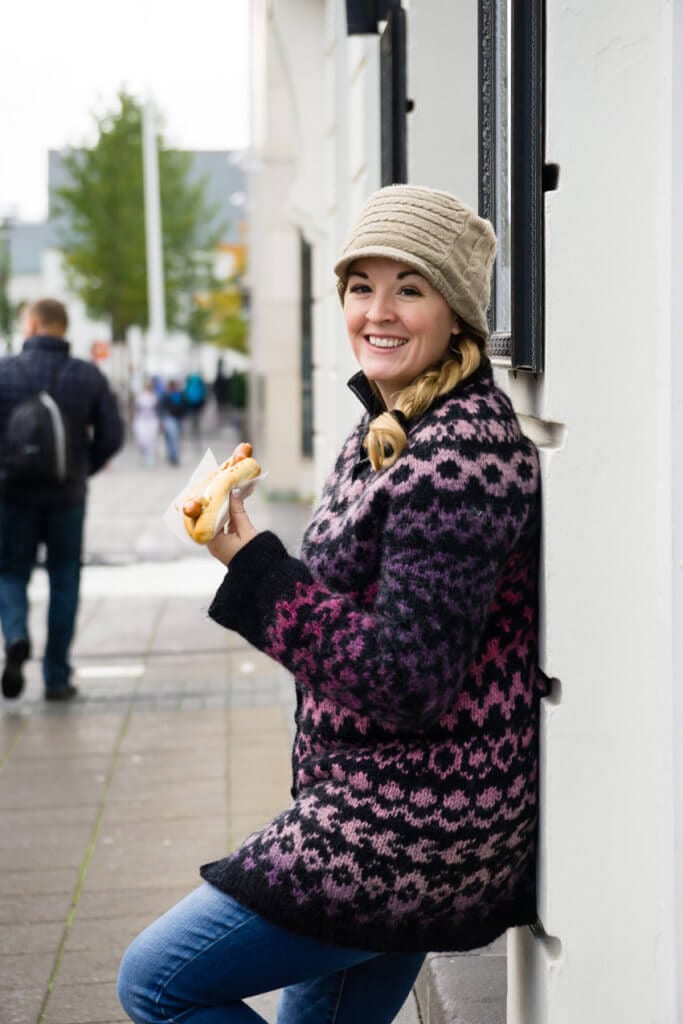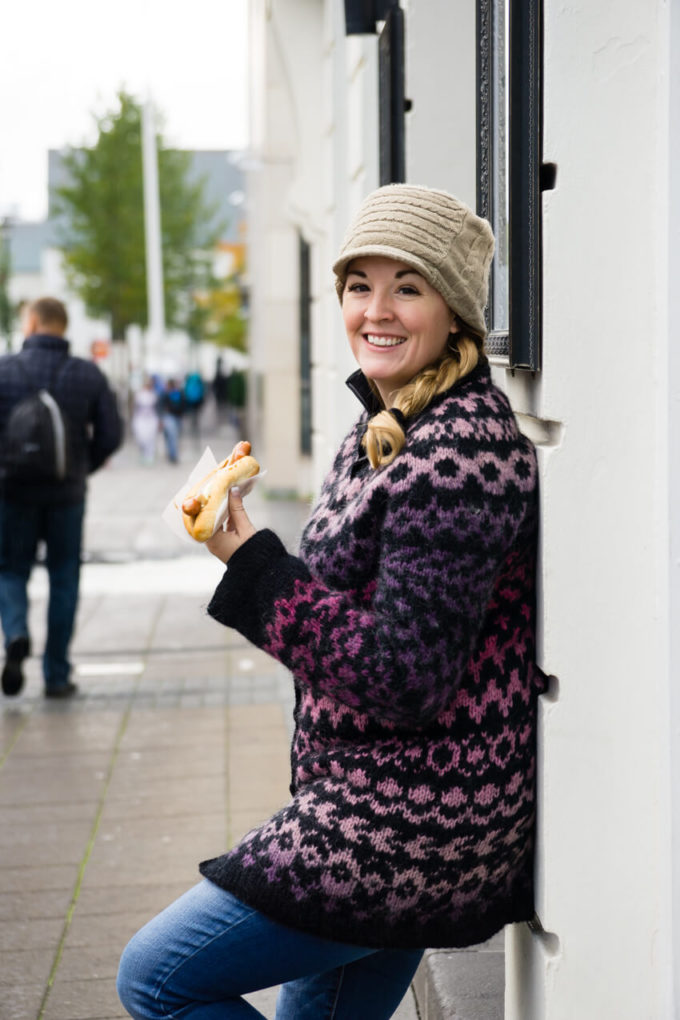 Leave the hot dog stand and walk up into the main part of the city. From there walk the beautiful streets, and take in the sights. Pop into shops and get some souvenirs, or get some delicious pastries.
Sandholt Bakery is a great place to get pastries.
Hallgrímskirkja
This beautiful viking church is a good one to visit!
Once you have had your fill, or if you are running out of time, hop in the car, and drive the 40 minutes to return your SADcar and catch your plane.
Returns are easy, just drop the car off, and they will give you a ride back to the airport.
The only time you be sad with your SADcar is when you drop it off and have to leave this beautiful country of volcanoes and waterfalls and glaciers!
This itinerary covers a lot of the Golden Circle, lets you see some of the most iconic sites, and do some of the coolest things you will ever do. Enjoy!
Pin to your TRAVEL WANDERLUST board on Pinterest: