Mushroom Risotto
Delicious Mushroom Risotto is easier than you think with this eazy peazy method! If you love the creamy, deliciousness of risotto but have always been intimidated by the thought of making it yourself, this is the recipe for you.
You get creamy mushroom risotto, that is perfectly seasoned without the headache of a temperamental recipe. With a simple method like this one and vigilance while cooking, you can have Mushroom Risotto cooked to perfection right in your very own home.
Serve it with Lemon Rosemary Grilled Chicken and Roasted Carrots for a complete and tasty meal.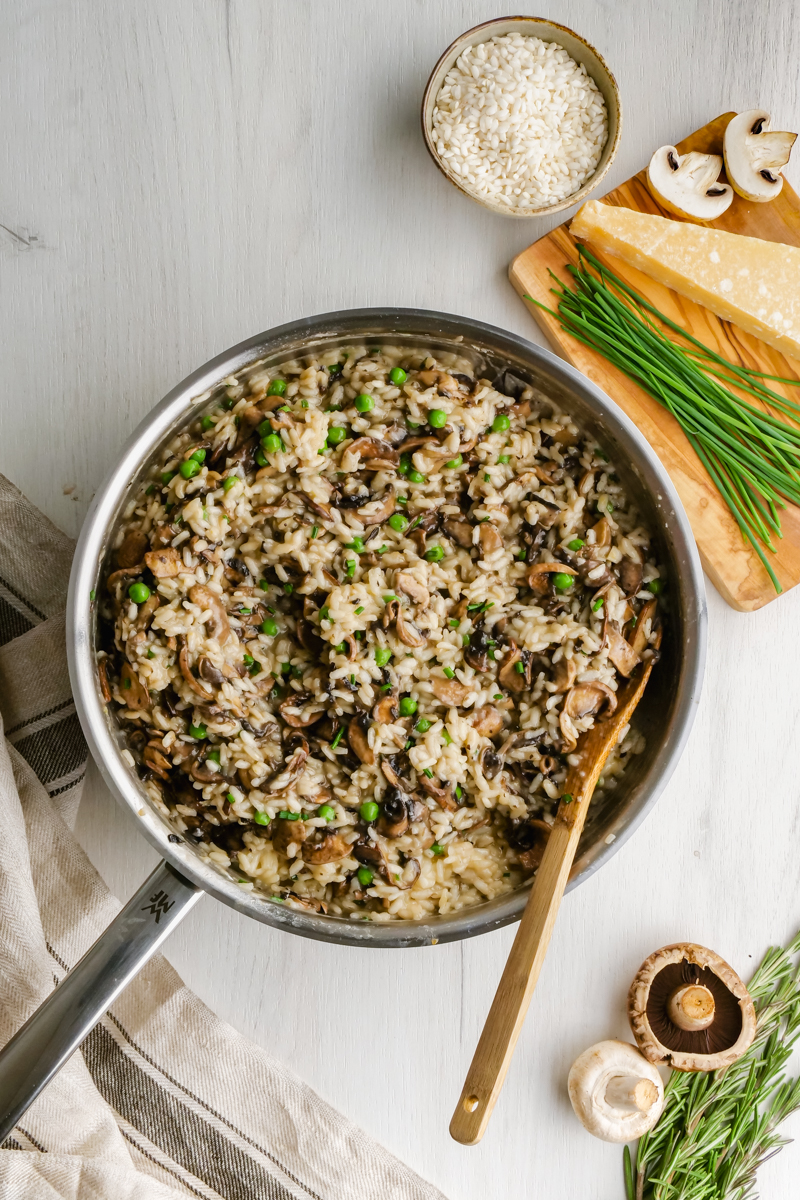 The best risotto is flavorful, rich and creamy. It offers supple grains of rice that offer texture and is studded with tasty mushrooms, and the flavors of parmesan, butter, and wine.
My family and I love this dish. It is rich, creamy, and oh so flavorful, and pure comfort food bliss.
I recognize that while risotto has gotten a bad wrap over the years for being a temperamental dish, it really does not have to be stressful to make. But you have to understand how to get that delicious creaminess, and what is required of you in order to achieve success.
I am going to share all of that and more. So if you are ready to mix things up in your meal rotation and make this mouth watering, flavorful Mushroom Risotto recipe, read on.
How Do You Make Risotto?
Believe it or not, risotto really does not have to be that hard to make.
Truly all that goes into making risotto is just:
Adding liquid to rice

Stirring

Letting liquid, absorb

Repeating the process until the desired consistency is reached.
That's it. Nothing to lose sleep over.
I think many are intimidated by risotto because it is something you see on the menu in fancy restaurants. Or, you have heard that it is challenging to get the consistency just right. It can be easy to mess up if you don't know what to watch out for.
However this doesn't have to mean it is impossible to make. In fact I bet many of you make dishes that are more difficult to make than risotto, seriously.
So give yourself a little credit here and get ready to make a dish that parades around like a high maintenance meal, but is really just a little bit misunderstood.
Risotto is more of a technique than a recipe. And once you have mastered the method, and understand how to make the soffrito, toast the rice, and add the broth one ladle full at a time, to allow the creamy starches to do their magic, the world of risotto will open to you.
You can then customize the risotto with whatever delicious extras you want–In this case MUSHROOMS!!!
Don't let intimidation keep you from the joy of this creamy, ever so satisfying dish. Eating risotto is truly an experience and it is one that I want each of you to have.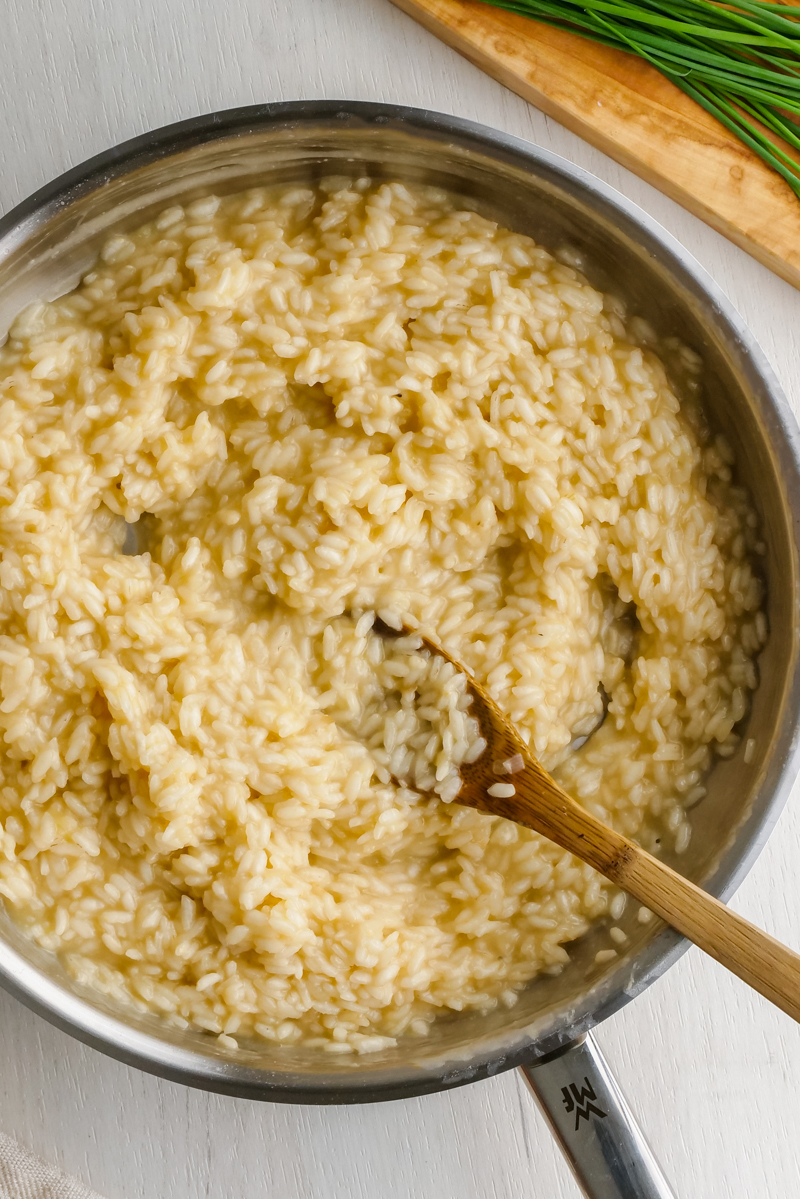 Tips for the BEST risotto
Keep the following in mind to achieve the best results:
Use the right pan: Smaller, deeper, heavy-bottomed sauce pans are best! These will maintain temp better, and thus allow the rice to cook while preventing the stock from evaporating or cooking off too fast.
Use the right rice! Risotto is rice, not pasta, and for this recipe I recommend using Arborio, as it is the easiest to find and the most common of risotto rice. However, if you can find carnaroli rice, it is great for risotto as it is harder to mess up! And if you can find or order vialone nano rice then it is awesome because it will give you a silky, creamy, amazing risotto. But it is more expensive and harder to find.
Be Prepared: Whether or not you are a boy scout, the motto of being prepared is essential for risotto. You want to make sure before you ever step up to the stove and start cooking, that everything is measured, chopped, and ready to go. Risotto takes some precision, and can be messed up easily if you are taking time to measure out your ingredients or chop up something.
Cook mushrooms separately. While I love a good one pot meal, and advocate for easy and low mess, when it comes to risotto, you will get the best results by dirtying a few different pans. Heat your broth separate, and cook your mushrooms separate. You want to do this because then they will be cooked to the right consistency, and so you can have better control over the risotto. You want it to cook evenly, and the mushrooms can mess with that.
Sauté your Arborio rice first. This is going to help the starches develop flavor. which is critical for your finished dish. Just make sure you do not overcook the rice when sautéing. Cook just long enough for it to start to turn translucent and very slightly golden.
Warm your broth. This is the #1 TIP and the secret to faster, creamier risotto at home. By adding warmed broth to warmed rice, you can get more starch out of each grain, resulting in a creamier risotto without overcooking. Cold broth takes longer to heat up in the risotto pan, and the difference in temperature can cause the grains to hold on to their starches instead of releasing them for that amazing creaminess. You re going to use a ladle to add half a cup of warmed broth to your rice at a time, as it simmers and cooks. It is wise to keep some extra broth on hand and warmed in case you need it.
Stir Baby Stir: Don't boil your risotto, rather simmer it. And let it continue to simmer as it cooks. But stay there and stir constantly. This is the hardest part of cooking risotto, stirring for the 20 minutes or so it takes to make it.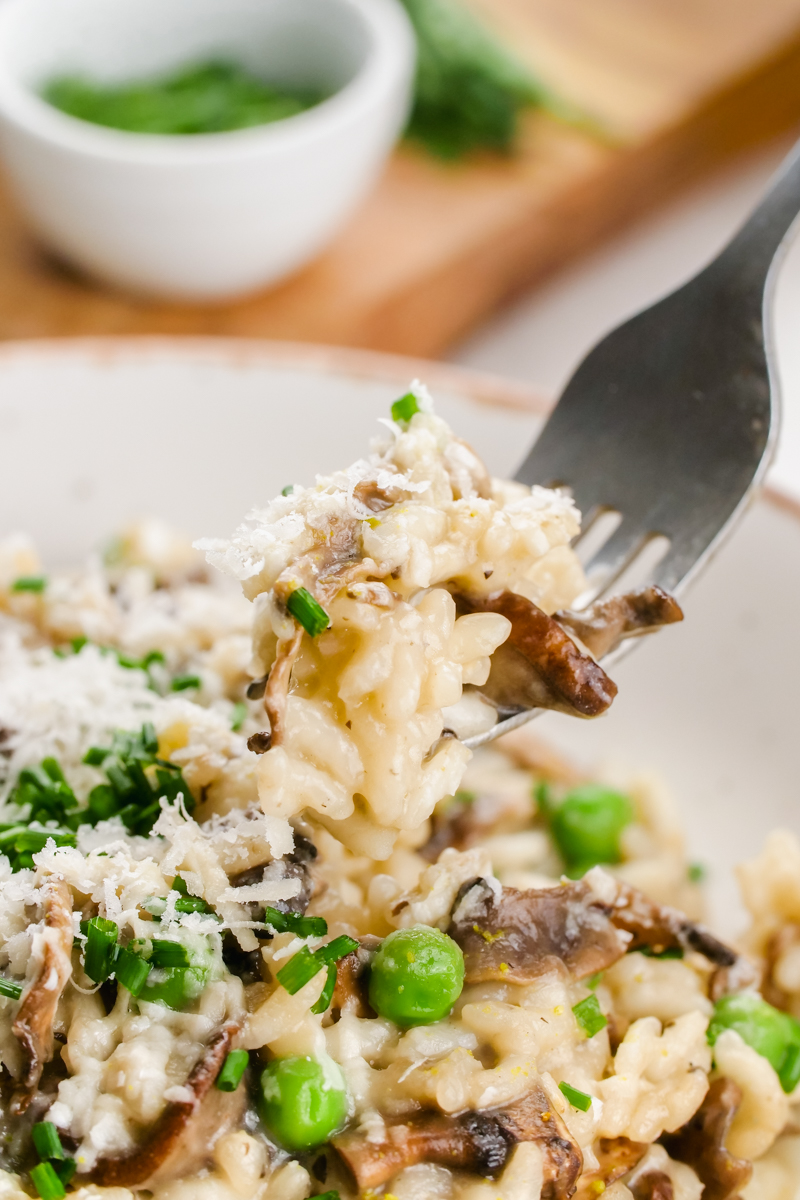 Steps for Cooking Perfect Risotto
Heat broth over low heat and keep warm.

In a separate pan, heat olive oil and add mushrooms and seasonings, cook to desired doneness, set aside.

In a heavy bottomed pan, make soffritto, or in other words, add butter and stir in finely minced shallots to create flavor. Then add the rice.

Gently toast the rice so it is golden, but not overcooked, then add wine, stir constantly until wine is absorbed.

Now you slowly add the heated broth to the rice, 1/2 cup at a time, stirring until it is absorbed, then adding more.

Repeat process of adding 1/2 c broth and stirring until liquid is absorbed until you reach the desired consistency.

Stir in mushrooms with their liquid, as well as butter, chives, peas, and parmesan.

Taste and adjust seasoning with salt and pepper.

Serve immediately!
Note: See recipe at the end for more details and specific amounts of ingredients.

Is risotto a rice or a pasta?
Risotto is made from rice, and in this recipe it is made from arborio rice.
What Is Arborio Rice?
Arborio rice is a short grained, Italian rice that is a must have ingredient for risotto. In recipes like this Easy Rice Pilaf, we use a long grained rice. But for risotto you want a starchier rice, as it adds to the creaminess factor in Mushroom Risotto and other risottos, as well. I can't stress enough that you need a starchier, short grained Italian rice to really make a good risotto.
Now, I'm all about making do and making substitutions for ingredients when I am lacking something in the kitchen. I hate going to the store for just one ingredient. Isn't that just the worst?
However, when it comes to risotto, you can't make substitutions on the type of rice. You have to use a good short grain Italian rice when making Mushroom Risotto or any risotto for that matter.
I am personally partial to Arborio as it is easy to find and affordable, and it is one of the more popular short grain Italian rices. However, there are other options that will work.
Other Short Grained Rices to Use for Risotto:
Remember though not all rices are created equal. Do not think you can sub out Arborio rice for whatever white rice you have on hand. This is one ingredient worth running to the store for.
What Mushrooms Do You Use For Mushroom Risotto?
Okay now that I have probably come off as quite the stickler when it comes to choosing a rice, rest assured, I am more lenient with mushrooms.
For this Mushroom Risotto recipe, I used portobello and white mushrooms.
These two mushrooms offer a great balance of taste.
I highly recommend the portobello mushroom and white mushrooms for Mushroom Risotto. It offers a great wealth of flavor and is used in a lot Italian pasta sauces, so it is no wonder that it is a great choice for a risotto dish.
However, if you have other mushrooms on hand, there are many mushrooms that marry well with risotto.
Types of Mushrooms for Mushroom Risotto:
Portobello (an obvious good choice)

White mushroom

Shiitake

Chanterelle

Oyster

Crimini
Each mushroom offers a slightly different flavor profile, so take this into consideration when choosing a mushroom or making a substitution for this recipe. And use the mushroom you like best.
Like for example, oyster mushrooms are a little bit sweeter and chanterelle offers a lighter flavor.
Many options to choose from, yet different flavors will be brought out depending on the choice.

How Do You Get Creamy Risotto?
Risotto being creamy is very important. But so is having the rice grain texture. You do not just want mushy rice.
So, how do you make sure risotto is creamy?
Well for starters don't deviate from a good recipe, be patient, and do underestimate the importance of stirring.
Tips for Creamy Risotto:
Follow this recipe to avoid mistakes.

Use a high starch rice like Arborio. The starch is what makes it creamy

Warm your broth. If you add cold broth to warm rice it will seize up and hold on to the starch. So get and keep your broth warm.

Stir! Stirring is a necessary component. You will be cooking on a medium temperature, and you have to stir, stir, stir, letting the rice absorb the liquid and create that creaminess. Do NOT walk away.
Follow these tips and you will be well on your way to this crave worthy, creamy dish.
Remember a good high in starch rice contributes to the creaminess so don't skimp on this part.
Don't forget to stir. Don't neglect this step. Stirring helps bring out the starchiness in the rice needed to help with the creaminess factor.
Lastly, follow the steps in this recipe to avoid mistakes.
Remember, you've got this. You now know what it takes to have a creamy risotto.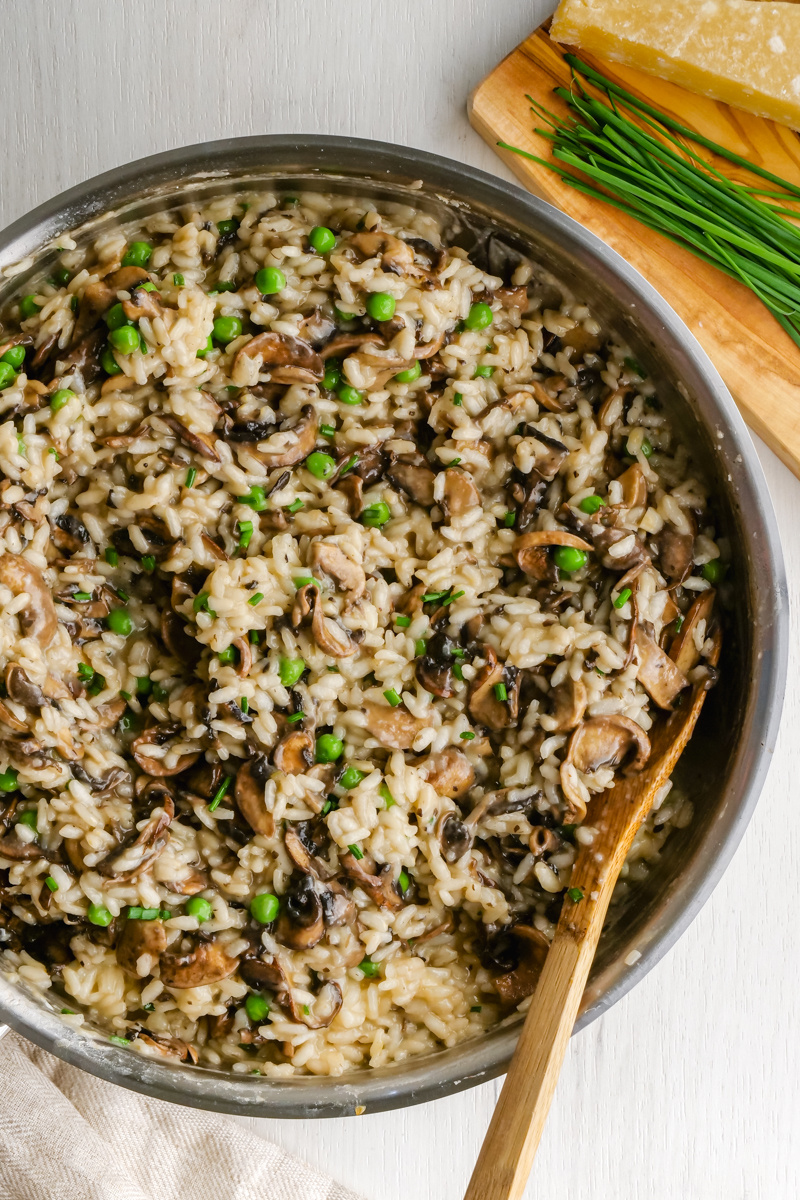 How can you tell when Risotto is Done?
If you follow all the tips, and you have your creamy Risotto, when will you know it is done?
It is done when the rice is cooked 'al dente' or 'firm to the bite'. It will be slightly chewy, but shouldn't be mushy.
You know what it should be, but while cooking it, how will you know it is done? Test it!!!
Take a grain of the cooked rice (allow it to cool first, of course) and place it between your fingers.
Squeeze – and if the grain breaks in the middle, it's done.
Once the rice is cooked properly, stir in your pre-cooked mushrooms and some freshly-grated Parmesan cheese. Serve with some extra Parmesan sprinkled on top.
How do you reheat risotto?
Risotto is not going to turn out well if it is not reheated properly. The best way to reheat it is to add some stock or broth to it, and heat either stove top or microwave.
Just keep in mind you have to add liquid.
Microwave instructions:
Place risotto and broth in a bowl and microwave for one minute.
After the a minute is up, stir, and determine if you need to add more stock.
Finish heating, but be careful to not overcook it. Just heat it through.
Stovetop Instructions:
Stir risotto and broth together in a saucepan.
Heat on medium heat, stirring regularly until heated through. Do not overcook.

What Should You Serve With Risotto?
Mushroom Risotto is a such a star that it can be your main dish or served as a side dish.
If you want to use this Mushroom Risotto as your main dish, add some delicious Garlic Green Beans or maybe a cucumber tomato salad to make it a complete meal .
However, if you want this Mushroom Risotto to play more of a supporting role to your dinner, it can do that too.
Serve Mushroom Risotto along side:
You definitely will walk away very full when choosing this Mushroom Risotto as a side to a hearty dish like either of these options. Don't miss out on this upscale, ever so satisfying, crave worthy dish. Make Mushroom Risotto tonight. You will not be disappointed.
Finish off the meal with dessert:
Looking for some other rice inspired dishes?
Try the following treasures:
Making Mushroom Risotto Video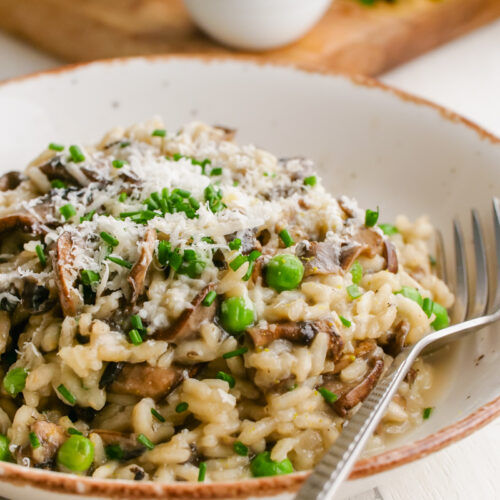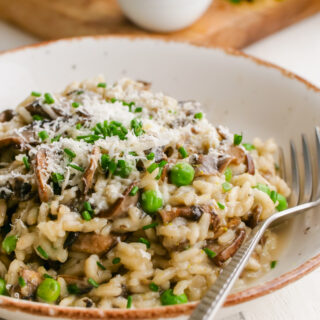 Mushroom Risotto
A creamy risotto studded with flavorful mushrooms. This is the ultimate risotto and so easy to make.
Print
Pin
Rate
Ingredients
6

cups

chicken broth

divided

2

tablespoons

olive oil

1

Tablespoon

butter

1

pound

portobello mushrooms

thinly sliced

1

pound

white mushrooms

thinly sliced

1

sprig

fresh rosemary

1

sprig

fresh thyme

2

shallots

diced

1 1/2

cups

Arborio rice

1/2

cup

white cooking wine

sea salt

to taste

freshly ground black pepper

to taste

3

tablespoons

chives

finely chopped

4

tablespoons

butter

½

cup

petite peas

1/3

cup

Parmesan cheese

freshly grated
Instructions
Heat broth in a medium sized saucepan over low heat. And keep warm.

In a large saucepan, heat 2 tablespoons olive oil over medium-high heat, and add mushrooms, thyme, and rosemary. Cook until soft and tender, about 3-5 minutes. Season with salt and pepper, then set aside. Remove rosemary and thyme and throw away. Reserve any liquid with mushrooms.

In a large skillet, over medium-high heat, add 1 tablespoon butter and stir in the shallots. Cook 1 minute.

Once shallots are fragrant, add rice, stirring to coat with butter. Cook for 2 minutes until golden in color.

Once rice is golden, add white cooking wine, or a dry white wine, stir constantly until the wine is fully absorbed.

Once wine is fully absorbed you will add 1/2 cup broth to the rice, and stir until the broth is absorbed.

Do not rush this process. You will repeat this action, slowly adding all the broth to the rice, ½ cup at a time, and stir, stir, stir, until liquid is absorbed. It should take about 25-35 minutes to achieve al dente and creamy, but not mushy risotto. Check heat… if your skillet is not hot enough it will take longer for the rice to absorb the liquid. If it is too hot the rice will stick to the bottom of the pan. Find a good medium-high heat.

Once all broth has been added, and/or you have reached the right consistency for the risotto, remove from heat. (You may not use all the broth)

Stir in mushrooms with their liquid, as well as butter, chives, peas, and parmesan.

Taste, and adjust seasoning with salt and pepper.
Nutrition
Calories:
605.28
kcal
|
Carbohydrates:
74.9
g
|
Protein:
16.82
g
|
Fat:
25.37
g
|
Saturated Fat:
11.67
g
|
Cholesterol:
43.29
mg
|
Sodium:
1569.37
mg
|
Potassium:
1219.65
mg
|
Fiber:
6.04
g
|
Sugar:
7.5
g
|
Vitamin A:
739.01
IU
|
Vitamin C:
37.02
mg
|
Calcium:
141.84
mg
|
Iron:
5.36
mg
Our recipe card software calculates these nutrition facts based on averages for the above ingredients, different brands, and quality of produce/meats may have different nutritional information, always calculate your own based on the specific products you use in order to achieve accurate macros for this recipe.
Want to use this recipe in a meal plan?
Try PrePear, my FREE Meal Planning App that allows you to save your recipes, plan meals, shop for groceries, and cook simply in one place. Join Here!
Pin this Recipe for Later: