Air Fryer Baked Potato
Crispy, salty skin, fluffy insides, can you think of a better combo for baked potatoes? Air fryer baked potatoes give you all of that and at a fraction of the time it takes to bake potatoes in the oven. 
With the air fryer, you get perfectly tender and fluffy interiors, with that delightfully crispy exterior, and quick! 
Serve with Sirloin Steak, Garlic Roasted Broccoli, and Honey Braised Carrots for a complete meal.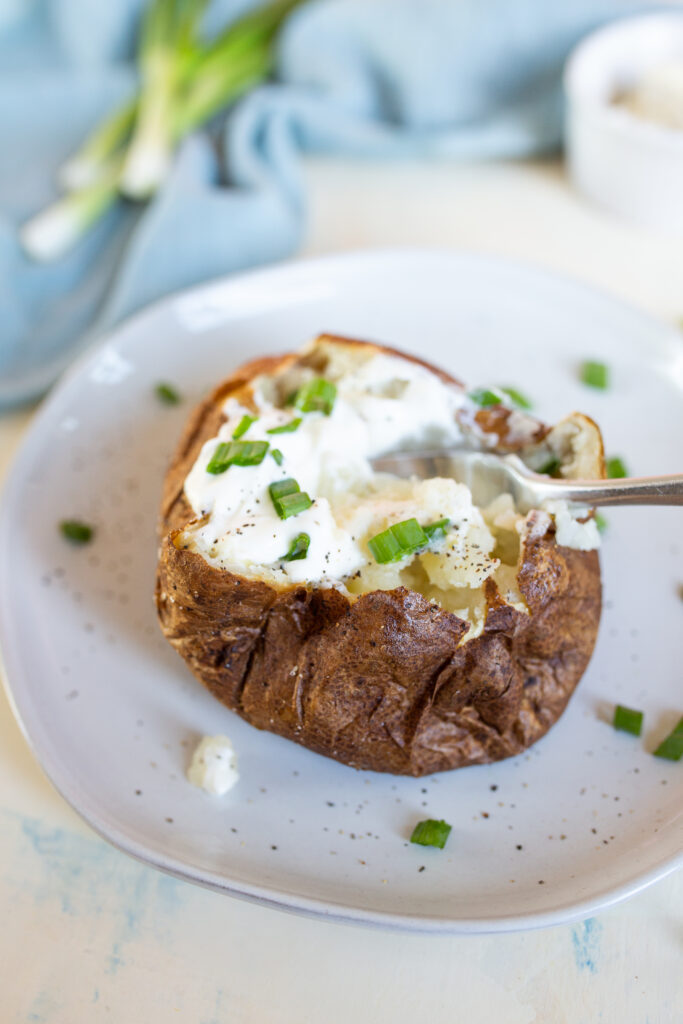 The air fryer essentially cuts your cooking time in half and provides awesome results. We already know how awesome the airfryer is for super crispy results like Air Fryer Chicken Wings and Air Fryer Fries. And these potatoes are no exception. But, in addition to the crispy, salty skins, you get fluffy, moist, tender potatoes too. Best of both worlds. 
How to Get Great Baked Potatoes
A good baked potato is one of the simple pleasures in life. And trust me, I have tried every method:
Instant Pot Baked Potato

Oven Baked Potato

Grill Baked Potatoes

Foil Wrapped Bake Potatoes

And more…
But I can say, for the amount of effort and time, the air fryer produces the best baked potatoes I have ever had. When I am cooking for a crowd, or need a ton for something like Twice Baked Potatoes, I still love my Instant Pot or Salt Baking Potatoes, but for a simple dinner on a busy night, this method of air frying can't be beat. 
Why Air Fryer Baked Potatoes?
Here is why air frying is a great method for baking potatoes:
You don't have to wait for an oven to preheat. 

The cooking time is far faster

It won't heat your whole house up or take up valuable oven space. 

It is energy efficient.
It produces the crispiest skin and the best texture! 

Air Fryer Baked Potato Recipe
Baked potatoes as a side dish for something like Roast Chicken, Steak, or Pork Tenderloin is classic, and you just can't go wrong with it. And with this easy air fryer baked potato recipe, which is faster, quicker clean up, and easier than other methods, you are going to love cooking baked potatoes and start looking for fun ways to use baked potatoes. 
Might I suggest:
Don't Have an Airfryer? 
Don't have an air fryer? No problem! You can still achieve amazing baked potato results. I have done extensive research for how to make the best baked potatoes, and I have you covered with all the details on how to bake potatoes in a variety of ways:
The oven

The microwave

The slow cooker

The Instant Pot

The grill
And if you're more of a sweet potato fan, You can use this same recipe to air fryer bake a sweet potato too! 
But if you ask me, you need an Air Fryer. They are an amazing kitchen too. See all my air fryer recipes here.

What You Need for Air Fryer Baked Potatoes
You only need 3 basic ingredients, which you probably already have in your kitchen.
Potatoes

– The type you use matters, I recommend Russet potatoes, also known as Idaho potatoes, or a baking or jacket potato. Pro tip: if cooking several potatoes at once, look for ones that are roughly the same size for more even cooking. 

Oil or butter

– The oil is what helps you get that nice crispy skin. I am usually a big fan of olive oil, but for these air fryer potatoes I recommend a canola, avocado, or other mild oil. Olive oil gives a bitter flavor. If you want a slightly lighter option, use cooking spray. 

Salt

– Part of crispy skin is using salt to draw the surface moisture out, and it also adds flavor. I recommend a fine sea salt or Kosher salt for best results, but use what you have, avoiding iodized salt. 
How to make Air Fryer Baked Potatoes
Select and Clean – First select potatoes that are roughly the same size so they will cook in the same amount of time. Then clean your potatoes. I like to simply scrub them under running water to remove any dirt or debris from the exterior. Then you want to pat them dry so they are fully dry. This will give them the best skin. 
Prep– Poke potatoes 3-5 times with a fork. This can result in less tender potatoes, as the moisture tends to escape from these holes, so you do not want too many, but because of the high heat, you don't want the steam to cause the potato to break open (explode) while cooking. So a few strategic holes is helpful. 
Oil and Salt – Place the potatoes into the air fryer basket and drizzle in the oil of your choice. Then sprinkle them with salt and use your hands or a silicone pastry brush to rub the oil over all sides of the potatoes, making sure they are fully coated. I like to do this in the air fryer basket because any oil that drips off is simply used to coat the bottom of the basket and help with cooking and the crispy skin. 
Air Fry – Now it is time to cook the potatoes. Use the basket style air fryer set to 400 degrees F, and cook for 30 minutes. After 30 minutes, flip the potatoes over, and depending on the size, cook an additional 5-15 minutes as needed to get tender potatoes. Pro Tip: use an oven mitt to grasp the outside of the potato and give it a gentle squeeze to determine if it is cooked enough. If not, return to the air fryer and cook in small increments to get it perfectly cooked and not over cooked.

*Note: If using a toaster-oven style air fryer, you will want to keep the timing the same, but reduce the temperature to 375˚F and flip at the halfway point. 

How Long Do You Cook Potatoes in the Air Fryer?
Well, the answer really depends on the size of the potato, but it typically takes 35 to 45 minutes at 400 degrees F for a medium sized (7 ounce) russet or Idaho potato in a basket style air fryer. 
The cook time will vary slightly depending on the size of the potato and your air fryer machine. Small potatoes will obviously take less time while larger and thicker potatoes will take longer. 
Test the potatoes after the initial cook time, and return to the air fryer in 3-5 minute increments if you need a longer cook time to get tender potatoes. 
Don't forget: You want to turn the potatoes over part way through cooking for a more even cooking. 
Do You Have to Pierce the Potatoes Before Cooking in the Air Fryer?
No, you do not have to. I have tested it both ways, and have found the best results is when I pierce them a few times, but not too many. The holes help the steam escape from the potato while cooking, but you still want some of that moisture to stay in the potatoes for a lighter, fluffier end result. 
Should I foil wrap my baked potatoes before cooking in air fryer? 
Nope. Foil is great if you want tender skin on your potatoes for something like a casserole, but if you are eating it as baked potatoes, you will want that nice, salty, crispy skin. Don't wrap them.

How to Serve Air Fryer Baked Potatoes
You can serve them with toppings, as a complete meal (depending how you top it), or keep it basic with salt and pepper and butter, and serve them as a side. 
I love getting creative with the toppings, here are a few of my family's favorite ways to eat air fryer baked potatoes:
Salt and Pepper – while the skin should already be salty and crispy, after you break them open, it is always nice to sprinkle on a little extra along with some fresh cracked black pepper. Keep it basic and delicious

Butter – There is just something about putting a pad of butter on a freshly air fryer potato, and watching it melt into that fluffy, light, tender potato flesh. 

Chili or Stew: this beanless chili is a great option for topping a baked potato. 

Sour Cream – A classic topping for a reason, add a spoonful, and consider even getting fancier with some chives or spring onions, which pairs nicely with the sour cream. 

Bacon – Think loaded baked potato here, consider bacon, cheese, and chives. A classic combo. I love oven baked bacon, or air fryer bacon, as it gets nice and crispy and is perfect for topping baked potatoes. 

Shredded cheese – A colby jack or cheddar tend to be our favorite. 

Cheese Sauce: This Bacon Broccoli Cheese Sauce is our favorite. 
Serve as a Side For:
Tips for Potatoes in the Air Fryer
Making these air fried baked potatoes is simple, but there are a few things you can do to get great results every time:
Scrub Potatoes and Dry Thoroughly – The potato skins are edible and loaded with fiber. They are also delicious, especially when they are salted and crispy. But, you need to clean them well, checking the eyes for dirt built up, and dry them thoroughly so they can crisp up. 
Use Medium Sized Russet Potatoes – 7-9 ounces is best for this recipe, and russet or an equally high starch, but tender potato is best. 
Use a Good Oil– The oil should have a high smoke point so it does not burn, and should not impart too much flavor. I like canola for this one, butter, or avocado oil, and tend to avoid olive oil for this recipe. 
Give Potatoes Space in the Air Fryer- The awesome thing about the air fryer is the air fries the outside of your potato, giving you that crispy skin. But it can't do that if the air can't circulate. So space your potatoes out evenly, making sure they aren't touching so the air can circulate around the potatoes.
Test for Doneness – Your potatoes are cooked through when they are tender, or a knife can be inserted into the center easily. Test them, and adjust cooking time as needed. 
Poke Potatoes with a Fork – air fryer potatoes don't have to be pierced with a fork, and if they are not too large, you could skip this step. However, there is a small chance they will burst and make a mess in your air fryer, so a few carefully placed holes will allow some steam to escape and help you avoid that. 

Storage
These air fryer baked potatoes are delicious and easy, and are best fresh out of the air fryer for the crispiest and most delicious skin. However, if you need to make them ahead, or make more than you end up eating, they can be stored in an air tight container in the refrigerator for 3-5 days. 
Reheat the potato by cooking it in the air fryer at 400 degrees F until just heated through. This will help to re-crisp the skin, and not dry out the interiors.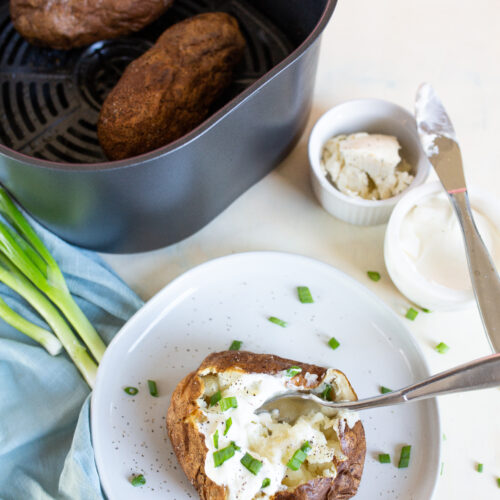 Air Fryer Baked Potatoes
A baked potatoes with crispy, salted skins and fluffy insides, cooked in the air fryer for restaurant style, quality, deliciousness made in half the time it takes to bake a potato in the oven.
Print
Pin
Rate
Ingredients
4

medium russet or Idaho potatoes

7 ounces each, washed and dried

olive oil spray

1/2

teaspoon

Kosher salt

freshly ground black pepper

to taste
Instructions
Using a fork, pierce the potatoes 3-4 times across the surface.

Lightly drizzle a little oil over the potatoes, and season with 1/4 teaspoon kosher salt.

Arrange in the basket, and air fry 400 degrees F until tender, about 35 to 40 minutes, turning part way through cooking time.

Remove from air fryer, split open the potatoes, and top as desired. Seasoning with salt and pepper.
Our recipe card software calculates these nutrition facts based on averages for the above ingredients, different brands, and quality of produce/meats may have different nutritional information, always calculate your own based on the specific products you use in order to achieve accurate macros for this recipe.
Want to use this recipe in a meal plan?
Try PrePear, my FREE Meal Planning App that allows you to save your recipes, plan meals, shop for groceries, and cook simply in one place. Join Here!