Thank you Vital Proteins for sponsoring this post and keeping it free for my readers, all opinions are my own.
Cookies for breakfast! Yes please. These Apple Pie Breakfast Cookies are loaded with oats, proteins, and chunks of apples, as well as apple pie spices: cinnamon and nutmeg. Breakfast cookies are easy to make, and offer a healthy, fun way to start your day off with protein.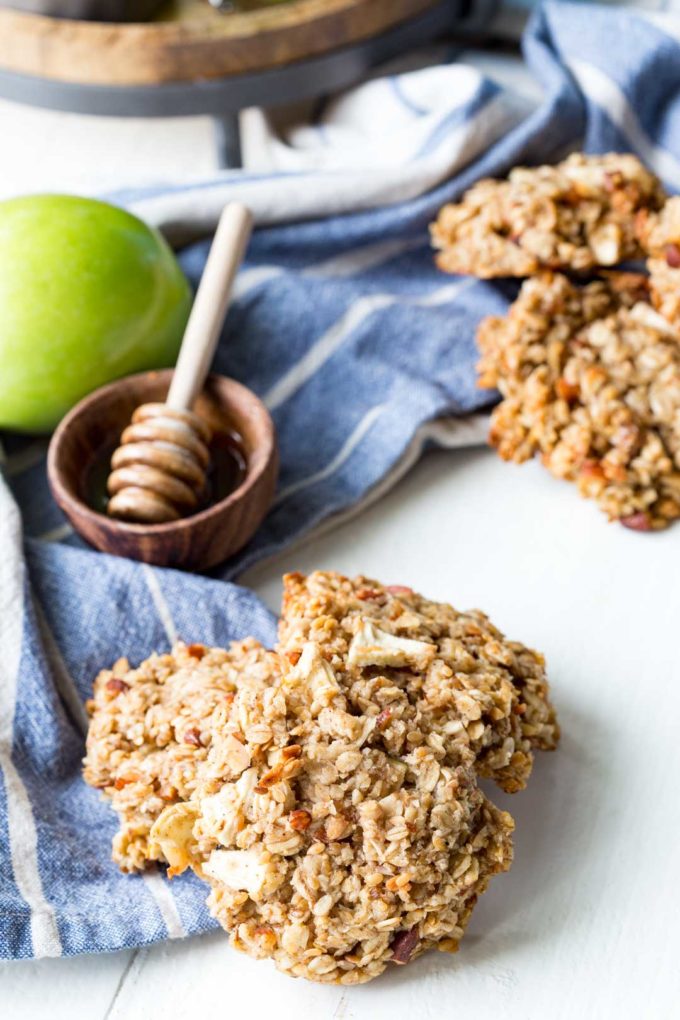 Apple Pie Breakfast Cookies
©Eazy Peazy Mealz by EazyPeazyMealz.com
Pin it to your Healthy Breakfast board to SAVE it for later!
Follow Eazy Peazy Mealz on Pinterest for more great tips, ideas and recipes!
The reason I made these is because my kids only want treats. I have ruined them. I have been trying to become a better baker, and in the process, I have made a LOT of treats. But I am working on making them healthier, starting with these breakfast cookies, which have honey, flax seeds, oats, coconut oil, and of course, my favorite protein of all time Vital Protein Collagen Peptides.
Check out this video showing how easy they are to make:
Super easy, right? And even though they are healthy, and not quite as yummy as a sugar packed, chocolate chunked cookie, your whole family will love them!

MY LATEST RECIPES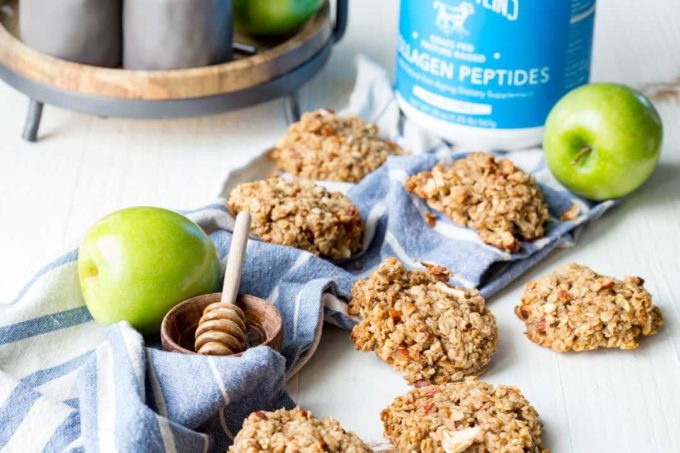 Protein
Now I realize I talk about this protein constantly, but how can I not? It is a bovine protein that is odorless, flavorless, and can literally be added to anything.
A couple years back my son was struggling in school, and we had a lot of tests done. He was having a few cognitive delays, due to neuro pathways not forming properly. In order to help him with retention and learning he started in a tutoring program. And one thing his pediatrician recommended was a higher protein diet. Protein is needed for the brain to function properly. Sounds easy enough, but he is a picky eater, and getting him to eat anything that isn't pancakes, or pasta is a challenge.
And that is where Vital Proteins comes in. They were a real headache saver for me. I no longer had to worry about his protein intake because I could add this collagen peptides to his water even, and he wouldn't taste or smell it. No chalky protein here! So I love it and use it all the time. But it is also great for me. It promotes bone and joint health, great skin, and nutrition. I use it a lot.
In fact, here are a few of my favorite recipes I have made with it:
But let's get back to these cookies. Normally I don't make anything that has stuff in it you can't find at Walmart, but you actually can get most of these ingredients at Walmart, or may already have them in your pantry, like oats, salt, eggs, cinnamon, etc. The trickier ones to find at Walmart are the flax seeds. But you can get those off Amazon with Prime or PrimePantry if you can't find them at Walmart. You can use either ground or whole in this recipe. Here is a link to my favorite.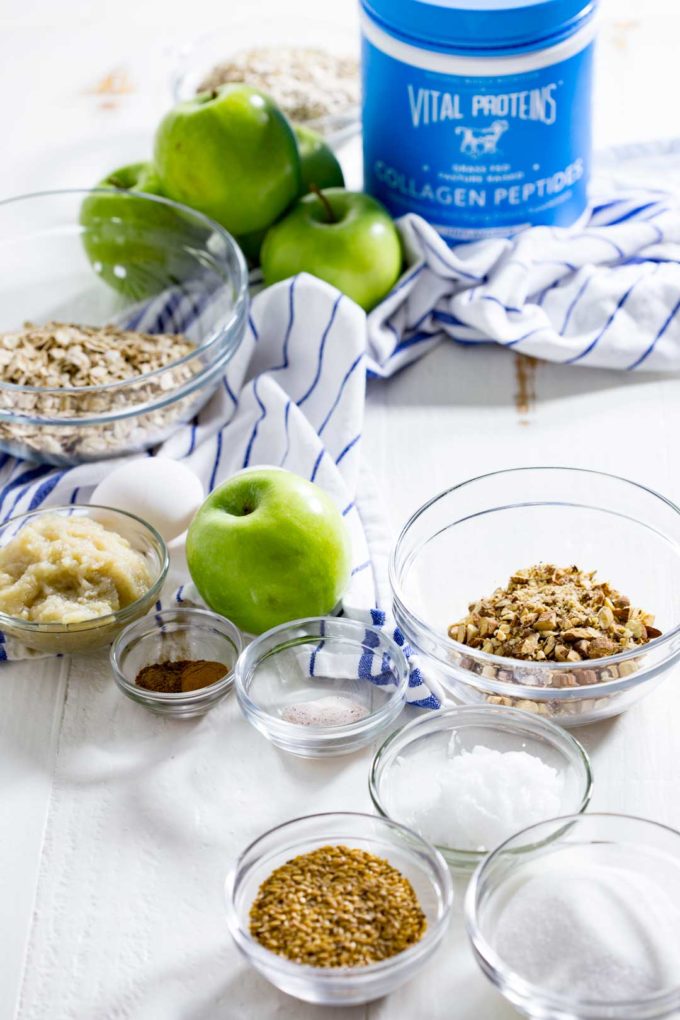 Feel free to add other things to these cookies if you would like. Raisins and chia seed are both great options. I left them out because I really wanted my kids to scarf these down, and they don't like raisins.
One recipe makes a batch of 12-18. When you scoop the cookies out, you will need to press them down some. they won't spread on their own and you want the center to cook fully.
Enjoy!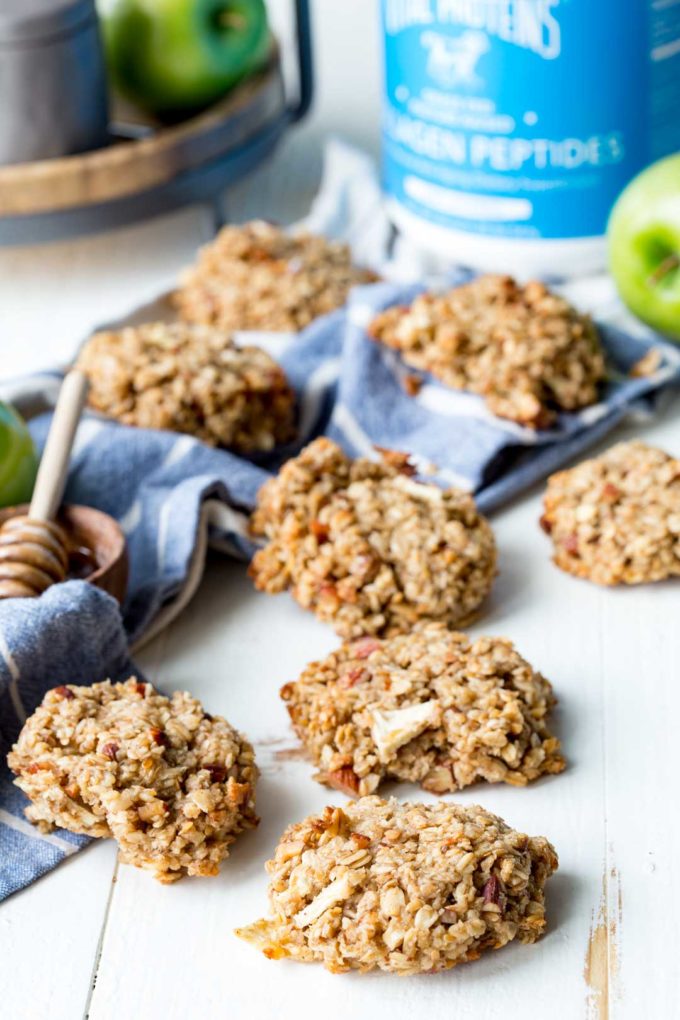 Other recipes you might enjoy:
Rachael Yerkes
Yields 12-18 cookies
Apple Pie Breakfast Cookies
Healthy apple pie breakfast cookies packed with protein for a healthy breakfast option on the go.
10 minPrep Time
15 minCook Time
25 minTotal Time
Ingredients
1 cup old fashioned oats
1 cup quick oats
1/2 tsp salt
1/2 tsp cinnamon
1/4 tsp nutmeg
1/2 cup chopped almonds
1/4 cup ground or whole flaxseed
2 eggs
1/4 cup coconut oil
1/2 cup applesauce
1/3 cup sugar
2 Tbs honey
2 scoops Vital Proteins Collagen Peptides
1 cup diced Granny Smith Apple
Instructions
Preheat oven to 350 degrees.
Stir oats, spices, almonds, and flaxseed together and set aside
In a separate bowl, add eggs, coconut oil, applesauce, sugar, honey, collagen peptides,
Beat it together with a hand mixer.
Peel and slice apple, and fold into the wet. Then add the dry.
Stir it all together.
Use a cookie scoop and scoop balls out onto a cookie sheet lined with a silicone baking mat. These silicone baking mats make clean up so easy they are a must at my house.
Use your hand to push the cookies down.
Bake at 350 degrees for 15-20 minutes.
Cool on tray 5 minutes
7.8.0.1
842
https://www.eazypeazymealz.com/apple-pie-breakfast-cookies/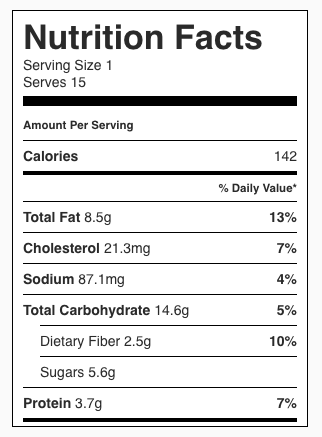 Pin to your COOKIE or BREAKFAST board:

Get EZPZ Updates In Your Inbox!